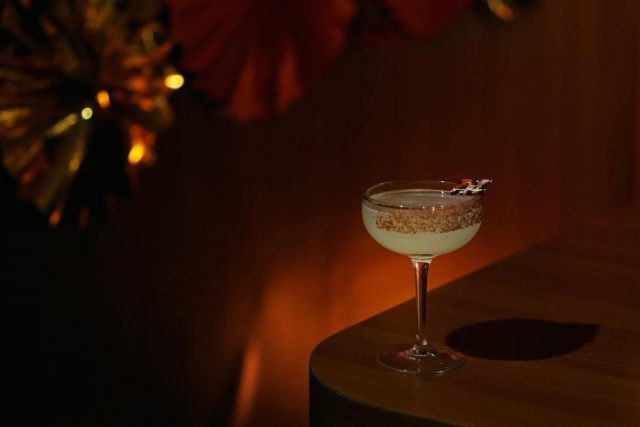 Singapore, 24 January 2020 – Junior is spreading festive joy with its latest concept, House of Dancing Lion. Sponsored by Rémy Martin, this Chinese New Year pop up will run until 22 February 2020 and boasts themed cocktails and eccentric interiors including lanterns and lion heads, a one of a kind experience that is undoubtedly not to be missed!
There's no better way to usher in the new year than to bond over an abundance of cocktails. Kick-off with Fanning the Flames ($25++) a concoction of The classic laddie malt, coffee vermouth, DOM Benedictine, and served with charred chilli Bak Kwa bitters to compliments the whiskey flavour. Ha Ha Ha($25++)will keep guests cheerful served with Janice Wong Singapore's Hae Bee Hiam Chocolate, the savoury, sour cocktail is made with Alipus San Luis Mezcal, lemongrass, lime, tamarind, Hae Bee Hiam Tincture.
Toss for the new year with Rolling for Prosperity ($25++)inspired by the classic Pineapple Tarts, the rum-based cocktail is a mix of pineapple, lemon, baking spice, and egg white, and served with Janice Wong Singapore's Pineapple Tart will bring guests good luck. This New Year won't be complete without Ang Bao Na Lai! ($25++) this refreshing drink is made of Botanist Dry Gin, lychee, grapefruit, lemon, rosewater, and strawberry paint. Last but not least, the Sticky Mouth Kitchen God ($25++) an old-fashioned style cocktail with a twist of glutinous rice cake is a mixture of Rémy Martin VSOP Cognac, Rosso vermouth, sesame, and glutinous rice wine.
Address & Contact Details:
43 Tanjong Pagar Road, Singapore 088464
Direct entrance in the alley on Cook Street
+65 8121 1462
Junior Opening Hours
Mon – Sat: 6.00pm to midnight