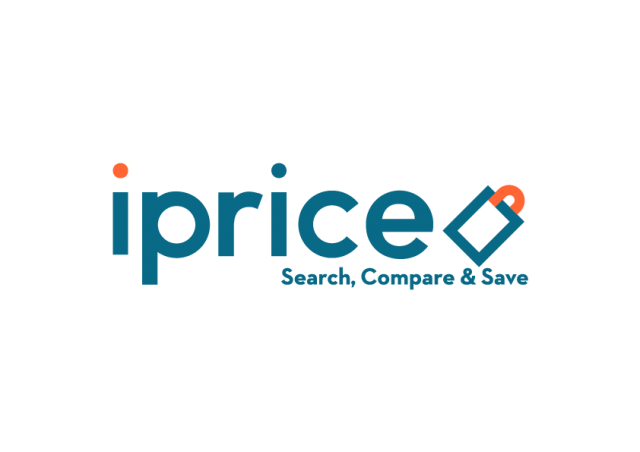 An article by iPrice
Singaporeans are highly concerned due to the increasing reported COVID-19 cases. The recent announcement of the city-state raised its risk assessment level to DORSCON Orange has caused the shortage of items such as face mask, hand sanitiser, antiseptic, and toilet paper.
It is also an evidence as online stores have reported high demand on medical supplies which brought the attention to the government on the supply chain disruptions.
Observing the situation of government initiatives towards online consumer shopping behaviours in Singapore, our team at iPrice tracked the stocks and prices of face masks by using our own database from hundreds of merchants and online stores.
1. A Shift of Public Perspective Towards Coronavirus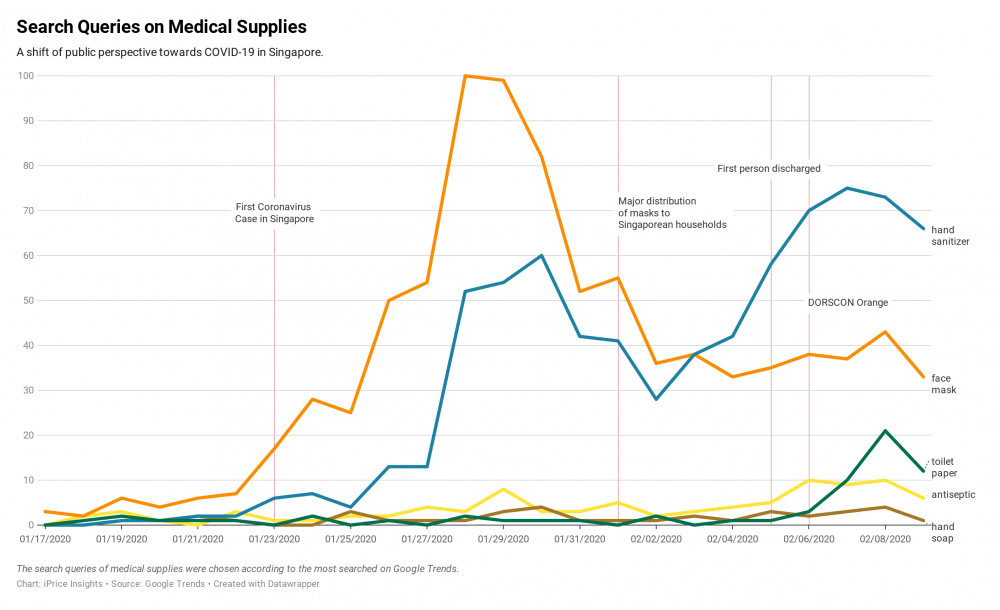 Data shows that there is a shift of public perspective amid the reported cases. This was an evidence as there was a surge on demand on hand sanitiser products as compared to
face masks on early February.
Among the many initiatives that most likely led to a better understanding of public awareness was probably due to the advisory guidance from Ministry of Health to uphold personal hygiene such as washing your hand regularly.
As Singapore stepped up its surveillance since the first coronavirus case that was announced on January 23rd, there was a surge of search on masks and hand sanitizer despite doctors advising there was no need for healthy people to wear masks.
While masks are designed to block small particles, COVID-19 travels through droplets during sneezing or coughing. Hence, the switch focus on hand sanitizer showed Singapore's community & nation are embracing the preparation for any emergency by stocking essential items.
2. Online Retail Supporting Rapid Consumption Rate on Face Mask
Analysing the data, e-commerce seems to be readily supporting the rapid consumption rate of face mask in Singapore. Data shows that there was a positive trend on the stock of face mask on online retail as we saw an increase of 173% on the February 4th, indicating the capability of e-commerce to support the growing needs of the situation occurring in the city-state.
As such this potentially showed that e-commerce offers an alternative for Singaporeans to buy medical supplies online despite the trend of decreasing stocks occurred in January.
Among the many initiatives that led to the positive trend was the government's efforts on the major distribution of the face masks to Singapore households in February. The initiative was probably driven by diversification strategy that was able to protect the supply chain from the surge of demand.
3. The Price of Reusable Mask Increased S$52.61 within 24 Hours
Observing the situation since the first case was reported, there was an increase in the average selling price of the reusable mask by 276% within 24 hours, indicating high demand for the reusable masks at current circumstances as compared to N95. The average price of S$10.84 (per box) was recorded on January 30st 2020 which then increased to S$63.45 on the next day. Hence, Singaporean households tend to seek reusable masks as compared to the N95 masks.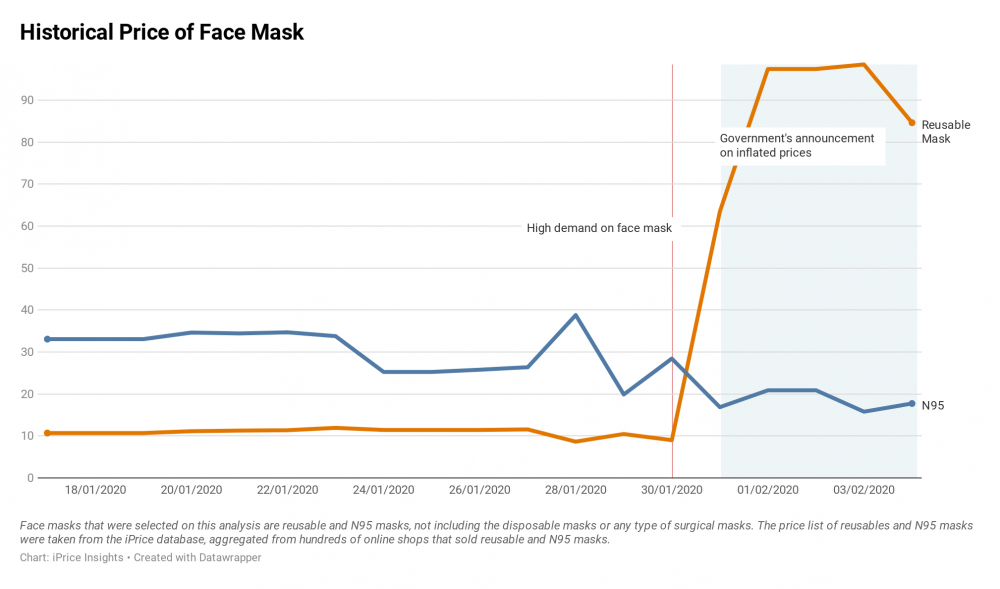 A potential reason for the high surge in price was probably due to the rapid consumption rate after a few days of increasing reported cases. However, the recent announcement by the Government which stated that they have been distributing a pack of 4 masks to each household in an effort to anticipate the residents from supply shortages.
The Ministry of Trade and Industry (MTI) also announced to work closely with the Consumer Association of Singapore (Case) in investigating any unfair and anti-competitive practices to help meet the high demand for face mask for Singaporean households.
Research Methodology
Face masks that were selected on this analysis are reusable and N95 masks, not including the disposable masks or any type of surgical masks. The price list of reusables and N95 masks were taken from the iPrice database, aggregated from hundreds of online shops that sold reusable and N95 masks. The search queries of medical supplies were chosen according to the most searched on Google Trends.
About iPrice Group
iPrice Group is a meta-search website operating in seven countries across Southeast Asia namely; Malaysia Singapore, Indonesia, Thailand, Philippines, Vietnam, and Hong Kong. Currently, iPrice compares and catalogues more than 1.5 billion and receives about 20 million monthly visits across the region. iPrice currently operates three business lines: price comparison for electronics and health & beauty; product discovery for fashion and home & living; and coupons across all verticals.