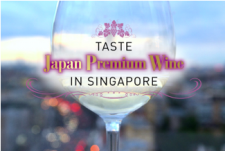 Enjoy five carefully selected wines at special prices during the Japan Premium Wine Fair at 11 restaurants in Singapore!
SINGAPORE, 10 MARCH 2020 – JR East Group is hosting its Japan Premium Wine Fair from 2 to 31 March 2020 in 11 stores and restaurants across Singapore. During this time, guests can tickle their taste buds on five carefully selected wines sourced from both Yamanashi, known commonly as "the birthplace of Japanese wine" and Yamagata.
Through hosting the Wine Fair, JR East aims to increase global awareness of the unique qualities of Japanese wines to increase international demand for Japanese wine and domestic wine production across all of Japan's wine-growing regions – through "wine tourism".
France and Italy are virtually synonymous with wine production; however, in recent years, Japanese wine made from 100% Japan-grown grapes has been steadily gaining acclaim worldwide. As a testimony to this fact, a wide variety of specialty wine grapes are now cultivated in Japan, including Japan-only varieties such as "Koshu" and "Muscat Berry A", which are usually the main ingredients in Japanese wines.
As true wine aficionados know, Japanese wine is quite distinct from other wines, primarily due to its delicate flavor. To cultivate wine grapes that satisfy oenophiles in rain-drenched parts of Japan, viticulturists have focused on grape quality at the expense of production volume. High-quality or "exquisite" – Japanese wine is the fortunate result of such diligence and attention to detail.
While Japanese cuisine has long been held in high esteem internationally, lately Japanese wine has been gaining recognition as its perfect complement – and also as the ideal way to best enjoy a broad range of non-Japanese fare.
The rapidly growing international reputation of Japanese wine has allowed it to cross borders and fill glasses of wine drinkers in Singapore. However, due to high prices and shipping costs, Japanese wine remains out of reach to most consumers. Fortunately, visitors of the JR East's Japan Premium Wine Fair will be able to sample five unique Japanese wines, including award-winning ones, at special prices at the 11 participating stores.
One of Singapore's most renowned sommeliers, Mr. Kawai Daisuke noted that "the wines selected for the Japan Premium Wine Fair this time are all excellent products that are not in any way inferior to internationally famous wines. While Japanese wines were previously known for being too sweet and therefore not favored by oenophiles, the wines available now are different. As long as you drop your biases and face the wine in front of you, I am confident that you will be able to see what's so good about it. I hope that wine-loving Singaporeans and expats, in addition to Japanese, will be able to enjoy the wines this time".
Participating Stores and Restaurants:
Al Solito Italian Japanese Wine and Food Tapas
Ishinomaki Grill & Sake
JAPAN RAIL CAFE
Kan sushi
La Terre
Motsunabe Goku
nomono(sales only)
SUJU Japanese Restaurant
Teppan kappou Kenji
Tokyo Yakiniku Heijoen
Trattoria Pizzeria Logic
For more information, please visit the Japan Wineries Association website here.
Featured wines at the Japan Premium Wine Fair may be viewed here.