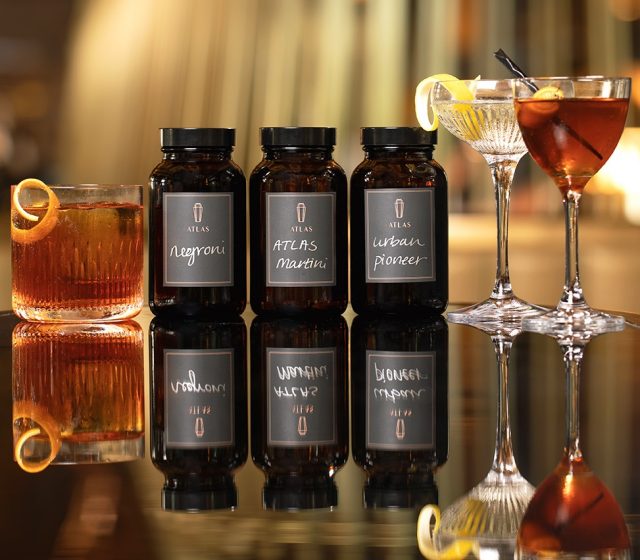 Singapore, 8 April 2020 – As F&B establishments close doors to do their bit to keep Singapore safe, guests are invited to enjoy the very best of ATLAS from the comfort of their own homes with the launch of ATLAS' online retail store and new takeaway menu, #ATLASatHome.
Housing a selection of home cocktail sets, handcrafted bottled cocktails and a range of gin, including the exclusive St. George ATLAS Orange Gin, ATLAS' online store offers all that is needed to enjoy a much-loved tipple at home or to your home bar. With new additions to the site each week, guests can choose from a curated selection of cocktail sets, including sets for gin and whiskey, with the option to add a range of premium bar tools, ideal for those who enjoy indulging in the art of fine drinking from home.
An extensive selection of gin, wine and Champagne is also available for purchase directly through ATLAS. Those interested are encouraged to reach out to ATLAS directly via WhatsApp or email, where the team will share the full product brochure and instructions for placing an order. All orders placed online and via WhatsApp or email over $100 will enjoy free delivery.
The new ATLAS dining takeaway menu features a mix of classics and new additions. All-time favourites, such as the arancini, beef short ribs and madeleines, as well as family-style options, are available for pickup curbside. Takeaway hours are from 12 pm to 9 pm daily, and orders can be placed via WhatsApp. No meal at ATLAS is complete without a classic cocktail, so guests are invited to choose from five bottled cocktail options including the ATLAS Martini, all of which come in 100ml, 250ml and 500ml options.
ATLAS Delivery: https://atlas-bar-singapore.myshopify.com/
Delivery hours: Monday – Friday from 12noon to 6pm
Free home delivery for all orders above $100.
ATLAS Takeaway: http://atlasbar.sg/blog/post/atlas-take-away
12pm – 9pm Daily, orders can be placed via WhatsApp at +65 9739 5591 or via email at [email protected]