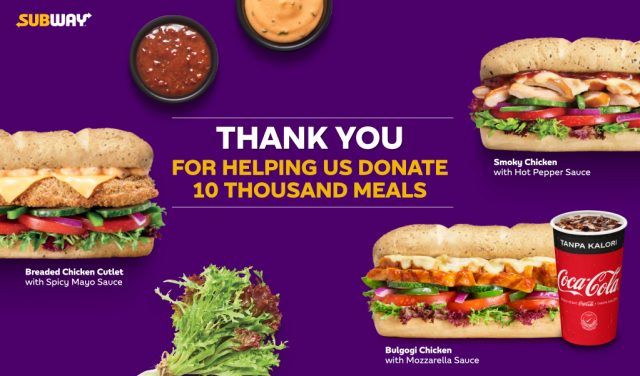 June 4th 2020: Subway® Malaysia, has this month raised 10,000 meals for Malaysians in need through its community-giving campaign "Discover and Pay Forward", with a meal donated for every meal purchased from its new menu.
Subway Malaysia Country Director Samad Shariff has today announced that the brand, in partnership with Coca-Cola, has not only achieved its target in time for the Hari Raya celebrations, but following popular demand, has been able to donate a further 3,000 meals to frontliners, the homeless and poor who have faced challenges during the Covid-19 pandemic.
"There has never been a more important time for Malaysians to come together, especially given our physical distance during Covid-19. Food plays an important role in not only sustenance, but kindness and community – and Subway's goal was to use our iconic sandwiches to help bring Malaysians together in spirit during this challenging time," Mr Shariff said.
"We are happy to announce that we exceeded our promise to donate 7,000 Subway meals to our frontliners and those in need that have been severely affected by the current situation – but we've been able to extend this donation to a total of 10,000 meals for those who need them most."
Having achieved an overwhelming response since the beginning of the campaign, Subway Malaysia has distributed the nutritious and delicious meals to affected communities, including children, old folks and caretakers from Rumah Seri Kenangan Cheras and Pertubuhan Kebajikan Yesuvin Mahligai YM Selangor, frontliners at Kuala Lumpur Hospital and Sungai Buloh Hospital; and underprivileged communities through notfor-profit organisations, Pertiwi Soup Kitchen, Kechara Soup Kitchen and Yellow House KL.
"Thank you, Subway Malaysia, for caring for the wellbeing of everyone in our society. Your perseverance in wanting to contribute the Subway sandwiches and drinks showed us your sincere kindness and generosity. The beneficiaries enjoyed the Subway treats so much!," Datuk Munirah Abdul Hamid, Founder of Pertiwi Soup Kitchen said.
"Subway Malaysia has always shared a strong bond with Malaysians, and through community-giving initiatives such as 'Discover and Pay Forward', we are thrilled to help guests rediscover what they love about Subway while helping us give back to our community in need. On behalf of the team here at Subway Malaysia, we would like to thank everyone who supported this campaign and helped spread some Hari Raya cheer to our community," Mr Shariff said.
The campaign was held in conjunction with the launch of Subway Malaysia's refreshed menu with 12 all-new ingredients and flavours that encouraged every Malaysian to "rediscover what you love" at Subway. The fresh menu creates a great balance between the classic favourites Subway is renowned for and new flavour combinations, such as Bulgogi Chicken with mozzarella cheese, Breaded Chicken Cutlet with Spicy Mayo sauce and Smoky Chicken with Hot Pepper sauce. It also includes tasty cheeses, three new sauces, mixed greens, chilli flakes, add-ons such as avocado and chopped mushrooms; and a new side of macaroni & cheese.
Malaysians can continue to experience the tantalising, fresh new menu via takeaway from all Subway restaurants or through delivery via Foodpanda and GrabFood. To curb the spread of Covid-19, Subway Malaysia ensures the health and safety of all its employees and guests with additional already stringent health, safety, and hygiene procedures.
For further information, visit www.subwayisfresh.com.my.