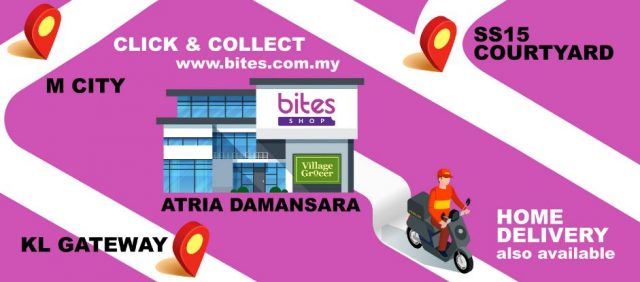 Village Grocer has announced the launch of Bites Shop, which is now live at https://www.bites.com.my. Bites is the name of the loyalty app by The Food Purveyor Sdn Bhd, formerly known as Village Grocer Holdings Sdn Bhd.
The high-end supermarket has officially four locations now for Bites Shop with outlets at Atria Damansara, M City, SS15 Courtyard and KL Gateway. Besides being able to order online and picking up from these four outlets, consumers can also opt for home delivery too.
Self pickup hours are between 11am and 6pm Monday to Sunday including public holidays. Payment for the purchase must be made before 9am for the earliest pickup time and before 4pm for the latest pickup time for same day pickup. They have a 2 hour order process time.
The delivery hours are between 11am and 7pm, Monday to Sunday including public holidays. The delivery fee starts from RM 8 onward depends on the mass weight or volumetric weight of the product(s) whichever is higher. Free delivery for purchases above RM 200. They offer a minimum spend of RM 70 for store pickup and there is no minimum spend for delivery.
Click here for more information.