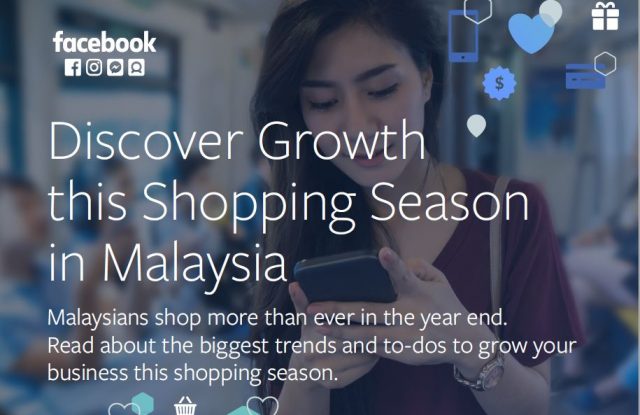 Kuala Lumpur, 28 November 2017 – Facebook empower businesses to discover their unexpected customers this year-end shopping season with the biggest shopping trends, insights and marketing tips.
Malaysians purchase through Facebook 88% more in Q4 on average than the rest of the year. Grabbing their attention and driving action is now more important than ever. Instead of waiting for purchase intent, Facebook enables businesses to create them. Rather than wait for people to find products, it is time for products, to find people.
According to Nicole Tan, the Country Director of Facebook Malaysia; "Businesses that connect with people before they even begin looking are going to be ahead in the race. This is about spotting 'unexpected customers' who aren't even searching for your products and services."
Here are five key insights around how people shopped during the year-end period last year to help businesses better reach their audiences.
Mobile is the year-end shopping cart
Mobile is the new first screen and device of choice in Malaysia when it comes to shopping. From October to December last year, 2 in 3 online purchases through Facebook took place on mobile across the region on average, and younger shoppers top this table: 61% of these purchases were made by millennials.
The early bird gets the worm
Shoppers start early. As early as October, online purchases through Facebook in Malaysia were 18% higher than the yearly average. And businesses that built their brand ahead of peak shopping periods often come out on top. Lazada, Blibli.com and Tesco Lotus Thailand are among brands who've impacted conversion results through strong brand campaigns.
Join the conversation
The shopping journey often involves talking to friends, sharing the coolest products or even communicating with businesses. On Facebook last year, people in Malaysia started posting more about shopping as early as the week of November 6. These shopping related Facebook posts reached its peak in the week of December 251.
End of year rush
Businesses need to ready themselves for a surge of Facebook purchases in November and December, the top shopping months. In 2016, online purchases through Facebook in Malaysia were 84% higher in November and 66% higher in December compared to the yearly average. December 12 was a day to watch, with 2.7x more online purchases compared to the yearly average.
Don't forget January
Online shopping doesn't stop in December. The season extends into the new year, presenting businesses an opportunity to upsell products that complement items people bought, or gifts they've received. In January 2017, online purchases through Facebook were 36% higher than the 2016 average.
"With Southeast Asia being pegged as the new frontier for e-Commerce, it is critical for consumer goods businesses to act now and start implementing the right e-Commerce strategy for their brand or category," added Tan.
To champion the shopping season advertising blitz, businesses are encouraged to focus on these tips.
Speak the language of mobile. Capture attention with short, attention grabbing and sound-off creatives.
Start brand campaigns now. Start brand campaigns ahead of peak shopping periods. Drive sales by building trust and a stronger brand.
Generate interest and drive demand. Connect with target audience and capture leads before shopping peaks.
Score online and offline sales. Showcase product catalogue with Dynamic Ads and use the Store Visits objective to drive people in stores.
Think of the New Year extension. Cross-sell relevant products to complement year-end purchases. Drive people to stores with the best deals.
Source:
Unless otherwise stated, all data derived from Facebook internal data, analysis of conversion pixel and app events data for ads shown to people ages 18-64 on Facebook, Malaysia, 1 Mar 2016 to 31 Jan 2017
1 Source: Facebook internal data (text, video and photo posts), Malaysia, 1 Oct to 31 Dec 2016; Online shopping post data derived from Facebook posts with keywords related to online shopping categories (for instance, dress, shirt, etc.)
About Facebook
Founded in 2004, Facebook's mission is to give people the power to share and make the world more open and connected. People use Facebook to stay connected with friends and family, to discover what's going on in the world, and to share and express what matters to them.