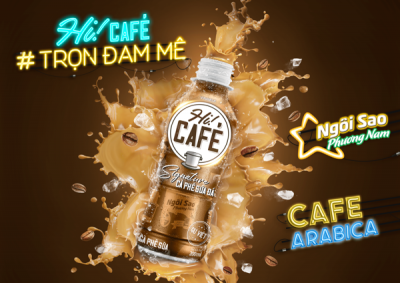 Vinamilk's latest Hi! Cafe is a ready-to-drink version milk coffee featuring Arabica coffee beans and Vinamilk Southern Star Sweetened Condensed Creamer. Southern Star, popularly used in Vietnamese coffee, is said to be the secret to tasty coffee.
The Vietnamese dairy major has recently announced plans to operate a chain/a system of stores retailing coffee and beverages along with certain food items under the brand name of "Hi-Café".
Coffee is a natural pathway for innovation for dairy companies and milk is an essential ingredient in many coffee drinks. The RTD Hi! Cafe has potential for export as Vietnamese coffee has gained fame internationally.
The new 200ml Hi! Cafe coffee drink is priced at VND 14,000 (USD 0.60)