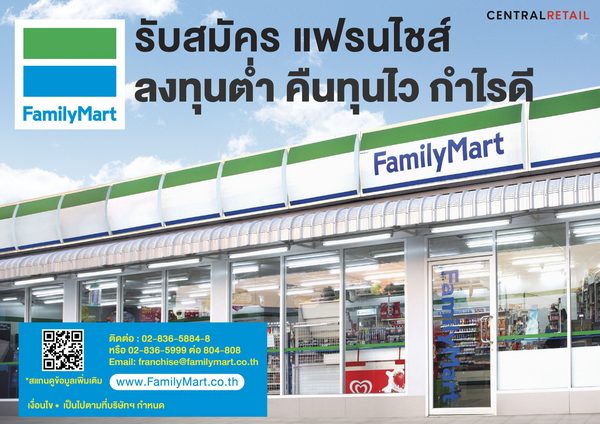 Bangkok–9 Jul–Polyplus PR
In every crisis, there is an opportunity. FamilyMart under Central Retail is ready to offer opportunities to those who want to own a convenience store, which is one of the Group's rising stars. FamilyMart is welcoming new franchisees even if they do not have their own location or building. In this new type of franchise business, the minimum guaranteed income is 30,000 baht a month for a year. The investment is small, while the returns are fast and the profits are great. Franchisees will be trained by professionals and receive consultation throughout the six-year contract to help drive business towards success. Additionally, FamilyMart also offers assistance in getting loans from leading banks. The aim is to have 100 FamilyMart stores run by franchisees before the end of 2020, focusing on communities, gas stations and condominiums.
Stephane Coum, Chief Executive Officer – Food, Central Retail Corporation Public Company Limited (CRC), talked about the franchise business for FamilyMart, "During the COVID-19 situation, our company witnessed the growth of convenience stores, which are crucial to the everyday lives of people. Central Retail Corporation has acquired 100% of the shares in FamilyMart, so we are able to move forward in full force. We are ready to welcome franchisees to cater to the fast and continuous growth of the convenience store business in Thailand. Those who want to be a long-term business owner can join the FamilyMart family with a small investment, fast returns and great profits. Investment starts from around 440,000 baht, and there's a guaranteed minimum income of 30,000 baht for a year if the store is able to meet the set target. These terms and conditions are on offer until December 31, 2020, and the franchise contract is valid for six years. The company will help find the right locations for the franchisees to consider, with partner banks to offer loans to those who want to have a FamilyMart store. The franchisee must manage their own store, and must be dedicated, business-oriented, service-minded, physically well, and ready to grow with FamilyMart. They do not need to have their own location or building.
Central Retail also reassures FamilyMart franchisees of the potential of retail, since Central Retail is the biggest player with a strong loyalty program which collects data from more than 17.3 million The1 members. Therefore, special privileges and offers can be tailored to their lifestyle needs. Additionally, it has strong partners such as Grab with services like GrabMart and GrabFood, delivery service with Kerry Express, bill payment service with CenPay, and credit card and debit card payment with no minimum spend. FamilyMart is a well-known food destination offering fresh coffee and beverages from Coffee Arigato, oden, and ready to eat meals, highlighting its position as a "Lifestyle & Food Destination" that meets the needs of consumers anywhere. FamilyMart offers convenience through high-quality, safe and well-priced products and services 24 hours a day. The aim is for 100 FamilyMart stores to be operated by franchisees before the end of 2020, focusing on community areas, gas stations, and condominiums, in order to help Thai people have steady income and jobs. The franchisee business is great for those who want to have their own business with a small investment, guaranteed income, fast returns and great profits.Those who are interested in becoming FamilyMart franchisees can request more details at 02-836-5884-8, 02-836-5999 ext 804-808 or email [email protected]