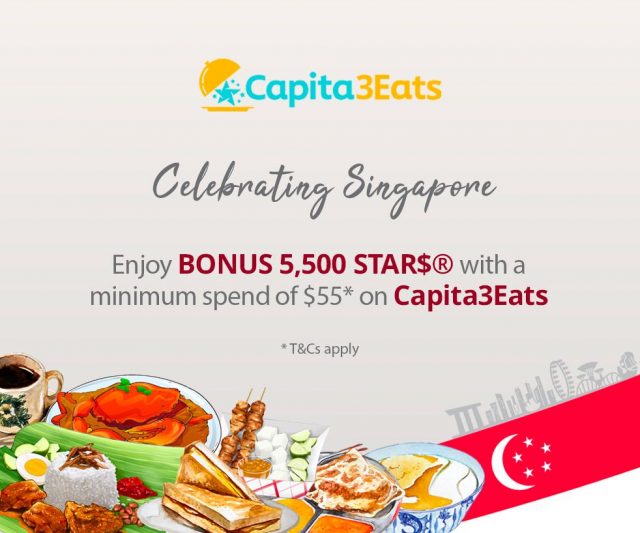 As we continue to seek alternatives to satisfy our cravings for a wanderlust adventure, why not do it with food? With a range of Asian cuisines on Capita3eats, take a quick taste bud stop to Thailand, Japan, and Hongkong.
From now till 31st August, you can receive 5,500 STAR$ with a minimum spend of $55 in single transaction on Capita3Eats! Additionally, enjoy free delivery for orders above $30 for selected tenants as well as 5X STAR$ on takeaways. This is a bonus STAR$ galore!
Welcome to Japan
Best known for its Ramen and Pearl Rice, fill your bellies with Japanese delights! Dig into a hearty bowl of Ramen from Menya Musashi, serving you al dente noodles drenched with a rich broth, perfect for the recent cool days. For the rice lovers, just imagine having a bowl of steamed butter rice, topped with mentaiko salmon cream or beef stew, and fluffy omelette from Tamago-EN. With more options on Capita3eats, there is definitely something for everyone.
Gao Dim your Cha Chaan Tang fantasy
We have heard that more Hong Kong eateries are entering our land in the month of September. Can't wait for long? Why not hop onto Capita3eats and check out these eateries for some authentic and mouth watering treats. Enjoy some egg tarts from Honolulu Cafe, buttery crisp outer crust and delicate sweet soft egg on the inside. Complete your Cha Chaan Tang experience with some savory food from Xin Wang Hong Kong Cafe and Streats Hong Kong Cafe.
Food that makes you go (Tom) Yum
Thailand is not only great for a shopping spree but also for its food galore. Get your hands on some authentic Thai street food by Thai-Khun. Whether it is a BBQ Date for 2, or a family feast, you will find yourself wanting more pork or chicken skewers, pad thai, and potato twisters. Have a great Thai meal with Talay Thai with the classic Red Tom Yum soup, deep fried spring rolls, pineapple fried rice, and sharing platters. There are more than enough options for you to even start a Thai-food party!
Keep calm and CURRY on
Tickle your sense with some modern Northern Indian cuisine from Gabbar Bistro Bar. Treat your tummy to some mutton keema, punjabi fish curry or butter chicken. Don't forget to order some gabbar kashmiri naan. If you think that curry is best eaten with Prata, check out Prata Wala for their wide selection of North and South Indian food. Can't decide what to order? Why not check out their Prata and Biryani sets?