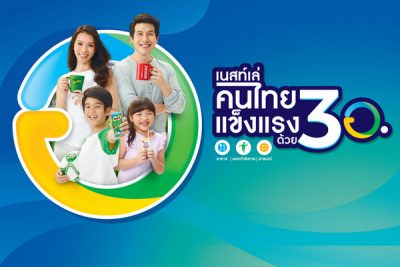 Bangkok–11 Aug 2020
Nestle, the world's leading food and beverage company, has allocated 70 million baht to continue the success of its Nestle Active Thailand campaign for the second year with the launch of the "3E Me Style" campaign to promote a new approach to make good life simple for Thai consumers and their families by focusing on the 3Es: Eating, Exercise, and Emotion, and practicing them in one's favorite style.
Nestle is also running a full range of digital media activities to support Thai people with diverse lifestyles to participate in sharing ideas to enjoy good health in their own style. The company aims for this campaign to reach 23 million Thais nationwide.
Mr. Victor Seah, Chairman & Chief Executive Officer of Nestle Indochina, said, "Nestle has been promoting a good life for a long time. We believe that food has the power to enhance quality of life, today and in the future, based on the concept of 'Good food, Good life,' encouraging new ways of living and changes in people's behavior. We also need to adapt to different lifestyles to create good health. This was the basis for the '3E Me Style' concept for this year's campaign to inspire people to apply the 3Es principles in a way that suits their lifestyles so they can enjoy sustainable good health. It also emphasizes Nestle's Purpose: Unlocking the power of food to enhance quality of life for everyone, today and for generations to come."
The challenge for this year's campaign was to reach a wide range of target audiences in a more specific format. Nestle adopted a personalized marketing approach to connect with modern consumer groups that have different lifestyles, including caregivers, workaholics, foodies, moms with kids, and upcountry workers.
Ms. Somrudee Boonhaijaroen, Communication & Marketing Services Director, Nestle (Thai) Ltd., said, "Nestle values diversity. Everyone faces challenges and has their own personal health goals. We believe that everyone has a different way of life, so they need to take care of their health in a way that is suitable for their lifestyle. A 'one size fits all' approach to health care cannot meet the needs of all family members. This is why we are launching this year's campaign based on the concept of good health '3E Me Style' for all Thais. No matter which group you are in, you can be healthy by choosing 3Es activities in your own style."
Nestle is communicating the "3E Me Style" concept of "make good life simple my way, follow the 3Es principles in my own style," such as eating nutritious food, exercising regularly, and having positive emotions, through a variety of marketing activities on digital and social media platforms to reach 23 million Thais. The campaign starts with five web films that offer ideas to create a healthy life in different styles as well as influencers to share fun and creative "3E Me Style" ideas. The web films can be viewed on Nestle Thailand's YouTube channel at: https://youtu.be/9Z_JzMwLv0E
In addition to the digital campaign, Nestle is encouraging Thais nationwide to live a healthy life through the "Nestle Active Thailand" campaign 3Es corporate roadshow, which will offer nutrition knowledge and tips for good health.
"We are confident that the campaign will inspire Thai people to take continuous care of their health, starting with the simple 3Es principles that match each individual's lifestyle and health care goals, without having to change their lifestyles," concluded Ms. Somrudee.