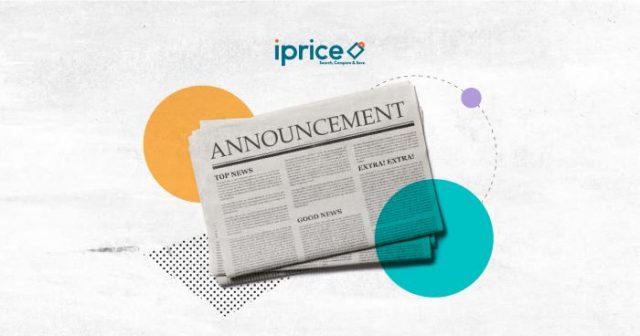 MANILA, PHILIPPINES, September 18, 2020 – Southeast Asia's leading e-commerce aggregator, iPrice Group, raises an additional undisclosed amount from JG Digital Equity Ventures, Inc. (JGDEV) to its series B investment amidst the coronavirus pandemic. Through its group of companies, JGDEV provides iPrice with a wide range of opportunities to be Southeast Asia's best shopping companion and e-Commerce enabler.
iPrice's platforms continue to grow in web traffic (up to 60%) since social distancing measures were set in place across the region. Overall, the e-commerce industry enables consumer spending to continue especially with social distancing. Before COVID-19, a Google-backed report predicted that Southeast Asia's e-Commerce would reach $180 billion by 2025. However, with e-Commerce's recent accelerated adoption, the industry is expected to experience a hypercharged growth. Hence, e-Commerce may even rise above the projected GMV.
Amidst the rising e-Commerce trend, iPrice positions itself as the leading shopping companion to consumers and an e-Commerce enabler to digital gateways, such as online media and super apps.
"iPrice has a unique approach. It doesn't aim to compete with other players, but instead, it enables these players to have more channels. As a result, it connects them to more consumers. iPrice is more than just being exposed to the recent e-Commerce trend; it enables consumer transactions to be deeper and wider through its comprehensive understanding of the digital economy," said JGDEV President and Chief Executive Officer Jojo Malolos.
Opportunities to Bring More Value to Filipino Consumers through the Gokongwei Group's Ecosystem
iPrice enables consumers to access e-Commerce in the diverse digital economy through its partnerships. With JGDEV, it begins with RewardsMart in the Robinsons Rewards mobile app and Summit Media's online domain, PEP.ph.
iPrice now allows Robinsons Rewards users to access millions of products from thousands of merchants across the Philippines. The e-commerce aggregator ensures the best shopping experience by providing a platform that compares products, prices, delivery schedules, and offers vouchers and coupons.
Meanwhile, PEP.ph readers are now able to access exclusive online coupons and promos in a wide range of categories, such as Electronics, Fashion, Beauty & Health. Offers from e-Commerce giants like Lazada, Shopee, Zalora, , Cebu Pacific, and PayMaya will be readily available on the PEP website as well.
Robinsons Rewards and PEP.ph are just two of the startup's potential partnerships and solutions. iPrice and JGDEV will continuously explore more opportunities across the Gokongwei Group of Companies that may bring more ease to Filipino shoppers.
"iPrice's value proposition is focused on helping shoppers navigate the complex and often confusing e-Commerce space. We have previously provided services to users searching for options on Google. Given many consumers start their e-commerce journeys in other places, we are providing these same services to partners. With the breadth of JGDEV's businesses, there is a multitude of opportunities for cooperation," said iPrice Group Chief Executive Officer Paul Brown-Kenyon.
With JGDEV's mission to find sustainable and scalable business models that can create value for the core businesses of the Gokongwei Group ecosystem, this investment partnership will prove to be symbiotic. The Gokongwei Group ecosystem focuses on e-Commerce and exploring new technological innovations. JGDEV promises a fast-moving dynamic among its organizations to deliver the best value it can bring to its consumers.
JGDEV also aims to create an impact on consumers, business growth, and the future of the economy. With its new relationship with iPrice, it is enabled to further achieve this. Currently, there are many more opportunities being explored with the Gokongwei Group ecosystem that can take its current value proposition a step further. At the same time, iPrice will continue to reach its objective to be present everywhere for Southeast Asian consumers. It will continue to be the region's leading shopping companion and e-commerce enabler.
This investment is a continuation of iPrice Group's Series B Investment, led by ACA Investments Pte Ltd with participation by Daiwa PI Partners, and returning investors LINE Ventures, Mirae Asset-Naver Asia Growth Fund.
Here's the full press release on our page: https://iprice.sg/trends/insights/jgdev-invests-in-seas-leading-shopping-companion-iprice-group-to-bring-great-value-to-filipino-consumers/
About JG Digital Equity Ventures, Inc.
Founded in 2019, JG Digital Equity Ventures, Inc. or JGDEV, is the corporate venture capital arm of JG Summit Holdings, Inc., one of the Philippines' biggest conglomerates with business interests in air transportation, banking, food manufacturing, hotels, petrochemicals, power generation, real estate, property development, and telecommunications.