Something intriguing is brewing with Milo in Malaysia. As the country with the largest market for Milo, Malaysia seems to be rather behind when it comes to Milo innovation. Nestle launched the world's first plant-based Milo in Australia in March 2020.
Now, we are seeing glimmers of hope with pictures of Nestle Milo Almond surfacing online. Lmall.my openly sold it for sometime before taking it down. Milo Almond is described as "plant-based energy almond the new dairy free Milo" in 225ml and 1 litre.
** The Milo Marketing Team in Malaysia has informed us that the launch date of for this plant-based Milo has been moved to 2021. **
According to Hargapedia, a grocery, health & beauty price comparison app, the price of Milo Almond (225ml) is RM 3.44 and Milo Almond (1L) is RM 10.50. Milo Almond has the halal certification from JAKIM.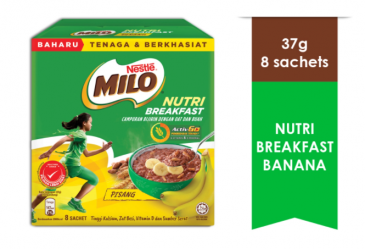 Apart from Milo Almond, the app has also highlighted Milo Nutri Breakfast Banana (8x40g) and Milo Nutri Breakfast Pumpkin (8x40g) as new products. Both are available on Nestle Malaysia's official store on Shopee selling at RM 13.60. Milo Nutri Breakfast is said to be high in calcium, iron, vitamins and fibre.
Milo does have an existing drink with whole grain cereal formulated for those who are looking for a nutritious drink to fill their tummy and body in the morning.
The new Milo Nutri Breakfast appears to be an instant Milo cereal with oats to be eaten from a bowl for breakfast, which means Milo is now competing in the oatmeal segment.