Somersby has launched its first-ever Hard Seltzer range in Singapore. The launch is the brand's first foray into Hard Seltzer worldwide.  The new beverage range comes in two refreshing fruity flavours – Somersby Hard Seltzer Lime and Somersby Hard Seltzer Mango & Passionfruit; to provide a blend of coolness on a hot, sweltering day.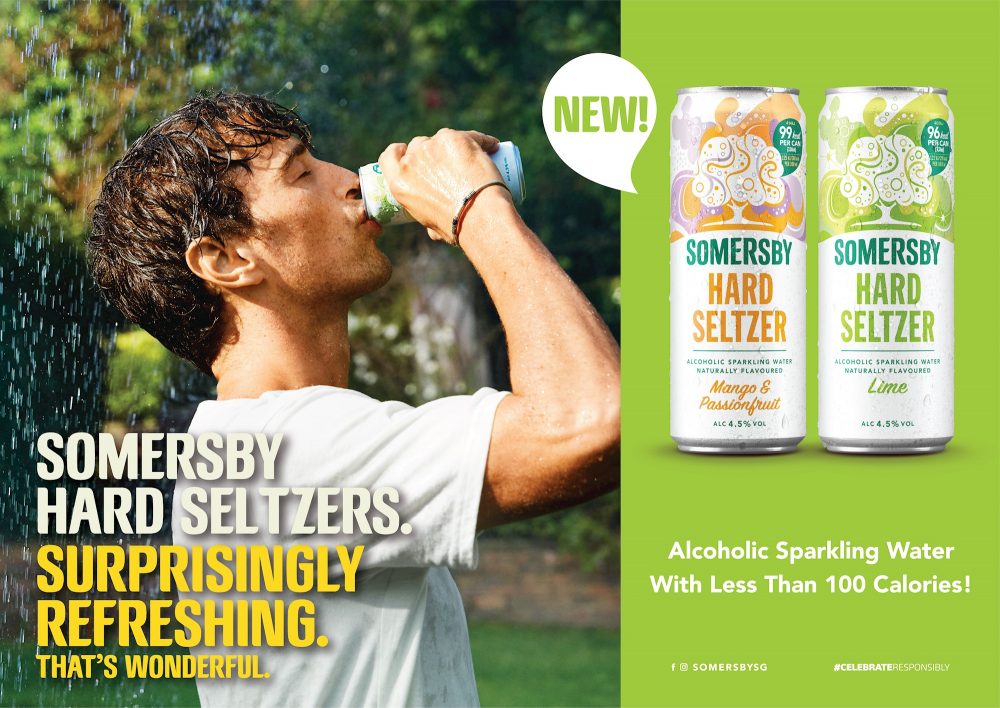 Image by Carlsberg SingaporeThe introduction of Somersby Hard Seltzer in Singapore is in line with the rising trend of wellness locally. Globally, the product category has garnered a loyal band of following due to a growing demand of fitness-conscious millennials, seeking alcoholic alternatives with the same indulgence but with minimal guilt for every occasion.
"We observe the increasing consumer demand for lower-calorie, lower-sugar content in consumption choices, which is why our research and development (R&D) team has come up with this innovation. Carefully crafted, Somersby Hard Seltzer combines great taste with just 99 calories and a low sugar content," said Mr Olivier Dubost, General Manager, Carlsberg Singapore Pte Ltd.
Somersby Hard Seltzer is an alcoholic sparkling water that contains 4.5 per cent alcohol by volume (ABV) content. Each 330ml can contains not more than 99 calories and only two grams of carbohydrates, resulting in no heavy aftertaste, making it easier to drink for a longer period of time compared to usual alcoholic beverages.
The Somersby Hard Seltzer range – Somersby Hard Seltzer Lime and Somersby Hard Seltzer Mango & Passionfruit, is now retailing at $11.90 (3 x 330ml pack) at all major supermarkets, hypermarkets, convenience stores, petrol marts and online at your preferred e-commerce platforms.
Visit Somersby Singapore's Facebook page to learn more about the newest member of the Somersby family on www.facebook.com/SomersbySG.