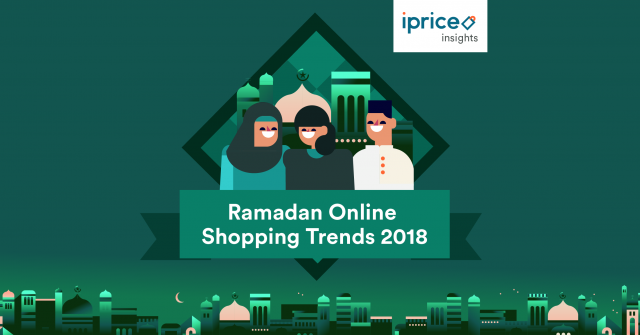 Understanding Unique Online Shopping Trends During the Holy Month of Ramadan in Malaysia & Indonesia
The month of Ramadan is considered as the most sacred period for millions of Muslims in Malaysia & Indonesia. As such, a huge number of people observing the religious period would shift their daily routine to focus on spirituality & contribute to charitable initiatives. This also shifts the way consumers shop in a very significant manner as well.
Just a few weeks into Ramadan, online shopping consumption increased greatly during the fasting month. This was evident as iPrice Group, a price aggregator platform for hundreds of online merchants in Indonesia & Malaysia experienced double-digits growth in online sessions. Undertaking this study, there are unique consumer insights that only occurs during the month of Ramadan.
Online Shopping at the Wee Hours of the Morning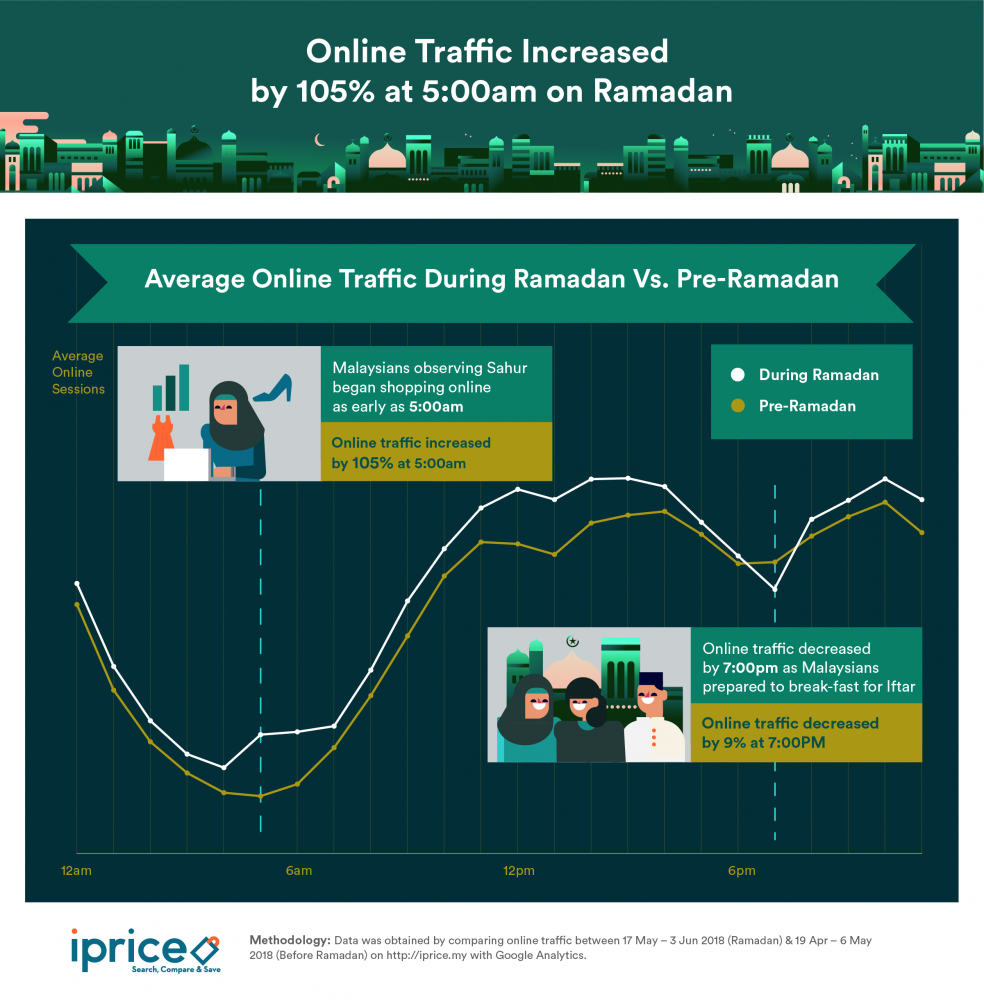 While many Malaysians & Indonesians are awake in the wee hours of the morning for Sahur (pre-dawn meal), they are more likely to shop online as well. Analysis suggests that online traffic at 5:00am increased by 105% in Malaysia & 345% in Indonesia when compared to the same time prior Ramadan. The increase was much higher in Indonesia as the country has the largest Muslim population in the world. This is a continuous trend as seen in our study last year in both Malaysia & Indonesia.
In Malaysia, the increase in online traffic was much higher when compared to our research last year, where we only saw a 90% increase in online traffic at 5:00am. Indicating an increased interest in online products this year as compared to 2017.
Evident in both countries was that online traffic during Ramadan was significantly higher when compared to the previous period. Overall online traffic was 11% higher in Malaysia & 30 percent higher in Indonesia. In addition to this, online traffic in both countries experienced a dip in online traffic at 7:00pm in Malaysia & 6:00pm in Indonesia as many prepare to break-fast (Iftar). Online traffic decreased 9% in Malaysia & 4% decrease in Indonesia at these periods. After Terawih prayers online traffic in both countries would resume, reaching its peak at 10:00pm.
Search Trends for Fashion Products During Ramadan
Fashion products are among the most sought-after items during Ramadan as millions of Malaysians & Indonesians prepare for the Hari Raya Aidilfitri celebrations. Using Google Trends, we saw that keywords such as "Baju Raya" & "Baju Raya 2018" was among the most popular keywords associated with "Raya" (which is closely associated with the Aidilfitri celebrations) in Malaysia.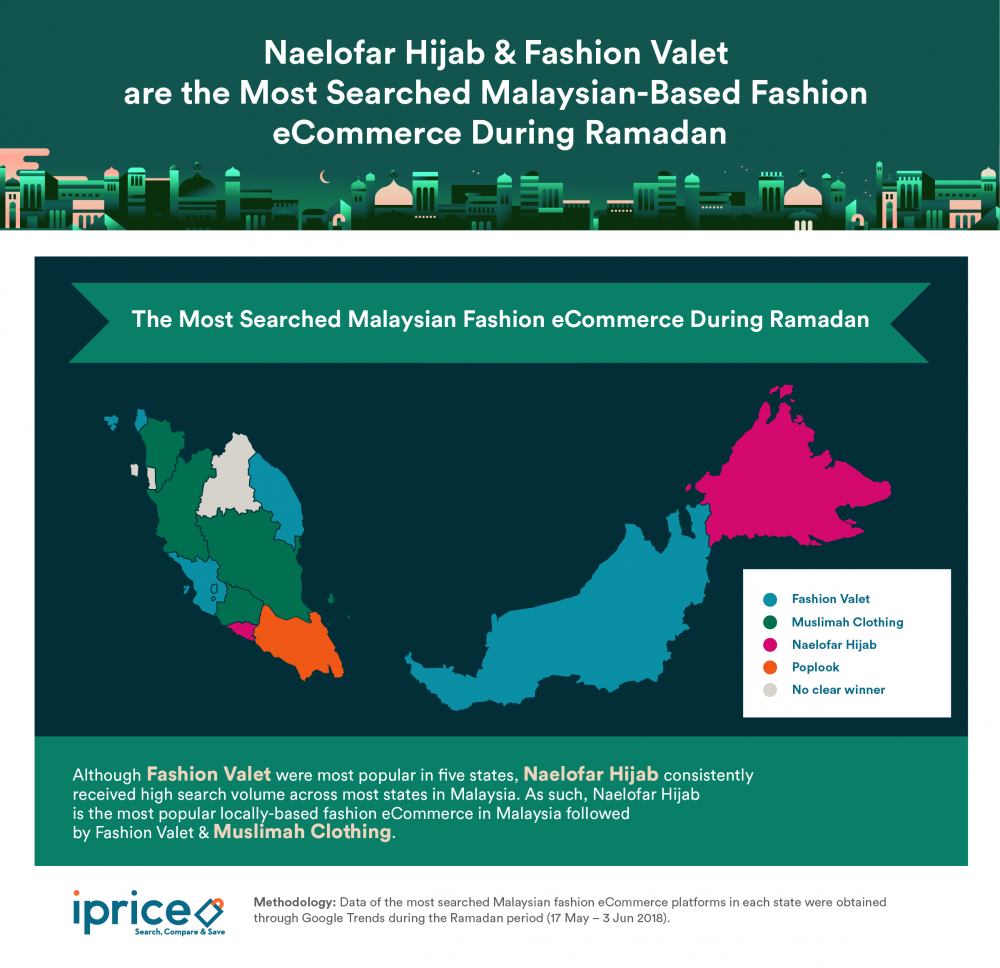 In the country, local brands have been actively showcasing their 2018 Raya collection & deals through various advertising, social media, & marketing campaigns across the country. The three most searched local fashion eCommerce brands in Malaysia during Ramadan were Naelofar Hijab, Fashion Valet & Muslimah Clothing. Towards the end of May 2018, Naelofar Hijab launched the "Shine On" collection which is their #naelofaraya2018 campaign. At this same period, Naelofar Hijab garnered a high volume of search interest between 23 – 30 May2018 indicating a successful campaign that caught the attention of many Malaysians.
Close in fourth place was Siti Khadijah which garnered a high volume of search interest from Malaysians as well. Siti Khadijah specialises in prayer outfits specifically for women known as telekung. As such, the high level of interest for the eCommerce was no coincidence because many women are dedicating their time to pray during Ramadan.
In Indonesia, there was high search volume for "gamis" which is a long dress worn by Muslim women along with keywords such as "hijab" & "baju muslim". These keywords indicate that many Indonesians were looking for inspiration or sources for clothing suitable for their religion activities during the month of Ramadan. In addition to this, there was a high level of interest for "Baju Koko", which is a fashionable traditional top for men most popularly worn during the Aidilfitri celebrations.
Other Unique Search Trends Prior Aidilfitri
Utilising Google Trends, there is also a high search interest for airline ticket promotions in Malaysia & Indonesia before Ramadan. This is in line with local trends since many will be travelling back to their hometown prior Aidilfitri celebrations. Search interest for airline tickets began during the second half of May 2018 which takes place a month before the Aidilfitri celebrations on 15th of June.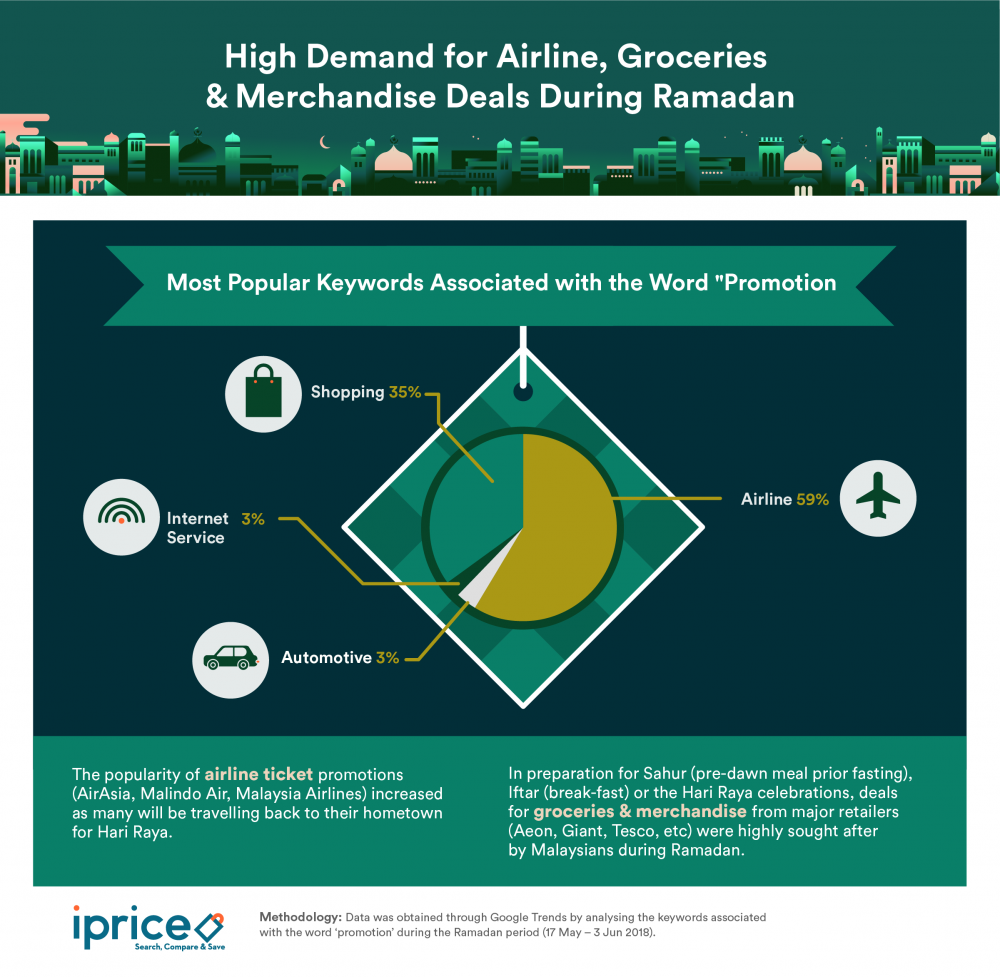 In Malaysia, the most popular keywords & brands associated with "promotion" were "Airasia", "Malindo Air" &"Malaysia Airlines". In Indonesia, inhabitants located in Sumatera, Kalimantan & Sulawesi were most interested in airline ticket promotions as compared to other states. This indicates that inhabitants in these regions were more likely to travel to the Java Islands or to other parts of the country for Aidilfitri.
Other than airline tickets, the second most popular keyword used in Malaysia were related to groceries & merchandise deals. During Ramadan, there is a high demand for Raya goods such as biscuits, traditional delicacies, & other food stuff. Since these items are usually available at major supermarkets & stores many Malaysians are on the lookout for promotions by major retailers in order to maximise their spending. The top brands associated with the keyword "promotion" were:
Aeon
Giant
Tesco
Aeon Big
Econsave
Mydin
 Methodology:
Data of the average sessions per hour in Malaysia & Indonesia were obtained by comparing online traffic between 17 May – 3 Jun 2018 (Ramadan) & 19 Apr – 6 May 2018 (Before Ramadan) on http://iprice.my with Google Analytics.
Data of Malaysia's four most searched fashion eCommerce platforms, most popular fashion products & other search trends were obtained on Google Trends during the Ramadan period (17 May – 3 Jun 2018).
About iPrice Group
iPrice Group is a meta-search website where Malaysian & Indonesian consumers can easily compare prices, specs and discover products with hundreds of local and regional merchants. iPrice's meta-search platform is also available in six other countries across Southeast Asia namely in; Singapore, Thailand, The Philippines, Vietnam and Hong Kong. Currently, iPrice compares and catalogues more than 250 million products and receives more than five million monthly visits across the region.
iPrice currently operates three business lines: price comparison for electronics and health & beauty; product discovery for fashion and home & living; and coupons across all verticals.