The first of its kind in Malaysia, made with real ingredients and real nutrition for moms who seek real convenience
24th March, Kuala Lumpur – Lady's Choice has recently launched a brand new product range – Lady's Choice Meaty Spread which comes in two variants, Chicken Spread and Tuna Spread. In addition to being the first of its kind in Malaysia, the Lady's Choice Chicken Spread and Tuna Spread are made with real ingredients such as real chicken and tuna that are high in nutrition with the goodness of Omega 3.
While motherhood is rewarding, it is also one of the most challenging undertakings in life, especially with society's expectations on what motherhood looks like. The modern mom is expected to juggle her career, preparing well balanced meals, doing the house chores and the wellbeing of their children all at the same time. The reality is that motherhood is hard and not enough mothers speak out about it. As such, in conjunction with the launch of the Lady's Choice Meaty Spread, Lady's Choice has launched its #KeepingItReal campaign.
The #KeepingItReal campaign aims to engage and resonate with Malaysian moms while showing solidarity by shedding the veil and showing the real and unfiltered side to motherhood. Through a series of Instagram Live Sessions in collaboration with prominent mom personalities, the brand looks to foster real conversations surrounding the realities of motherhood and be there for moms by providing real solutions to alleviate the everyday morning rush with the Lady's Choice Meaty Spread.
"Let's face it, mom guilt is a real struggle many moms find it overwhelming and difficult to cope with. Hence, through our #KeepingItReal campaign, we want to encourage moms to speak up and share  their personal motherhood journey and challenges, especially when it comes to providing quick yet nutritious meals for their children in the morning. We want to reassure moms that Lady's Choice is standing with them through this journey and aims to ease their mom guilt with a product that is both quick yet nutritious for their children," said  Siti Suhaila Abd Hamid, Marketing Manager, Foods, Unilever (Malaysia) Holdings Sdn. Bhd.
As part of this campaign, Lady's Choice also engaged  marriage and family therapy expert, Charis Wong (Counseling Psychologist) to share her thoughts on the subject and provide moms with valuable insights that can help them throughout this journey.
"It is said that how your morning goes tends to set the tone for the rest of the day. However, for most moms everywhere, mornings can be rather chaotic due to breakfast preparations, despite it being a very important meal for children. Hence moms need to strike a good balance in all of this. There are simple rules moms can apply to manage their mornings and stay on track, while enjoying more memorable bonding time with their children before everyone heads off for the day.
Start tomorrow's morning routine the night before especially if you are not a morning person like me. Pick out your clothes, pack or partially pack breakfast and lunch boxes the night before, get all essentials such as water and face masks on the table ready to be grabbed. Train your children to pack their bags and set out their uniforms the night before.
Incorporate some meaningful morning rituals for yourself and with your children.  Mindfulness activities such as praying, meditation, having thoughts of gratitude or just doing some deep breathing exercises are great ways to start the day calm and focused. With your children, saying morning prayers, identifying some daily resolutions or goals, and even enjoying lighthearted conversations during car rides to school are meaningful rituals.  
Choose a breakfast that is higher in protein, and lower in unhealthy fats, refined carbs and sugar. Health experts have long advocated the benefits of taking a high protein breakfast, rather than taking a majority of our daily protein during the latter part of the day.  Yet, due to our morning rush, there is a tendency to go for convenient breakfast food, that often contains insufficient protein. 
Suhaila added "Many moms go through mom guilt because they want to provide nutritious breakfasts for their children but that requires additional time and effort, which is a luxury that most of us cannot afford, especially now as most working moms are still working from home but children are back to school. So, they resort to convenient alternatives such as junk food, biscuits with low nutritional value which tend to be unhealthy. We believe that the Lady's Choice convenient, tasty yet nutritious Chicken Spread and Tuna Spreads will be able to help ease Malaysian moms through the morning rush and make breakfast time easier for them.
For the first instalment of its IG Live series, Lady's Choice has teamed up with two of Malaysia's favourite celebrity moms, Amyra Rosli and Diana Dianielle, to host the inaugural
#KeepingItReal Instagram Live Session on Saturday, 27th March, 8.30PM where they will discuss their real motherhood journeys and struggles, in addition to sharing  tips and solutions on how they cope with the responsibilities of  balancing motherhood and their careers.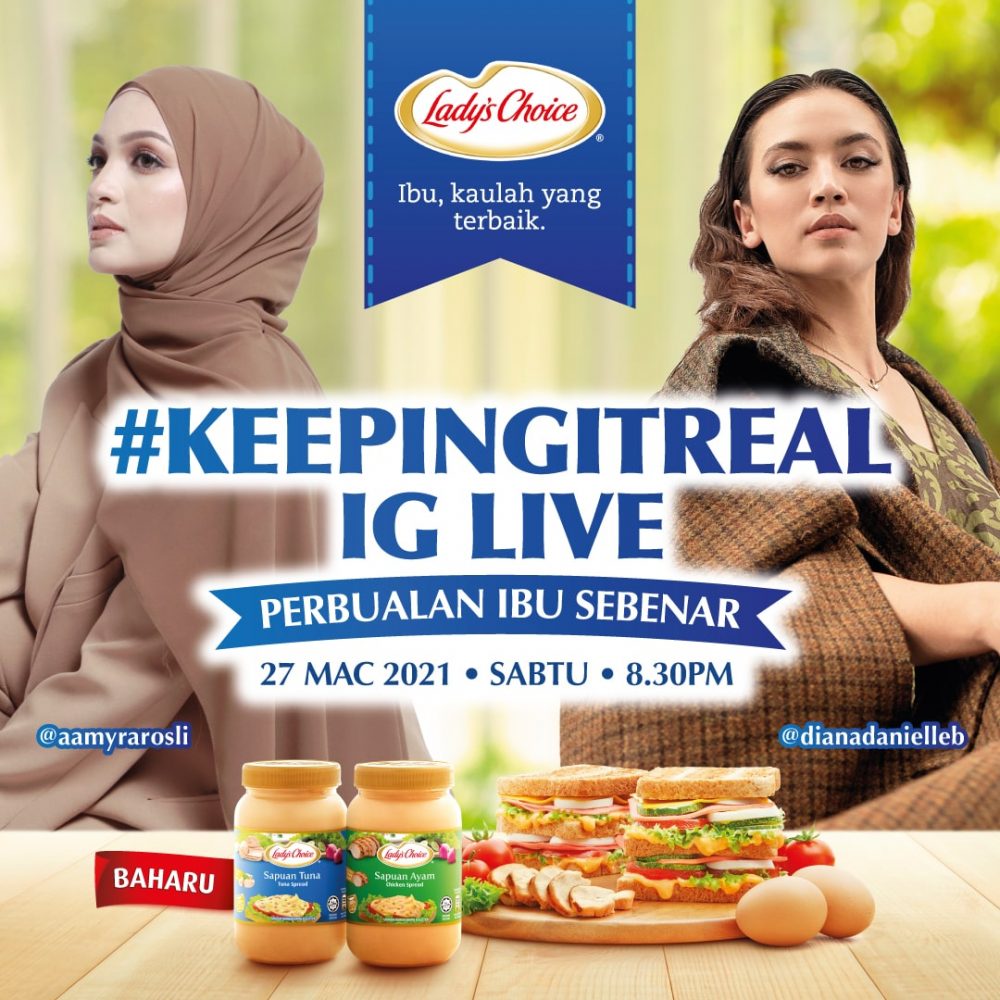 #KEEPINGITREAL IG LIVE DETAILS
Day/Date: Saturday, 27th March
Time: 8.30PM
Instagram Profiles: https://www.instagram.com/aamyrarosli/
                                  https://www.instagram.com/dianadanielleb/
Moms can now easily get their hands on the Lady's Choice Chicken Spread and Tuna Spread, available at major hypermarkets, supermarkets and convenience stores nationwide, priced at RM8.50 for a 220ml bottle, respectively.
To learn how you can use these versatile spreads to prepare quick and nutritious meals for your children, do visit https://www.nakmakanapa.com.my/produk/ladys-choice-sapuan-ayam/ or https://www.nakmakanapa.com.my/produk/ladys-choice-sapuan-tuna/.
To find out more details on the upcoming instalments of the #KeepingItReal Instagram Live Sessions, stay tuned to @Lady'sChoiceMY.