Kaspersky report shows awareness against risks online is there, but action remains an area of improvement
03 May 2021
Do you feel afraid every time you input your credit card information or banking details on a shopping site or a payment app? You are not alone, at least according to a survey from the global cybersecurity and digital privacy company Kaspersky.
The report titled "Making Sense of Our Place in the Digital Reputation Economy" discovered some types of personal information are sacred to social media users in Southeast Asia (SEA), which they prefer not to share or store online.
Financial information, such as credit or debit card details, tops the list with the majority (76%) of 861 respondents in the region confirming their intent to keep their money-related data away from the internet.
The sentiment is highest among Baby Boomers (85%), followed by Gen X (81%), and Millennials (75%). Gen Z, the youngest generation, logs the lowest percentage with only 68% opting not to store their financial credentials online.
This is not a surprise as several studies cited SEA's young population as a key factor in its emerging drive towards e-payments, in addition to the significant percentage of the region's still unbanked or underbanked citizens, the high mobile adoption, and the government's push for greater digital payment adoption.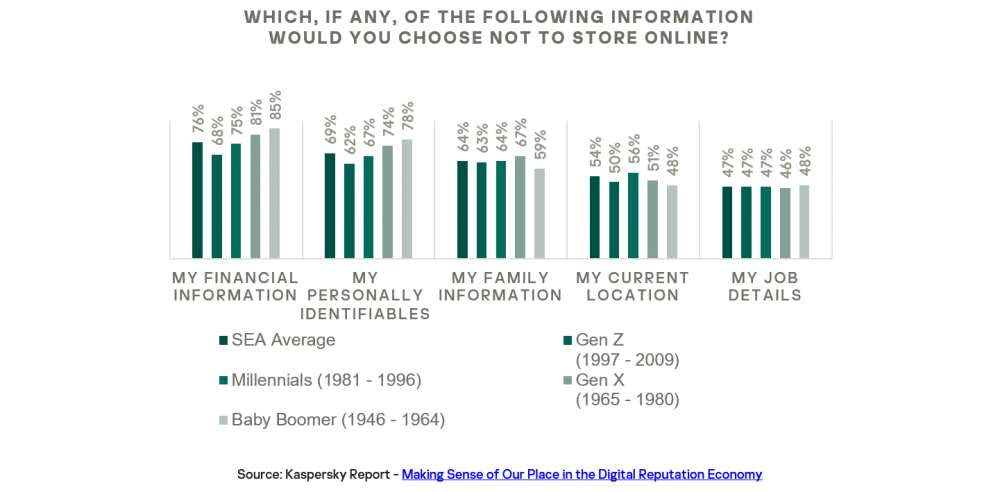 Southeast Asians on social networking platforms also prefer not to share on their account their personally identifiable information or PII (69%), information about their immediate family (64%), about their whereabouts (54%), and about their jobs (47%).
When it comes to the group of people they want to keep these data away from, respondents from SEA almost unanimously revealed that it would be worrisome if these particular data will be seen or stolen by cybercriminals (73%) and random strangers online (61%).
"This health crisis accelerated Southeast Asia's cashless drive at a rapid pace, parallel to the offline-to-online shift of most activities in the region since last year. It is a welcome insight that users here are now thinking thoroughly about the data they share and don't share online. Most also know now that cybercriminals and the general online public should never get their hands on such information. Awareness, however, does not necessarily equate to action," comments Chris Connell, Managing Director for Asia Pacific at Kaspersky.
While most (71%) of the respondents from SEA use passwords to protect their laptop or mobile phones, just 5 in 10 (54%) check and change the privacy settings of devices, apps, or services they use and only 4 in 10 (47%) avoid illegal or pirated software and applications.
The same survey, conducted just last November 2020, also unmasked that only half (53%) of the respondents from the region have installed internet security software on their devices.
"As the fastest growing region in the Asia Pacific in terms of internet adoption, we see that this is just the beginning of SEA's digital journey. It is understandable that some may still feel afraid and unsure when they use services such as digital payments because it is relatively new, and yes, there are risks present. This is why it's crucial to put awareness into action," Connell adds.
Kaspersky experts suggest the following steps to keep financial data and personal information safe online.
Be careful about what you share on social media
Posting too much information on social media can make it easier for cybercriminals to piece together information about you. To maximize your online privacy, it is a good idea to:
Avoid publicizing your movements such as upcoming travel plans, as this alerts people that you will be away from your home during this time.
Avoid disclosing too much information such as your date of birth or workplace in any About Us or bio section of a social media profile. Avoid posting your home address or phone number in any public forum.
Check to see whether the social media platform you are using adds location data to your posts and if it does, turn this setting off. Most of the time, it is not necessary to share your location publicly.
Avoid the fun quizzes which occasionally do the rounds on social media. Often these can ask questions such as your favorite pet or where you went to school. These types of questions are often used as security questions, so making these answers public could make it easier for hackers to break into your online accounts.
Be wary of giveaways and contests. Many are legitimate but some are scams in disguise. By sharing them on social media, you could unknowingly spread malware or trick people into giving away their sensitive data.
Secure your mobile devices
Make sure you have a passcode not easily guessed to access your phone is a basic step. Being sure to download apps and games only from legitimate app stores is another.
Don't jailbreak or root your phone – that can give hackers a way to overwrite your settings and install their own malicious software.
Consider downloading an app that can allow you to delete all the data on your phone remotely so that if your phone is stolen, you can delete your information easily.
Stay up to date with any software updates and be careful about clicking on links online, in the same way you would on a laptop or desktop.
A combined solution of security products and practical steps can minimise the threats and keep your data safe online.
Reliable security solutions for comprehensive protection from a wide range of threats – such as Kaspersky Security Cloud and Kaspersky Internet Security, coupled with the use of Kaspersky Password Manager to safely store your valuable digital data – can help solve the problem of keeping your personal information under control.
About the survey
The Kaspersky "Making sense of our place in the digital reputation economy" report studies attitudes of individuals in Asia Pacific towards building a secure and reputable online identity on social media. It also looks into how tainted digital reputation of businesses are perceived.
The study was conducted by research agency YouGov in Australia, India, Malaysia, Philippines, Singapore, and Vietnam last November 2020. A total of 1,240 respondents were surveyed across the stated countries.
The respondents ranged from 18-65 years of age, all of which are working professionals who are active on social media (spending at least 1 hour a day on social media).
Through this paper, when the behaviour of the population of a market is generalised, it is in reference to the group of respondents sampled above.
About Kaspersky
Kaspersky is a global cybersecurity and digital privacy company founded in 1997. Kaspersky's deep threat intelligence and security expertise is constantly transforming into innovative security solutions and services to protect businesses, critical infrastructure, governments and consumers around the globe. The company's comprehensive security portfolio includes leading endpoint protection and a number of specialized security solutions and services to fight sophisticated and evolving digital threats. Over 400 million users are protected by Kaspersky technologies and we help 240,000 corporate clients protect what matters most to them. Learn more at www.kaspersky.com.