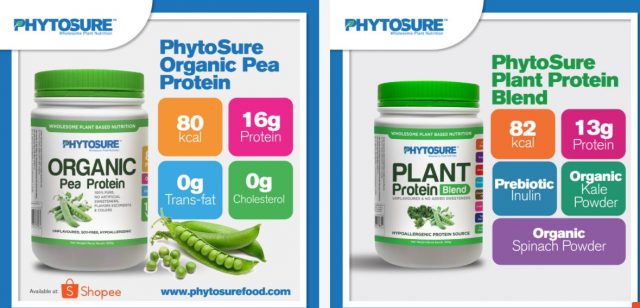 PhytoSure is a new plant-based protein in Malaysia. PhytoSure is powered by plant and comes in two variants – Organic Pea Protein and Plant Protein Blend.
Each 20g serving of PhytoSure Organic Pea Protein provides 16g of protein to support muscle tones and keep energy levels up or as a healthy option to other sources of protein. It is said to be an alternative to whey protein. The key ingredient is organic isolated pea protein blend.
PhytoSure Plant Protein Blend is made with a blend of organic isolated pea powder, prebiotic inulin, organic kale and spinach powder. Each 20g servings provide 12g of protein and natural occuring BCAAs to repair muscle post-workout and keep the energy levels up.
Click here to purchase on Shopee Malaysia.