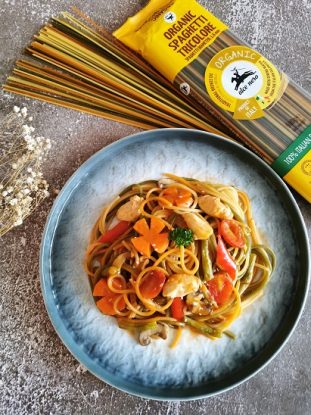 Introduces Three New Pasta Products To Add Variety to Clean Easting During MCO 3.0
Shah Alam, 24 June 2021 – Founded in 1970s, Alce Nero is a pioneer of organic farming in Italy. Developed by a cooperative of young farmers who were concerned on the negative effects of intensive commercial farming, it has grown to be one of the most successful organic food brands in Italy, with a growing presence in global markets.
The Alce Nero Inspiration
In Italian, 'alce' is elk while 'nero' means black. Alce Nero is named after Lakota spiritual healer Chief Black Elk (1863-1950) who inspired the brand founders through his love of the Earth, commitment to living in harmony with nature and respect for tradition. The brand's logo is a stylised depiction of Chief Black Elk on horseback spreading the message of ecological stewardship.
Organic Vision
The Alce Nero organic vision is 'from our fields to your plate' with as few steps in between as possible as cooperative members use traditional farming and manufacturing methods combined with advanced research.
Provenance and Traceability
Alce Nero is unique as our farmers are both producers and shareholders, so you always know the provenance of every product as it is shown on the label for total traceability. All products are directly from our fields, grown without pesticides or synthetic chemicals, non-polluting and with no Genetically Modified Organisms (GMOs) to meet global organic certification standard.  All Alce Nero products are certified organic proudly displaying the European Organic Certification and the Japanese Organic Certification.
Adding Variety To Your FMCO Meals with Alce Nero
Organic products as part of the clean eating movement are said to offer health benefits. As we stay home during the Full Movement Control Order (FMCO), most of us, especially kids, would appreciate more variety and fun in our daily meals.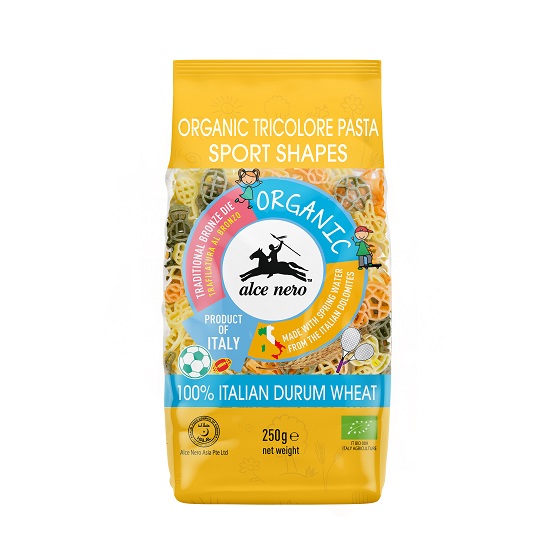 Three New Organic Alce Nero Pastas!
Enter three new Alce Nero pastas –   Organic Tricolore Spaghetti and Organic Tricolore Kids Pasta Sport Shapes, and the Organic Whole Wheat Spaghetti. Alce Nero Organic Tricolore Spaghetti and Alce Nero Organic Whole Wheat Spaghetti retail for RM8.20 per pack, while Alce Nero Organic Kids Pasta Sport Shapes retails at RM5.90. Alce Nero pastas are available at organic food sections of Ben's Independence Grocer, Jaya Grocer, Village Grocer and selected AEON outlets.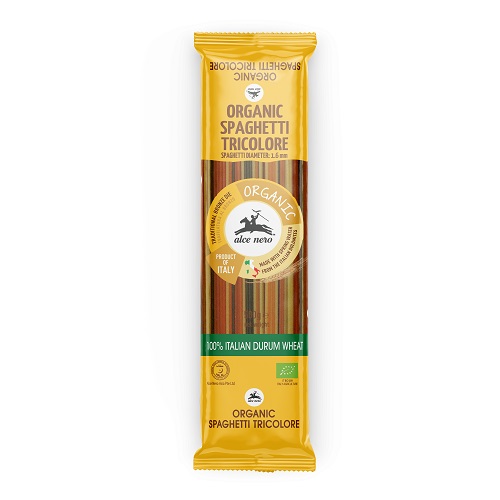 Alce Nero Organic Tricolore Pastas
The Tricolore pastas come in three colours, natural, spinach-flavored green, and tomato-flavoured orange. Alce Nero pasta is bronze drawn, a traditional Italian pasta extrusion method that results in a rougher textured, more porous pasta that creates an ideal surface for sauces to cling to.  Alce Nero Organic Tricolore pastas will liven up any pasta dish, and are a great way to introduce fussy eaters to fibre-rich and healthy vegetables in a non-intimidating form, that will be saucily flavorful!
Alce Nero Organic Whole Wheat Spaghetti
The Alce Nero Organic Whole Wheat Spaghetti uses organic wholemeal durum wheat semolina that is made by milling the whole grain, without added ingredients. Fresh spring water from the Dolomites is used to prepare the semolina dough for a refined taste. This whole wheat pasta is high in fibre, and is ideal served with Alce Nero tomato sauces.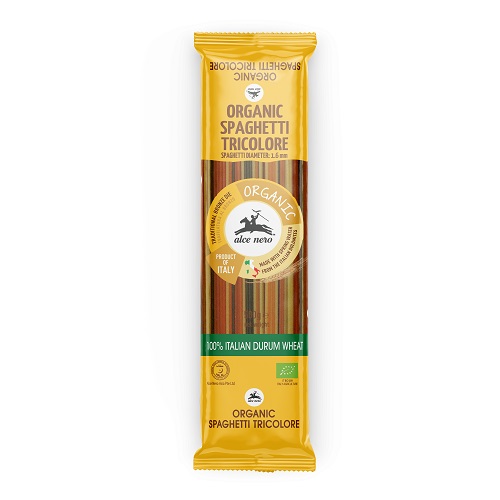 Alce Nero Organic Pasta Recipes with A Twist
Pasta allows your imagination to run free. Pick a cuisines, select those spices and a good pasta will carry them for a unique fusion creation.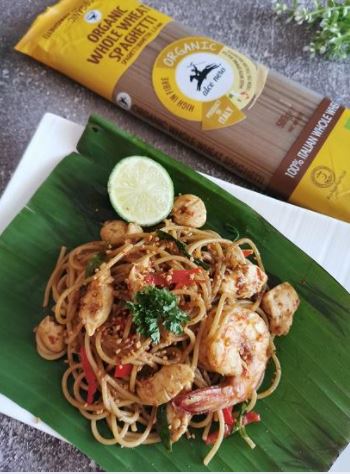 Spaghetti Pad Thai with Wholewheat Pasta
Pad Thai is often termed the national street food of Thailand.  Substitute Alce Nero Organic Whole Wheat Spaghetti for similar bite and texture to the noodles, add more protein and vegetables for a substantially healthy and tasty meal.
Boil Alce Nero Organic Whole Wheat Spaghetti according to the instructions on the pack. While the past boils, heat some Alce Nero extra virgin oil in a wok, saute chopped garlic, and stir the marinated chicken and prawns. Stir in tamarind juice, brown sugar, chicken stock granules, chili padi and fish sauce. Add the cooked spaghetti, before stirring in the chives and beansprouts. Garnish and finish with a squeeze of lime. Enjoy your Thai Italian fusion!
Sweet and Sour Chicken with Tricolore Spaghetti
Staying at home does not have to be boring, let's add a splash of colour with Alce Nero Tricolore Spaghetti for this Sweet and Sour Chicken dish.
Prep as you would for regular sweet and sour chicken, marinating the chicken overnight if possible for maximum flavour. Prep your choice of vegetables, we used mushrooms, red bell pepper, carrots and green beans. Cook the Spaghetti and green beans, and set aside. Make the sweet and sour sauce by combining light soy sauce, rice vinegar, tomato ketchup, light brown sugar and corn starch. Fry the marinated chicken until cooked through – remove from the pan. In the same pan, stir fry the prepped vegetables. Add the chicken, the pasta, the green beans and the sauce, toss well until the sauce coats all ingredients. Dish out to individual plates, and dinner is served! The Tricolore pasta adds colour and flavour to this Asian favourite.
Minestrone is classic Italian comfort food that kids love. If you have a picky eater, you can 'hide' more vegetables in minestrone than in less soupy dishes. Using Alce Nero Organic Tricolore Sport Shape Pasta in this recipe add more visual interest that will capture your little one's attention, and the spinach and tomato infused pasta will help with fibre.
This one pot meal is great for days when you are short of time. In a pot saute onion, celery and carrot in olive oil until carrots soften. Add garlic and salt. Next add in green beans, Alce Nero pasta sauce, water and bring to a boil. Add kidney beans and the Alce Nero Organic Tricolore Sport Shapes and cook until the pasta is al dente – approximately 10 minutes. Serve warm with parmesan and basil.
Find out more about Alce Nero at https://alcenero.asia/recipes.html or visit our socials at Facebook page https://www.facebook.com/AlceNeroMalaysia/ and at Alce Nero's Instagram page https://www.instagram.com/alceneromy/ for more interesting and easy pasta recipes.
About Alce Nero
Alce Nero was established in the 1970's, when two cooperatives of young Italian farmers decided to pioneer the organic revolution, producing wholesome food while respecting the environment. Alce Nero combines old farming methods with the most advanced research on health and the environment. The techniques have evolved, but our seal of quality is still based on the simple ingredients that Alce Nero was created from: love of food, respect for the environment, and banning of synthetic chemical substances.
Today, Alce Nero is the No 1 organic brand in Italy. Our producers are involved in all stages of manufacture, allowing us to enforce respect of our principles throughout the production process and accurately trace our food to its origins. Thus, we can guarantee high quality, 100% organic, authentically Italian products brought straight from our fields to your plate. Alce Nero is famed for its organic certifications by the most stringent certification bodies from European Union and Japan.
In Malaysia, Alce Nero carries a fine range of organic pasta, extra virgin olive oil, pasta sauces, jam and honey. For more information please visit www.alcenero.asia.