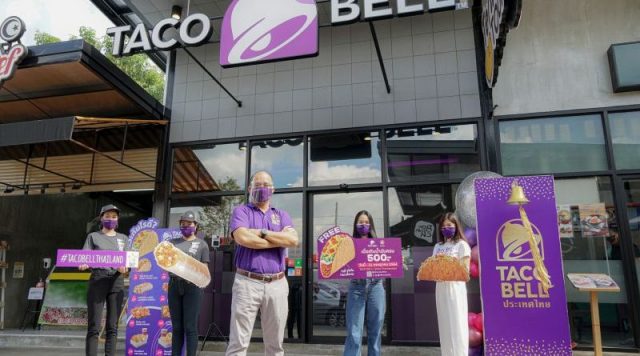 22 July 2021 – Siam Taco Company Limited, the operator of Taco Bell franchise in Thailand, has initiated its new strategy for stores expansion in service stations by launching its first service point at Caltex service station, Prachanukul branch. The new outlet will be built in Delco format which expects to attract a greater number of customers and generate high brand awareness.
Taco Bell Thailand began developing this new Delco model which is about half the size of Taco Bell's traditional restaurants and costs about half as much for franchisees to build, opening up more potential sites in Thailand. Delco is designed to fits in to tighter places and focuses more on delivery and carry out.
Mr. Chalermchai Mahagitsiri, President and CEO of Thoresen Thai Agencies Public Company Limited (TTA) and Director of Siam Taco Co., Ltd., said, "We realized the rapid growth of retail businesses in service stations in the past 3-4 years so we decided to shift our stores expansion strategy towards service stations instead of department stores. In addition, consumers nowadays have adopted a fast-paced and a new normal lifestyle, our Taco Bell's unique delicious tacos, which can be both purchased as a takeaway and consumed on the road, serve the purpose quite remarkably. Caltex service station, Prachanukul branch (C. Trac Energy Co., Ltd.) is considered the first option because this Caltex service station is located on a major road with high daily traffic and high accessibility for travelers. It can serve the needs of people in this neighborhood who normally work in other areas and expected to make a lot of takeaway orders. In addition, this service point can effectively serve as a "Delivery Hub" for Taco Bell fans in this area, especially during this time in which the Covid-19 still prevails and all consumers are likely to dine at home."
To celebrate the opening of this new outlet, the company has partnered with Caltex service station, Prachanukul branch to launch a special campaign: customers who re-fuel with a minimum spending of 500 baht will receive 1 free Taco Supreme to enjoy (1 coupon per 1 receipt only) until 31 July 2021.
Since the outbreak of the Covid-19, the number of Taco Bell delivery orders have grown markedly. The company, therefore, has increased the target revenue from delivery orders to be 25% of the total sales in 2021.