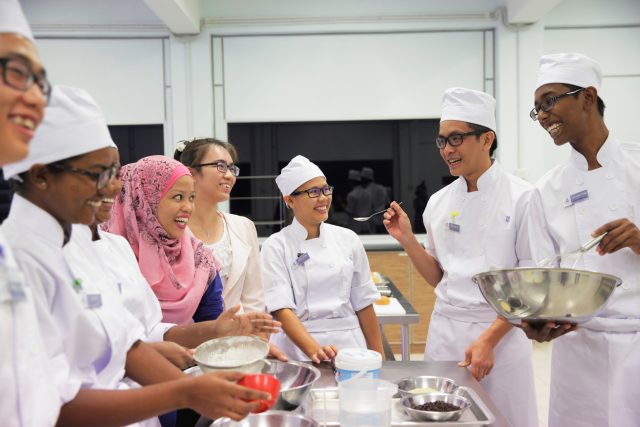 COVID-19 Further Jeopardises Prospects of 'Youth in Need'
Shah Alam, 5 August 2021 – Donations to Montfort Boys Town (MBT) have been dwindling since Covid-19 hit in 2020. Working to empower 'youth in need' for the past 61 years, the renowned technical institute is now struggling to meet overheads.
"The scale of the COVID-19 disruption to MBT's operations has been truly astounding," said Director, Brother Robin Devasagayam. "We understand that the country, indeed the whole world, is experiencing a crisis of epic proportions and its enormous impact on the economy.  As a result, donors and benefactors who previously supported us generously, have now reduced or completely stopped contributing to MBT," he explained.
The institution's customised training programmes comprise up to 70% practical exposure with face-to-face learning.  "When the Government announced total lock down beginning of this year (2021), all students were instructed to return home and to stay home," Brother Robin said.  Students attended online classes for a month, after which they were able to return to campus. "In May 2021, students returned home for semester break, and during this time COVID-19 cases started to spike. So, we requested all students to learn from home; and till today all the Technical and Vocational Education and Training (TVET) staff are teaching from home as well," he said. To uplift employee and student morale, MBT keeps in constant touch with staff and students via Whatsapp and provides online counselling assistance to students.
MBT student, Edmund Louis, aged 19, a student in the Multimedia Artist – Visual SKM Level 2 programme said that he was lucky to be equipped with a laptop, smart phone and have access to good internet connection. However, he felt that keeping up with studies on his own was a challenge. "I feel that I'm more creative when I'm physically in the classroom with teachers and my fellow course mates. Being able to discuss creative ideas face-to-face is more productive," he said.
Chan Jun Kit (陈俊杰), a student in the Facilities Maintenance programme who resides in Wangsa Maju, Setapak, said that while he was comfortable with online learning, he faced another issue.  "I find online learning quite easy. We have a student WhatApp group to discuss the course work that we have difficulty understanding, and I use Google to do research, but mostly I face internet connection problems," he explained.
Susanna Nisha, aged 20, another student in the Multimedia Artist – Visual at SKM Level 2 programme echoed Jun Kit's complaint about internet connectivity issues. An only child, Nisha said that she missed her classmates and preferred face-to-face classes as group work allowed more collaboration and produced better ideas.  "I hope the number of COVID-19 cases decreases soon so MBT can reopen. I can't wait to go back to campus," she said.
Even without students on campus, MBT requires RM250,000 monthly to meet its overheads which include staff salaries, utility bills and maintenance. When students are on campus, the amount increases to RM400,000 monthly.
Brother Robin lamented that in addition to the drastic decline in donations, MBT is faced with several other challenges including implementation of home-based teaching and learning (PdPR) classes, postponement of graduation ceremonies of two cohorts, and difficulty in conducting interviews for student intakes due to interstate / inter district travel restrictions. Another major challenge is the lack of smart devices and internet / data access among candidates and students.
By its very nature, TVET with its focus on practical skills and work-readiness, makes remote learning particularly challenging.  Brother Robin explained that in keeping with the times, MBT is upgrading its teaching facilities and providing soft skills training to all TVET staff to properly equip them to teach in front of a screen confidently and effectively.
"Montfort Boys Town has been a skills training (TVET) provider since 1959. We strongly believe in transforming the 'youth in need' of our society into employable candidates with 'real life, real skills'.  Talent can take one to the top, but behaviour decides how long one can stay there. As such, our character formation has produced good results among all the graduates. We can proudly vouch to all potential employers, 'hire attitude first, and second, the talent'," concluded Brother Robin.
TVET continues to be an important source of highly skilled and future-ready workforce in Malaysia. According to the National Policy on Industry 4.0, the country requires more independent and highly skilled workers, who will increase the nation's productivity.
Since its inception, MBT has impacted the lives of over 7,000 underprivileged youth in Malaysia, who as a result of their foundational years at the institute, have gone on to lead thriving careers. MBT is one of Malaysia's pioneering NGOs that provides skills training and character formation to marginalised youth in Malaysia. In 2002, MBT opened its doors to female students which birthed the Montfort Girls Centre.
Cash donations to MBT are entitled for tax exemption as defined under sub-section 44(6) of Income Tax Act 1967, Ruj: LHDN.01/35/51/179-6-0679, No. Warta Kerajaan: LN 106-1 October 1959.
For more information, kindly call 03 55191735 / 6 or MBT Director, Brother Robin, at tel:  012 282 2966, or Deputy Director, Mr Arul S. tel: 016 620 9244.  For enquries via email: [email protected] or visit MBT's official website www.montfort.org.my or Facebook page www.facebook.com/montfortboystownshahalam
#montfortboystown #60yearsofmbt
About Montfort Boys Town
Montfort Boys Town (MBT) is a registered training provider under JPK (L00002) and offers skills training with SKM Level 2 and Level 3 certification. The institution equips graduates with skills fit for careers in Computer Maintenance, Graphic Design and Multimedia, Machining, Hospitality, Bakery and Pastry, Electrical, Automotive and Facilities Maintenance field. MBT provides residential care and skills training for school dropouts, students from lower income families as well from single parents and orphanages. The institution's main objective is to build character as well as skills among the youth in order to contribute a group of talented and professional young men and women to the workforce. MBT's tag line echoes its objective, "Real Life, Real Skills"