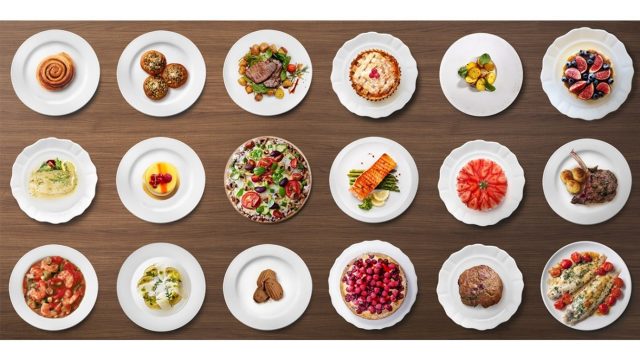 Let's be honest – who has gotten tired of using their microwave oven only to heat up food or revive stale bread? Because if you have, now is a good time to look at your microwave oven differently, in ways that will allow you to get not just the best sumptuous dinner ideas but also the maximum utility out of it.
Samsung's Convection Microwave Oven with HOT BLAST™ for example is one of the best multi-tasking kitchen accessories you can have around, allowing you to bake, steam, grill, and even roast dishes to your heart's desire. From toasting nuts to peeling garlic and recrystallizing honey, the possibilities are endless. On top of that, Samsung's Auto Cook function means preparing homemade dishes that are healthy and delicious – from green beans to brown rice, and boneless chicken to salmon fillets – are just a few clicks away.
Healthy Cooking That Lets You Indulge Guilt-Free
Air frying is one of the emerging and popular cooking methods due to the reduced usage of cooking oil to fry food. The Air Fry feature on Samsung's oven is ideal for cooking your favorite crispy foods – like chicken wings, breaded vegetables, nuggets, and more – while using less oil than normal methods (or no oil at all).
The oven also comes with a new Crusty Plate that is designed specifically for this feature and should be used whenever you need to make a fresh batch of something delicious. Let's start your cooking with a crunch-tastic appetizer to keep your fellow diner excited.
Cooking Idea: Crispy Crunch Potato Chips
What you need: 1 potato (swap with sweet potatoes for vitamin C boosts to your immunity), salt or other seasonings, olive oil (optional)
 How:
Cut cleaned potatoes on a mandolin, rinse well, and then pat dry until clean.
Lightly brush each chip with olive oil and sprinkle with salt or other seasonings to taste.
Spread on a paper towel on a plate and microwave for 3 minutes.
Turn the chips over and finish with another 3 minutes.
Too hot to turn on your pan but need to feed an entire family? Go Tex-Mex with homemade chicken fajitas by utilising the PowerGrill Duo feature to enjoy perfectly grilled food with less waiting time, or opt for the Pro Steam function for tender and juicier food inside and out.
Cooking Idea: Tex-Mex Steamed Chicken Fajitas
What you need: Chicken tender, red pepper, red onion, chili powder, corn tortilla, and guacamole, salsa or sour cream
How:
Cut a quarter pound of chicken tender, red pepper, and half an onion into thin slices.
Combine in a microwave-safe bowl and season with chili powder, oregano, salt, and pepper.
Place your food in a microwave container and cover it, or use the Pro Steamer three-layered stainless steel steamer cover to keep the food moist and prevents it from being dried out.
Cook on high for 10 minutes or until the chicken juices run clear and continue cooking at 1-minute intervals if not fully cooked.
To warm up the tortillas, place them on a microwave-safe plate and cover with damp paper towels, and microwave for 30 seconds.
Serve the chicken, vegetables, and warm tortillas alongside the guacamole, salsa, sour cream, or any dipping sauce of your choice.
The next dish idea is what we would call a classic – chewy Muah Chee that just melts in your mouth! Fret not about long prep time, as it takes less than 10 minutes to make, for a perfect savoury end to your illustrious feast.
Cooking idea: Nut-ty-usual Muah Chee  
What you need: 100g glutinous rice flour, 135ml water, 2 tsp oil, sugared peanut powder
How:
Combine glutinous rice flour and water in a microwave-safe bowl.
Add oil and mix well (you can also opt for shallot oil for an added fragrant)
Place the bowl into the microwave oven and cook for 2 minutes. After, remove the bowl and mix the dough well before cooking for another 2 minutes.
Once cooked, take small chunks of the dough and coat it in the sugared peanut powder.
Cut into tiny pieces using a kitchen scissor and serve.
Beyond these dishes, there's much more you can do with microwave oven-based cooking and even more reason to purchase your own Samsung Convection Microwave Oven with HOT BLAST™. In addition to that, during this Samsung Merdeka 'Stay Strong Malaysia' promo period, be extra rewarded with free RM50 Touch 'n Go eWallet credit when you purchase the model[1].
For more information on the Samsung Convection Microwave Oven with HOT BLAST™, visit https://www.samsung.com/my/microwave-ovens/convection/mw8000r-hotblast-mc35r8088lp-sm/
Purchase Samsung products on Samsung official store on Shopee.
[1] While stocks last. Terms and Conditions apply.