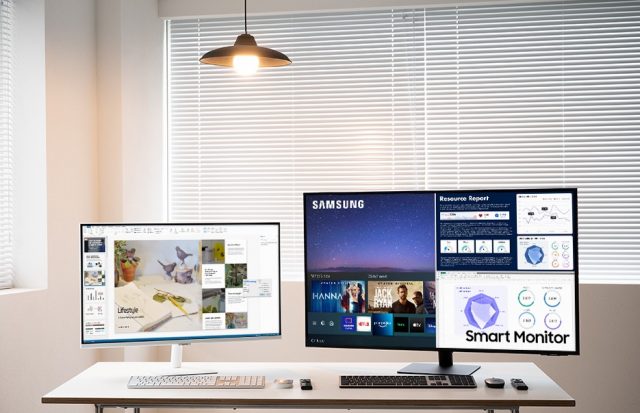 Do-it-all appliances and devices are rising, even before work-from-home mandates. Not only do they save space, they also make work and life more convenient. That is the base of Samsung's Smart Monitors, and the newest lineup makes daily tasks and entertainment more accessible in one single device.
The Smart Monitor brings your device connectivity to a higher level. You can access your PC via your Smart Monitor as long as both devices are signed in to the same Samsung account[1] – making remote work actually remote. Conversely, the Smart Monitor has multiple USB ports for you to connect various devices without needing an additional adapter, and the M7 even has a USB-c port[2] for greater convenience. With Auto Source Switch+, the monitor will automatically switch to the corresponding input source once you connect your device to save you searching around for the correct one. Whether for work or play, the Smart Monitor helps you elevate your performance.
Entertainment is brought a step up with the Smart Monitor as well. It can be used as a standalone device without being connected to any external sources, like the Smart TV apps, for example. You can enjoy your favourite K-drama or laugh to the latest rom-com on Netflix, YouTube, and Apple TV with a single click.[3],[4] Long-term viewings are more comfortable with Adaptive Picture that adjusts the screen brightness and colour temperature accordingly, and the in-built safeguard protects your eyes from harmful blue light emission. The monitor even comes with a remote control[5] for easier browsing and the built-in speakers give you a full auditory experience as well, all in one device.
Whether it be for work or play, or purely for its sleek, minimalistic aesthetic, the new Samsung Smart Monitor lineup is gunning for top spot in versatility. Right now, don't miss out on your chance to get a free Smart Keyboard Trio 500[6] with your purchase during our Merdeka promo that runs until 30 September 2021: https://www.samsung.com/my/offer/staystrongmsia2021/monitor
Check out our newest 43" flagship M7: https://www.samsung.com/my/monitors/smart-monitor/smart-m7-43-inch-smart-tv-apps-ls43am702uexxs/;
Or our popular 27" M5 in crisp white: https://www.samsung.com/my/monitors/smart-monitor/smart-m5-27-inch-smart-tv-apps-white-ls27am501nexxs/.
Click here to purchase on Samsung Malaysia's Shopee store.
[1] Windows 10 Pro, Mac OS 10.5, or higher, and compatible network settings are required for this feature.
[2] USB-C only available on the Smart Monitor M7.
[3] App availability may vary by country.
[4] App subscription required.
[5] Remote control specifications may vary by country.
[6] Terms and Conditions apply.