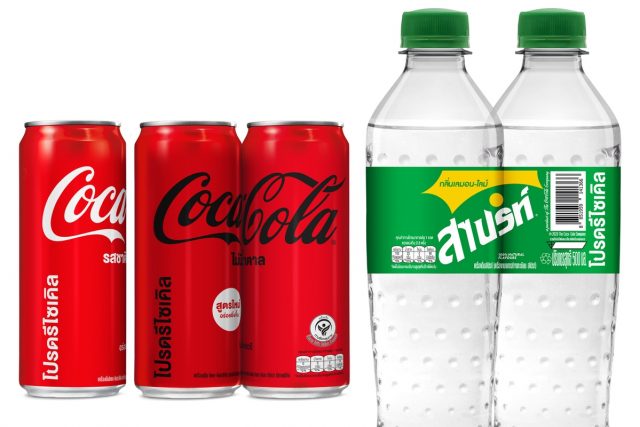 Monday 30 August 2021 – The Coca-Cola system in Thailand, which comprises ThaiNamthip Ltd., HaadThip plc., and Coca-Cola (Thailand) Ltd., is rolling out a 'Recycle Me' message on its package labels across all its sparkling brands by the end of 2021, designed to remind consumers to help separate recyclable packaging from other waste and recycle the bottle after they have enjoyed the drink.
To further inspire and drive change around increasing collection and waste separation behavior, Coca-Cola Thailand is sponsoring the 'Coke Recycle Me with Trash Lucky' campaign. Consumers can return their empty bottles and cans for recycling including via parcel delivery or Trash Lucky drop points and stand a chance to win prizes worth more than 900,000 baht. The campaign also joins hands with Indorama Ventures who are helping recycle the collected PET plastic bottles into fibers for producing 1,500 pieces of Personal Protective Equipment (PPE) for healthcare workers and hospitals dealing with the COVID-19 pandemic.
The campaign is supported by courier partner SPEED-D, a parcel delivery service available at all 7-Eleven stores nationwide, who are offering a special 5-baht discount for collected bottles, cans and recyclable shipments under the campaign. The shipments of recyclables will be sent to Trash Lucky who will segregate each material stream and then send each material type to different recyclers.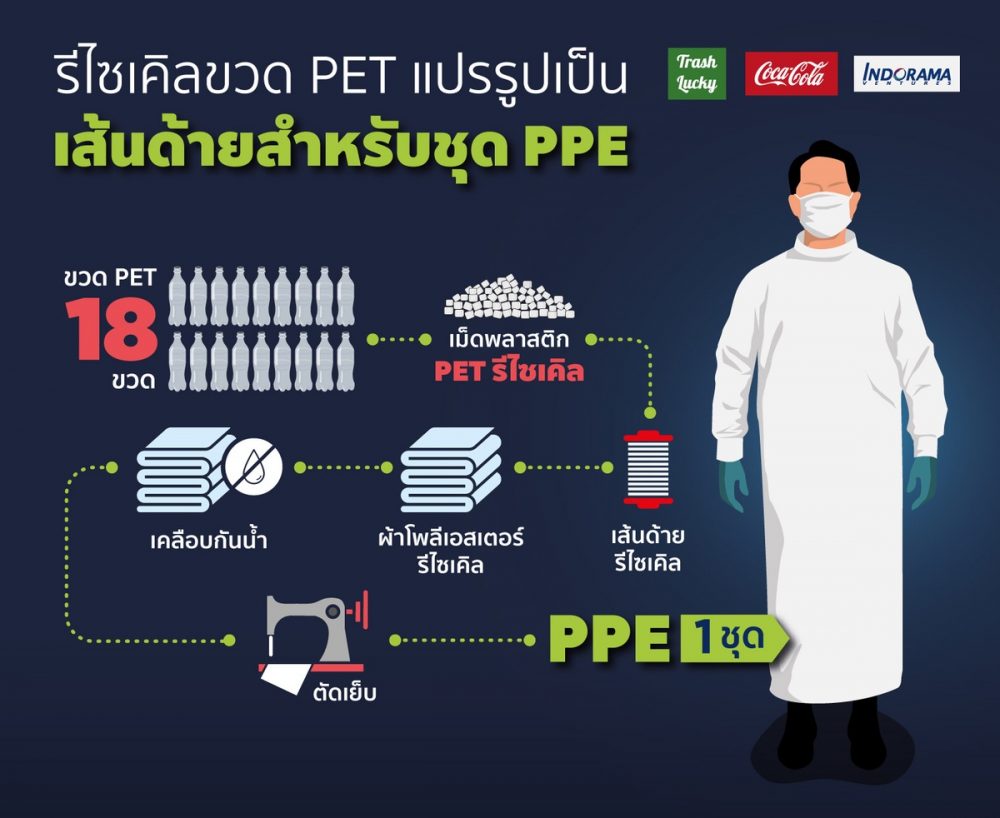 Engaging consumers around the importance of packaging collection and recycling is an important part of Coca-Cola's global vision to create a World Without Waste, as the company works to reach its zero-waste goal by 2030. In 2018, the company pledged goals to help collect and recycle the equivalent of a bottle or can for every one the company sells globally by 2030, to make 100% of its packaging recyclable by 2025 and to use at least 50% recycled material in its packaging by 2030.
The 'Recycle Me' initiative is the latest step from Coca-Cola as part of a holistic approach by the company across Thailand to tackle packaging waste. All Coca-Cola bottles and cans are recyclable by design in Thailand. The challenge of collecting packaging for recycling is separating out the recyclable packaging with other waste. PET plastic, used in Coca-Cola's beverage bottles, is fully recyclable and can have another life when recycled, including use in clothing and medical-grade equipment such as PPE.
"Our empty bottles have value and should not become waste which is why we're very keen to support proper management and recycling at source," said Nuntivat Thamhatai, Public Affairs, Communications and Sustainability Director of Coca-Cola (Thailand) Ltd. "In addition to putting a visible 'Recycle Me' message on all our packaging to help increase awareness and urge consumers to separate waste and recycle, we're also working with partners to enable and inspire long-term behaviors. That's why we're excited to be working with Trash Lucky, an experienced startup who has the same shared values, under the 'Coke Recycle Me with Trash Lucky' campaign."
Nattapak Atichartakarn, Co-founder and CEO of Trash Lucky Ltd., added: "Trash Lucky's mission is to raise people's awareness to recycle as much as possible through incentives, ultimately aiming to reduce waste. Under this collaboration, in addition to creating activities for consumers to participate in and win prizes, Coca-Cola and Trash Lucky will join hands to educate the public about waste types, waste separation methods, and the benefits of waste recycling and its environmental impact. A pre- and post-campaign study with participants to measure and drive sustainable waste separation behavioral change will be conducted with a shared goal between the two companies of transforming just another lucky draw activity into everyday behavior."
Mr. Yash Lohia, Chief Sustainability Officer at Indorama Ventures, said, "As part of our commitment to our community we work to help those around us who may be affected by COVID-19. A year ago, we successfully developed yarns made from recycled PET beverage bottles that are suitable for PPE suits. Our goal is to protect the protectors – frontline medical personnel – in a sustainable way. Our 100% recycled PET yarn is a hygienic and sustainable material. Our collaboration with Coca-Cola and Trash Lucky will create more awareness of proper waste management and help create a truly circular economy."
"While the 'Coke Recycle Me with Trash Lucky' campaign may look like a regular lucky draw activity, this is not for promotional or commercial purposes as we are not limiting the campaign to only our packaging. We hope that this activity will motivate some consumers to start separating waste in their daily life once they realize it's not that difficult or complicated. Even when the campaign ends, participants will still be able to deliver packaging and other recycled materials to many of today's stores and recycling points. The behavioral data collected by Trash Lucky will also be brought to the table to study, analyze and plan in order to further drive waste separation behavior in the future," said Nuntivat.
'Coke Recycle Me with Trash Lucky' is a three-month campaign run by Trash Lucky with prizes sponsored by Coca-Cola. Consumers can register through the LINE Official Account: @trashlucky from September 1 until November 30, 2021. Once registered they can collect recyclable plastic, aluminum, glass, paper, or metal waste from any brand and send it to the specified address in exchange for car, mobile phone, gold, vouchers, and souvenirs from Coca-Cola, worth more than 900,000 baht. Prizes will be drawn, and winners will be announced on the 15th and 20th of October, November, and December 2021 via the Facebook page:https://trashlucky.com/en/recycleme/