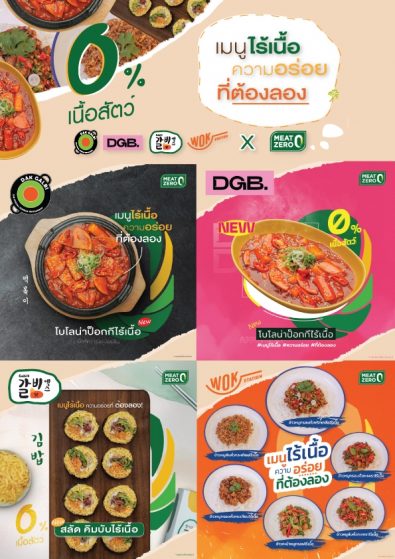 Thursday, 09 September 2021 – DAK GALBI Group Co., Ltd., restaurant operator of DAK GALBI, DGB, GALBI X and WOK station, has launched a variety of Thai and Korean plant-based dishes from the Meat Zero, an innovative plant-based meat that has the taste and feel like real meat, for attracting health conscience consumers
Tossaporn Wanichaworapong, Director of Dak Galbi Group, said that plant-based meat is becoming more and more popular in many countries, including Thailand, especially among health conscience consumers, and vegan and Flexitarian. DAK GALBI see opportunity in this upcoming trend and, therefore, joins forces with Thai plant-based producers Meat Zero to produce high quality ingredients for the company.
Starting today onwards, Dak Galbi initially creates special menus for the brands Dak Galbi, DGB. and Galbi-X, including Kimbap Zero (Beefless Kimbap Salad and Beef Bologna Pokki), Kimbap Zero 2 (Beefless Kimbap Salad with fish flakes and soup).
Besides, the WOK Station also introduces variety of plant-based menus including WOK Zero Set 1 (Roasted Crispy plant-based Pork with Chili and Salt and plant-based Roasted Pork with Garlic and Roasted Pork on Rice), WOK Zero Set 2 (plant-based Roasted Minced Pork with Holy Basil on Rice) and WOK Zero Set 3 (plant-based Roasted Crispy Pork Belly with Basil and Rice and plant-based Crispy Pork Rice with Fried Egg). These set menus are available at WOK Station nationwide.
CP Foods' Vice president, Supara Sriboon, added that the company, as a leading food producer, developed the plant-based protein under brand "Meat Zero" to response surge of consumer's demand. The brand has created innovative raw materials from plant proteins that is easy to access for all people. Meat Zero's products are now available via convenience stores, leading department stores and restaurants nationwide.
"The collaboration of Dak Galbi Group and Meat Zero will help both parties to expand its customer base, as well as giving opportunity for consumers to taste delicious and healthy foods. CP Foods plans reach more restaurants and making new delicious products to access consumers of all age groups," said Ms. Supara
The plant based menus are available via Grab, Lineman and Robinhood, and Line Official of Dak Galbi, DGB, Galbi X, and WOK Station.
For more details and promotions, please visit official Facebook. Fan page : https://www.facebook.com/DakGalbiThailand, https://www.facebook.com/DGB.dakgalbi , https://www.facebook.com/galbix.kimbap and https://www.facebook.com/wokstation.th