Thursday 23 September 2021 – Cargill, one of the world's largest agricultural firms, is debuting PlantEver(TM), a plant-based protein consumer brand in Thailand. The company is set to roll out a range of alternative meat products throughout the remainder of this year to meet demands for nutritious, great-tasting alternative protein options for customers that are flexitarians. PlantEver(TM) is now available online on Facebook, Instagram, and under "Cargill Protein Lover" Official Shop leading e-commerce channels e.g. Lazada and Shopee.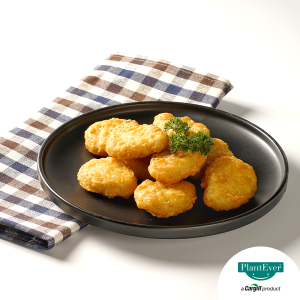 Firstly offering a chicken-alternative tempura nugget product, we combine our knowledge and expertise in R&D and innovation to create some of the best tasting products exclusively for Thai consumers. PlantEver(TM) provides the nutrition of plant-based protein such as high protein and a source of fiber with delicious taste, with the convenience of ready-to-cook products that can be easily made at home within a few minutes.
Consumers are now showing more care for the environment and PlantEver(TM) is a sustainable choice as its production highly supports green living by using renewable energy and less water compared to other products.
Cargill's plant-based nugget product offerings are part of the company's inclusive approach to the future of protein. Its launch in Thailand is an important step in bringing more protein options to Thai consumers.
"Most people think that healthy products are not flavorful but taste is our priority, so we don't compromise taste for nutrition. Thai consumers can help change the world by eating a light and delicious meal with PlantEver(TM)," said Watcharapon Prasopkiatpoka, Managing Director of Cargill Protein Southeast Asia.
For more information, please visit Facebook page: https://m.facebook.com/plantever/ or under "Cargill Protein Lover" Official Shop on leading e-commerce channels e.g. Lazada and Shopee.