BANGKOK, Thailand – (October 10, 2022) – Cargill, a global food and agricultural company, today marks the official debut of two ready-to-cook product brands 'Sun Valley', fresh and cooked chicken products, and 'PlantEver', plant-based meals in Thailand. The new brands will serve the needs of modern consumers looking for delicious, high-quality and healthy food products. The brands offer a variety of options of both meat and plant-based protein products that are suitable for all family members with modern lifestyle.
Mr. Thiti Tuangsithtanon, Managing Director, Cargill Meats (Thailand), said that the trend of poultry industry and consumer behavior for poultry meat consumption in Thailand has continued to grow. After COVID-19, consumers are more conscious of their dietary choices, pay more attention to what they eat and carefully select food that can offer them the quality, safety and most importantly, delicious taste. Consequently, there is an increasing demand for ready-to-cook chicken. Consumers are also looking for products that can assure them of convenience and meet the lifestyle of all family members.
"Being a leading global food company, Cargill has closely monitored global trends and seen high potential in these trends. One of our key strategies is getting closer to consumers by using our experience in the food and agriculture to enter both chicken and plant-based protein markets in Thailand. With the launch of these two product brands, we are bringing consumers, both meat lovers and plant-based food consumers the choice of food products they want to consume," he added.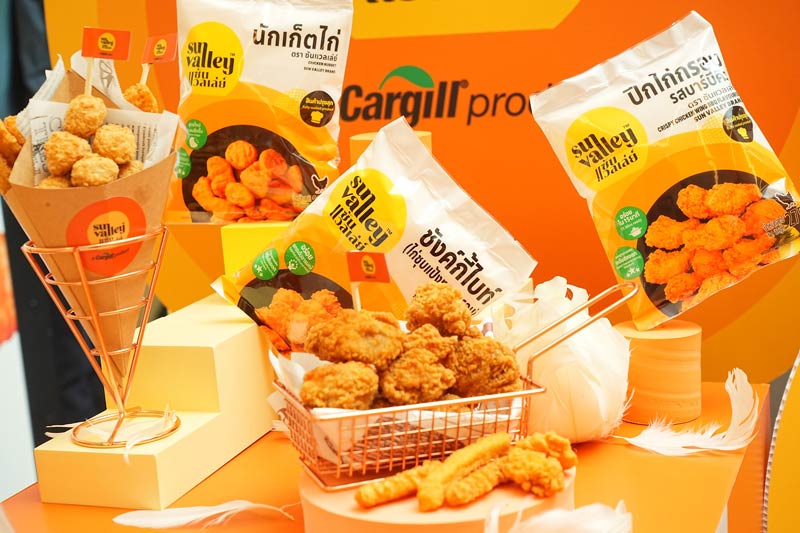 Sun Valley provides fresh and cooked chicken products, such as Chicken Nugget, Chunky Bite, Chicken Stick and so on. Made from lean and well-seasoned chicken breast, Sun Valley aims to satisfy consumers with pleasant experience across the five senses – beautiful shape, aromatic smell, crispy texture, attentive touch and delicious taste. All Sun Valley products can be traced back to their source and have passed international food standards like BRCGS and HACCP.
"We have tested the market for a while and the market response is very impressive. Consumers told us they love the taste, and Sun Valley has become a family-favorite menu. Such positive feedback gives us high confidence and led us to this official launch," he said.
Plant-based proteins, a growing segment
PlantEver offers a healthy alternative to health conscious consumers. With an impressive growth rate of 10% per year in the next 3-5 years, plant-based food market is expanding rapidly. PlantEver, offers the taste, texture, and nutritional value that health-conscious consumers expect. PlantEver is an interesting choice for those who want to reduce meat consumption and are environmentally conscious, and comes in 100% recyclable packaging.  Its available products are Plant-Based nuggets and Plant-Based meatballs.
Cargill will adopt omnichannel distribution strategy. Considering that modern consumers obtain information and buy goods via different channels, both the brands will be available online and in supermarkets, superstores, local meat shops, frozen food shops and wet markets nationwide.
"In addition to quality, taste and safety, that are key to consumers' expectations, Cargill pays high attention to sustainability. We give importance to promoting sustainable agriculture, animal welfare, traceability of our products and ingredients, the use of alternative energy and innovations that help reduce production waste and impact on the environment, and the use of eco-friendly packaging. Cargill is strongly committed to promoting consumers' quality of life and operating our business with responsibility," said Thiti.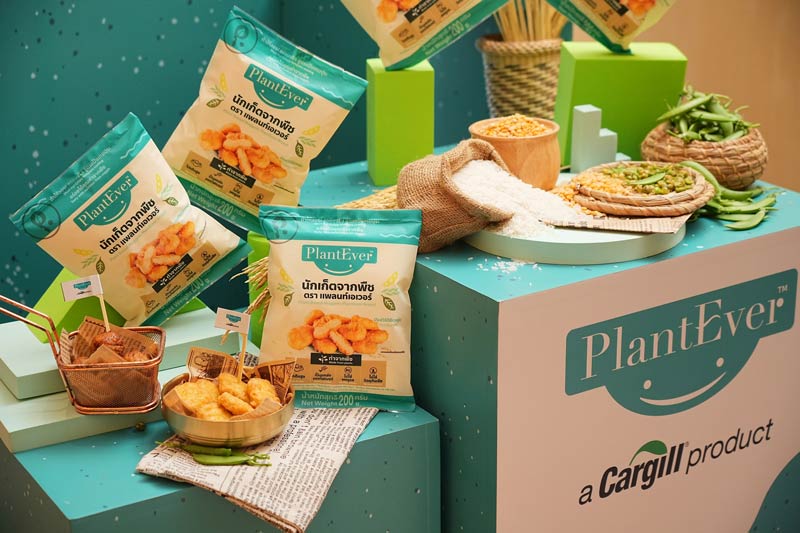 To support the launch, Cargill has introduced special online promotion packages in October 2022. Consumers will receive 20% discount coupon when buying Sun Valley or PlantEver products worth at least 399 baht, free delivery for any purchase valued 459 baht and more. Interested persons can check the latest movement and information from Facebook: Sun Valley Thailand page and Facebook: PlantEver page or look for Cargill Protein Lover on online market platforms including Shopee, Lazada.
For other channels, Sun Valley and PlantEver are available on AOW and FreshKet application. In addition, they are also now available in leading supermarkets and superstores like Lotus's, Lotus's Go Fresh, Tops, Gourmet Market, Thaifoods Fresh Market and D Farm.
"Cargill is a leading global company with over 157 years of deep industry experience. It has been operating in Thailand for over 50 years. Today, we are one of Thailand's largest exporters of cooked chicken products. Cargill also has a wide variety of products ranging from grains and seeds, animal feed, food and beverage ingredients and texturizing solution. Our continuous investment in Thailand has proven our commitment and confidence in the country's promising agricultural sector and strategic location in the center of ASEAN," said Mr. Thiti Tuangsithtanon, Managing Director, Cargill Meats (Thailand).