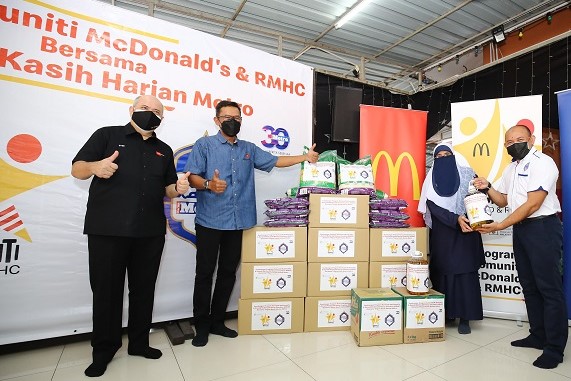 Annual Community Month programme carried out in collaboration with RMHC will positively impact more than 12,000 orphans
Negeri Sembilan, 25 October 2021 – McDonald's Malaysia continues to boost positive values and strengthen its commitment to communities with various initiatives, in conjunction with its Children Community Month campaign. In line with its Komuniti @ McD & RMHC program, the company is committed to its purpose of feeding and fostering the communities where McDonald's operates in, with a special focus on children.
During its Children Community Month this year, McDonald's and RMHC are providing new mattresses and pillows to 25 selected orphanages to uplift the children's living conditions. In its efforts to bring cheer and joy to 12,000 children, McDonald's crew from more than 300 restaurants also organised McDonald's birthday celebration parties in 400 orphanage homes across Malaysia last weekend, in conjunction with National Children's Day.
Amidst the pandemic, McDonald's aims to contribute to communities and lend a helping hand to those who need it most, especially children. For the Children Community Month this year, McDonald's Malaysia has invested RM350,000 thus far for the sponsorship of new mattresses and pillows, as well as birthday celebration parties for orphanage homes across Malaysia.
"McDonald's has always been committed to ensuring that communities we operate in are well taken care of and we strive to be the caring neighbour to those in need. With refreshed living conditions, we hope to provide a comfortable and safe environment for children to flourish. We aim to inspire children; allowing them opportunities to grow as individuals in realising their dreams and aspirations, while fostering a spirit of community that supports one another," said Azmir Jaafar, Managing Director and Local Operating Partner of McDonald's Malaysia.
Rolling up their sleeves, Azmir along with McDonald's Malaysia's staff and crew led the efforts to refresh the living quarters at Yayasan Kasih Sayang Negeri Sembilan, one of the 25 selected orphanages for the campaign. In partnership with media publication Harian Metro's Titipan Kasih initiative, the activity was also complemented with a McD birthday party for the children at the home.
Since 2017, the quick service restaurant initiated the Children Community Month every October, during which all McDonald's restaurants and crew reach out and engage with underprivileged children via various initiatives, including educational trips, visits to hospital wards and other celebrations. Every year, an estimated of over 7,000 community activities have been successfully organised under its Komuniti @ McD & RMHC program to support communities nationwide.
"Aside from taking care of our communities, we want to make a positive impact and continue to spread joy as much as we can, to as many people as we can. Our goal is to make communities feel supported and foster a sense of belonging for everyone. At the heart of McDonald's' purpose, we are dedicated to being a pillar of support for our surrounding communities," said Azmir.
McDonald's Malaysia and its employees also diligently carry out community initiatives throughout the year. McDonald's and RMHC have been actively conducting "Back to School" pack donations to primary school children from underprivileged families. As of 2021, close to RM9 million worth of "Back to School" packs have been donated and distributed to more than 95,000 children nationwide to emphasise on the importance of education. The company remains committed to reaching out and engaging with more communities to promote the wellbeing of society as a whole.