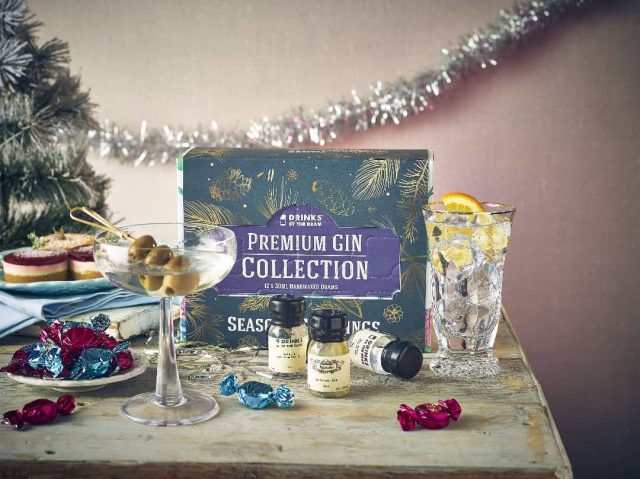 Singapore, 1 November 2021 – Leading independent craft spirits retailer EC Proof introduces its 2021 gift catalogue, now available online with free delivery for orders over S$100. Organised into categories such as Gifts for Whisk(e)y Lovers, Rum Lovers, Gin lovers and more, the curated selection of gifts offers something special for every imbiber on your list. And you can get it gift bagged and tagged too!
Get into the festive mood and kick off your December with Advent Calendars from That Boutique-y Gin Company (S$135) and That Boutique-y Whisky Company (S$265). With 24 different 30ml wax-sealed samples of independently bottled whisky or gin from the Boutique-y selection in each calendar, these Christmas countdowns offer the opportunity to sample a range of brands and distillers as you ring in the season with friends and family. 
For the adventurous drinks enthusiast who loves to try new things, surprise them with a Drinks by the Dram set, spanning categories from Whisk(e)y and Gin to Rum and more. Each gift box includes a curated collection of drams, inviting the recipient to explore their favourite category and learn about new brands along the way (prices range from S$70 – S$128). 
Gifts for Whisk(e)y Lovers
Take their whisk(e)y exploration to the next level with special Drinks by the Dram sets curated by country of origin. Treat the Scotch enthusiast to a selection of 12 Scotch Whisky Drams of Christmas (S$128) with 12 wax-sealed 30ml drams of Scotch Whisky, from single malts to single grains, blended malts, and more, or for the Japanese whisky explorer, try the Drinks by the Dram Japanese Whisky Set with five 30ml drams from some of the best Japanese whisky distilleries (S$78). 
Gifts for Rum Lovers
Rum lovers can rejoice in their favourite sugarcane spirit with curated gift sets from Plantation Rum, including the XO 20thAnniversary Rum Gift Set with two premium tasting glasses to enjoy the hand-selected blend of the company's oldest and most stunning Barbados rums (S$135), and the Experience Gift Set featuring six individual bottles (100ml each), taking you across the different islands, different flavours, and different cocktails and different ways you can enjoy them. 
For a special splurge, indulge in a Limited Edition bottle of Plantation Vintage Jamaica 2003 (S$215). With its origins in the Clarendon Distillery in Jamaica, this unique liquid has been aged 16 years in bourbon casks, followed by one year in the Ferrand cellars in France. Limited to 29 casks total, EC Proof has only 15 bottles of this rare rum available for purchase. 
Gifts for Gin Lovers
For an eye-catching bar cart addition, surprise your juniper-loving friends with the Retro Gin Fridge from That Boutique-y Gin Company. Within the nostalgic confines of the little fridge sits eight different 50ml miniature bottles from That Boutique-y Gin Company's spectacular selection. Gin gift sets are also available from St. George Gin, with a trio set of St. George Dry Rye Gin, St. George Botanivore Gin, and St. George Terroir Gin; and Citadelle Gin, featuring the best-selling small-batch French gin alongside the perfect G&T glass. 
Gifts to Impress
Looking for a truly memorable gift for the cocktail lover in your life? Give them the gift of cocktails with a Private Couples Cocktail Class (S$450) that can be redeemed and scheduled at their convenience. Classes are conducted by world-renowned award-winning bartenders who have helped create such bars as 28 HongKong Street, Manhattan and ATLAS. Spanning over two hours, this in-depth course will teach everything they need to know about the fundamentals of cocktail making, and offers a personalised option to learn how to shake, stir and swizzle a few of their favourite drinks. 
Take their home bar to the next level and offer a stage to show off their new cocktail skills with a selection of drink trolleys. Choose from curated sets of bar tools and spirits to stock them from the start, with discounted bundles available to accompany any bar trolley purchase. 
 Stocking Stuffers 
For a last-minute stocking stuffer, choose from a selection of gifts such as the Christmas Bauble Bulleit Whiskey Dram, an elegant ornament filled with a pour of Bulleit Whiskey; World class, ready to serve Curatif Canned Cocktails, with classic options from Negroni to Espresso Martini and more; or leave the decisions up to your loved ones with an EC Proof gift certificate, available in increments of $50. 
Check out EC Proof's curated selection of gift items at https://ecproof.com/pages/gifts-hampers.