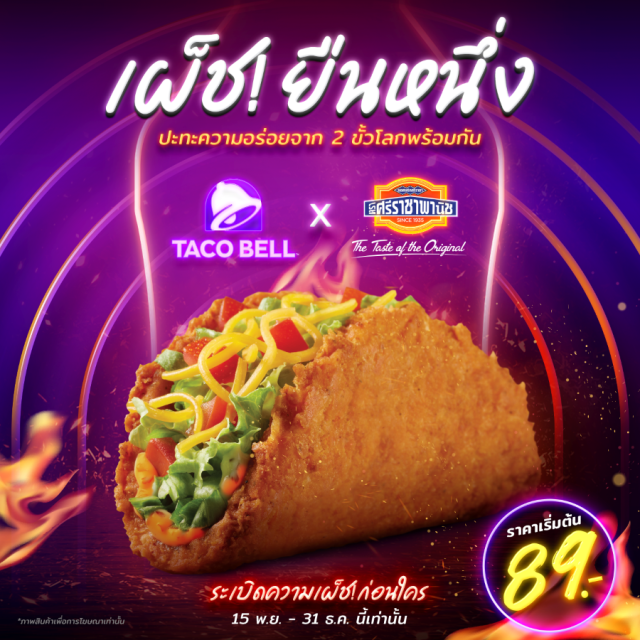 Monday 15 November 2021 – Taco Bell Thailand, the Californian quick-service restaurant chain, has recently launched the new version of "Naked Chicken Taco", a delicious, crispy fried chicken taco with Thai-style Sriracha hot & spicy chili sauce, for every GEN customers from November 15 to December 31, 2021 at only 89 baht.
Mr. Chalermchai Mahagitsiri, President and Chief Executive Officer of Thoresen Thai Agencies Public Company Limited (TTA) and Director of Siam Taco Company Limited, said, "We are confident that creating a special menu that meets consumer taste will enable the brand to win the hearts of consumers and can reach out to a wider range of potential consumers. This year, Taco Bell Thailand has successfully created the new recipe for the "Naked Chicken Taco" by combining the spiciness of Mexican flavors with Thai-style hot & spicy deliciousness. Mixing with "Sriracha Hot Chili Sauce" the famous brand like Sriraja Panich into the "Naked Chicken Taco", making it taste spicy in a way that Thai people are familiar with. We believe that "fried chicken and spicy sauce" go hand in hand. Therefore, this menu will become one of the menus that satisfy Thai customers and will open a new experience for those who have never tried tacos, including foreign customers who want to try the spiciness of Thai chili sauce as well.
Come and try "Naked Chicken Taco" x Sriraja Panich at only 89 baht from today until 31 December 2021 only at 11 Taco Bell branches and delivery service. If you miss it, you will regret!
For more information about Taco Bell Thailand, visit our website. You can also stay up to date on all things Taco Bell by following us on Facebook and Instagram. For offer details and T&Cs, please visit https://tacobell.co.th