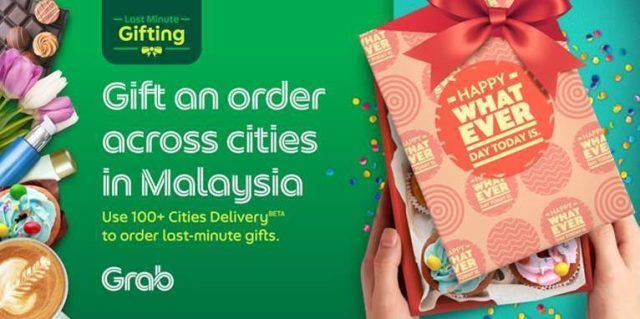 Introduces a revamped GrabGifts interface and brand new '100+ Cities Delivery (BETA)' feature for consumers to explore different gifting options within the app.
In conjunction with the year end festivities, users can now send vouchers and gifts to loved ones across Malaysia, Indonesia, Myanmar, the Philippines, Singapore and Thailand within an hour.
Petaling Jaya, 8 December 2021 – Grab users can now send gifts on-demand to their loved ones across Malaysia, Indonesia, Myanmar, the Philippines, Singapore and Thailand with the platform's new cross-border gifting capabilities. The enhanced  gifting experience is powered by two new features:
a revamped GrabGifts interface which allows users to send GrabGifts vouchers to loved ones in other Southeast Asian cities, and
a new 100+ Cities Delivery (BETA) feature which enables them to order and send food and physical gifts from GrabFood and GrabMart merchant-partners that are available in the recipient's city[1] within an hour
The new tech innovations extend the impact of Grab's on-demand gifting capabilities beyond local borders so that consumers can now connect with their loved ones across Malaysia and even overseas despite travel restrictions.
A survey amongst Grab users in Southeast Asia revealed that more than 60% of respondents indicated an intention to send gifts on-demand to their loved ones in other cities. This is in line with the current trend of consumers increasingly relying on on-demand services to show care to their loved ones amid imposed movement restrictions due to the pandemic. In the last two years, Grab has observed more instances of its users purchasing GrabGifts vouchers for each other, sending care packages via GrabExpress and ordering meals and gifts for their loved ones via the Grab app.
"It has been heartwarming to see how consumers have tapped on our platform to overcome movement restrictions imposed by the pandemic. While it began with mostly purchasing food and essential items for themselves, it later grew into a powerful vehicle for building and maintaining connections between loved ones. But with many countries yet to fully open their borders, we wanted to do more. We are so excited to now be able to bridge even longer distances between loved ones. We hope this will bring a festive cheer to all our users in Southeast Asia," said Hassan Alsagoff, Country Marketing Head, Grab Malaysia. 
The new cross-border gifting experience will meet a range of preferences amongst consumers, whether it's giving loved ones the flexibility to choose their own gift with GrabGifts vouchers or surprising them with their favourite brand, meal or gift item.
GrabGifts vouchers, the perfect gift for last-minute occasions
Grab users can look forward to sending virtual GrabGifts vouchers to their family and friends within Malaysia or outside their place of residence across five markets in Southeast Asia. The voucher categories span Grab's Food, Mart, Express and Transport services.
As part of the new interface, users will have the flexibility to send their recipients up to three voucher options to choose from. They will also be able to select from a range of designs and add in a personalised message. More details on the new experience and how to use it can be found here.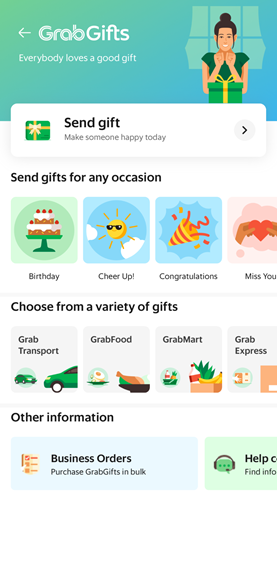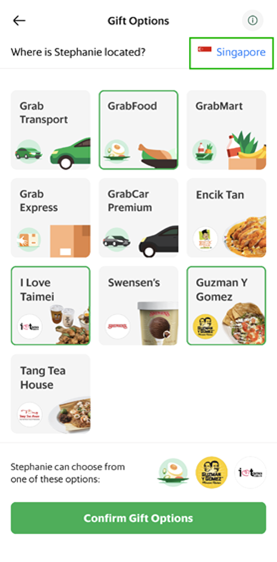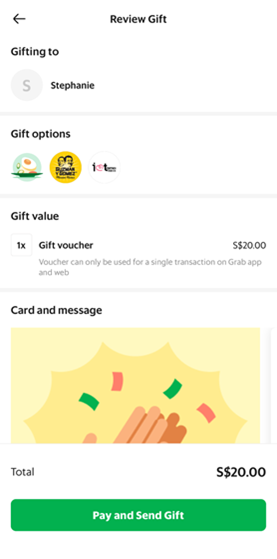 Order a festive feast and a whole variety of treats for loved ones overseas
Consumers can now choose from a plethora of festive meal options on GrabFood for their loved ones living in Southeast Asia, including Christmas classics with a Southeast Asian twist like Leche Flan, Ayam Kodok and stuffed turkey.
Alternatively, GrabMart has a diverse range of festive favourites available such as chocolates and wine and even popular gift items for children such as toys and board games. Learn how to use the feature here and check out our recommendations in the gift catalogue below.
Just in time for the year-end festivities, Grab is having a last minute gifting initiative to make gifting even more affordable for everyone – no matter the occasion or location! As part of the effort, consumers can enjoy savings of up to 50% OFF last minute gifting ideas via GrabGifts.
For more information on Grab's Year End Gifting initiative, please visit: LAST MINUTE GIFTING