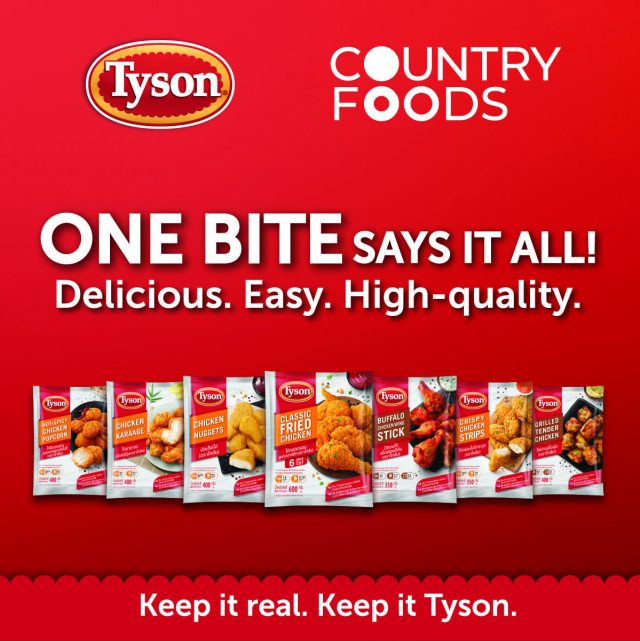 Tyson Foods is now available in Singapore and is distributed by Country Foods. Tyson, a leading global food producer with over 80 years of expertise in chicken, is best known for its fried chicken offerings that have a special triple coating for maximum crunch.
Tyson Foods in now available in Singapore in close to 150 NTUC FairPrice, Cold Storage Singapore, Giant and RedMart supermarket stores and e-store platforms across the country — PLUS a special holiday roadshow 23 to 29 Dec in FairPrice Xtra hypermarket Nex Mall.
All Tyson products are made following Tyson's secret recipes & vacuum tumbling technology making Tyson chicken tender, juicy inside and crispy coating outside. Tyson also meets world-class standard food safety & food quality production to export worldwide. The convenience foods are easy to cook. Get them straight from the freezer with no need for thawing, and pop them into the air-fryer or microwave oven or deep-fry them. They can be savoured within minutes. Tear it, fry it, crunch it and enjoy the yummy — ONE BITE SAYS IT ALL!
Classic Fried Chicken (SGD 11.95)
Tyson's signature product that is well loved by all! With an enticing golden crust and a juicy inside, these fried chickens are the perfect addition to a western-style homecooked feast. Quell all your hankerings for fried chicken anytime!
Chicken Nuggets (SGD 4.95)
Boasting a golden crisp, this finger food is soft and tender. It is good on its own, but also makes a wonderful complement to burgers, fried chicken and even economic bee hoon.
Buffalo Chicken Wing Stick (SGD 6.95)
The American-style chicken wings are glazed with a lip-smacking special sauce. Catching a late-night football match or binge-watching your favourite TV show? Don't start without these wings!
Hot & Spicy Chicken Popcorn (SGD 6.95)
Great for those who love a spicy kick, these bite-sized morsels make a great appetiser or snack.
Chicken Karaage (SGD 6.95)
Add a Japanese flair to your spread with these moist and crispy chicken karaage.
Crispy Chicken Strips (SGD 6.95)
Dip these delicious chicken breasts into your favourite sauces or divvy them up to use as salad toppings.
Grilled Tender Chicken (SGD 6.95)
Simply microwave the chicken and voila — you can tuck into a plate of grilled chicken in no time. Relish the succulence and smoky hint.