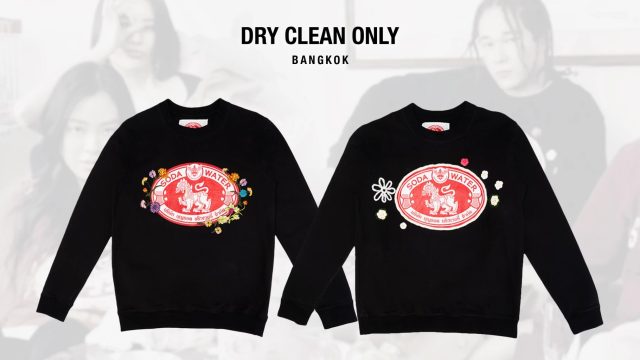 December 17, 2021 – Singha Soda" joins hands with Thai fashion powerhouse Dry Clean Only, unveiling a new limited-edition fashion collection for the "SINGHA SODA X DRY CLEAN ONLY THE INFINITE MIX COLLECTION" campaign. Jackets, sweaters, and t-shirts launched are uniquely designed and are one kind that is Dry Clean Only's signature. The collection will be available worldwide this 20th December via https://singhasodacollection.com, marking the brand's another iconic movement to remember.
Mr. Titiporn Thammapimookkul, Chief Marketing Officer – Brand of the Boonrawd Trading Co., Ltd., unveils that "Singha Soda is a brand with a long history with the Thai public. We believe in the power of creativity and inspiration and aim to constantly improve our brand with new activities that have never been done before.
Singha Soda's collaboration with Dry Clean Only, a Thai fashion house recognized worldwide, wants to extend our role as "the best mixer" in our consumers' lives by integrating Singha Soda's brand logo with Dry Clean Only's vintage style. The result is a unique and limited collection consisting of t-shirts, jackets, and sweaters, each with its unique design in terms of patterns, colors, and sizes. Everyone who purchased this Dry Clean Only collection is guaranteed a sole owner of that item."
Mr. Patipat Chaipukdee, founder of Dry Clean Only, says, "My love for the fashion industry has driven me to make the Dry Clean Only brand recognized everywhere. We have moved from a Thai brand doing business in international markets into a worldwide fashion force known and loved worldwide. Our collaboration with Singha Soda for this collection is an honor, merging different ideas from the two brands and creating an entirely new collection. This project will shake the fashion industry and get everyone excited about owning a fashion piece to wear or keep."
Singha Soda aims to create exciting experiences between the brand and our consumers with our motto "be different anywhere." The brand's past projects have driven the soda market and has created a positive wave for the society, such as "From Home With Love," a special song during the lockdown restrictions, bringing artists and DJs to create the Mix Infinity Playlist with ASMR to induce relaxation and productivity, collaborating with a world-class artist, Mister Cartoon, in a limited edition label design to break into the international market. The collaboration with Dry Clean Only, a Thai brand worn by worldwide artists and celebrities such as Beyoncé and Rihanna, resonates with the brand's mission to create new and exciting initiatives. Consumers can purchase this special collection through
https://singhasodacollection.com
, available worldwide from 20th December onwards.