Kuala Lumpur, 1 June 2022 – For every child, a father is their greatest hero and most of the time, it remains that way even into adulthood. To celebrate the special existence of our fathers, Elevete Patisserie has unveiled their exclusive Father's Day collection. It will be available for pre-order from now until 25 June 2022 only on Elevete Patisserie's website.
Many fathers show their love through actions rather than words. In the same way, most of us often find words to be insufficient when conveying our gratitude to our great hero which is why Elevete Patisserie is presenting five exclusive desserts specially for you to choose from.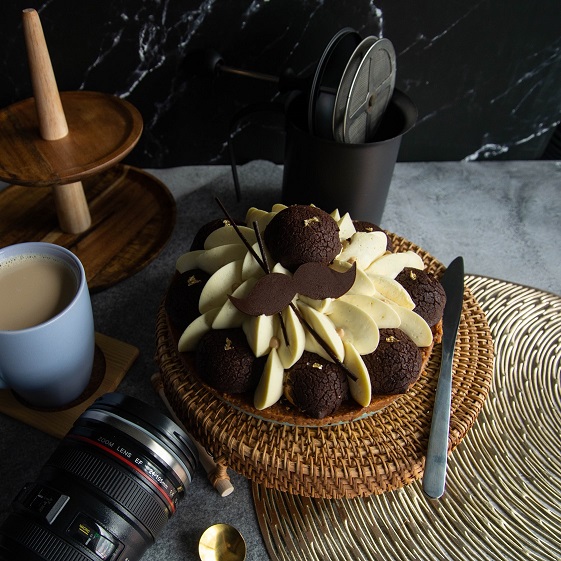 The St Honoré is a dessert replicated from Rue Saint-Honoré in Paris, where the ancient
elegance meets the luxurious modern contemporary. Enjoy a castle of French cream puffs filled with coffee cream and chewy salted caramel that balances out the sweetness of this dessert.
Not forgetting the intense peanut butter feuilletine base, the moist chocolate sponge and most importantly the comforting vanilla mascarpone mousse for a perfect finish.
Behind the strong and bold front that every father puts on, is a caring man who is ever so loving and sacrificial. Reciprocate your love for him with the Le Beurre Noisette Gateaux, a fragrant hazelnut brown butter cake that forms a heavenly match when paired with silky Italian coffee cream. Simple at first glance, but bursting with nutty flavours inside – this dessert mirrors how our dads are like.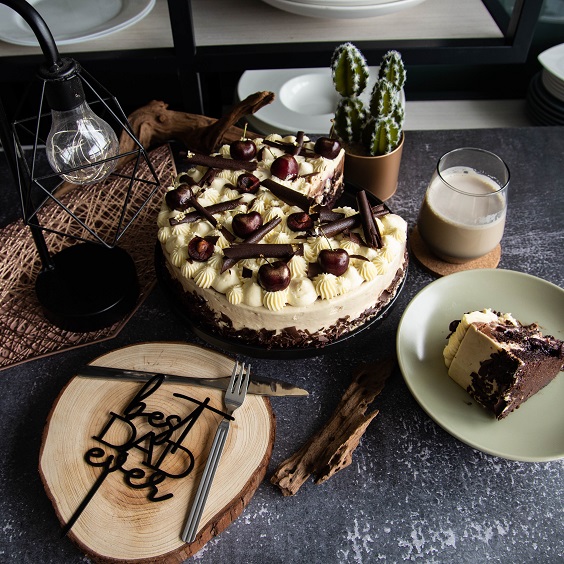 The Mon Chéri Black Forest Gateaux made a comeback with an 'Elevete' twist thrown into the making, upgrading its flavour profile to suit all Malaysians' palate. With a generous amount of juicy cherry goodness in one hearty bite, it is topped off with rich chocolate mousse and light mascarpone cream. This superior dessert strings together contrasting flavours in perfect harmony, much like our dads who unified every member of the family as one.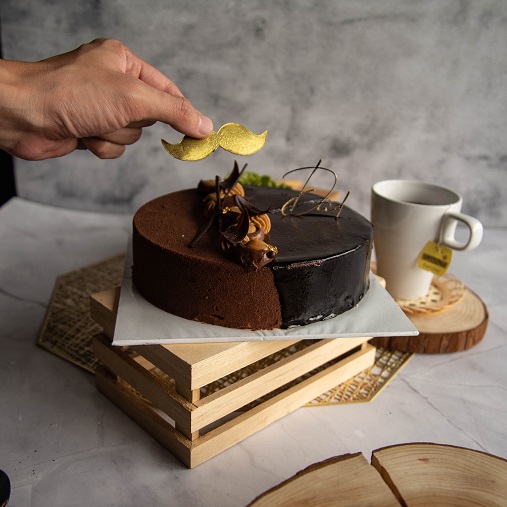 If your father isn't a huge fan of sugary goods but still enjoys indulging in sweets from time to time, Mon Père translates to "My Father", is like the bitter and sweet life our dad has given to us. It is drizzled in 70% bitter chocolate creméux with silky coffee chantilly cream. Layered on top of a hazelnut praline base, it offers a refreshing crunch complemented with a tang of sweetness from its salted caramel.
Is your great dad a big guy? Express your adoration for your one and only beloved hero by getting him a Le Grand Monsieur. It is composed of Elevete Patisserie's famous upsized
macarons filled with fragrant coffee cream and light mascarpone cream, a perfect fusion of sweet and bitterness. The first love of each daughter and the hero to each son, show our dads just how much he means to us.
All five desserts come with the option of adding on a Grazing Platter for an additional RM55. This collection of desserts is now available online on their official website for pre-order. Check out https://www.elevete.com.my/collections/fathers-day-2022 to place your order for your dearest father now!
About Elevete Patisserie
Elevete Patisserie aims to deliver the most delectable desserts the culinary world has to offer, which is why we ensure that each and every order that leaves our kitchen, is guaranteed to both visually entice and excite any flavour palate.
The name, Elevete, was derived from the desire to take modern-day desserts and put them on a pedestal of their own, hence the non-stop pursuit for new methods and combinations of ingredients to create sweets that would catapult taste buds to new heights.
Website: https://www.elevete.com.my/
Elevete Patisserie is also available on Cake Rush, Cake Together, Eat Cake Today, and Grab.