– Singapore is the first country in Asia to host the roadshow after a two-year hiatus
– Three Masterclasses on award-winning Italian wines hosted by Gambero Rosso's esteemed wine experts
Singapore, 1 June 2022 – Wine lovers and connoisseurs toasted the return of Gambero Rosso's Top Italian Wines Roadshow this morning at the iconic CHIJMES Hall. The event, officially opened by His Excellency Ambassador Mario Andrea Vattani, Embassy of Italy in Singapore; hosted 52 illustrious Italian wineries and their collections of fine wines. Singapore was selected as the first country in Asia to host the return of one of the world's most prestigious Italian wine shows, after a two-year hiatus.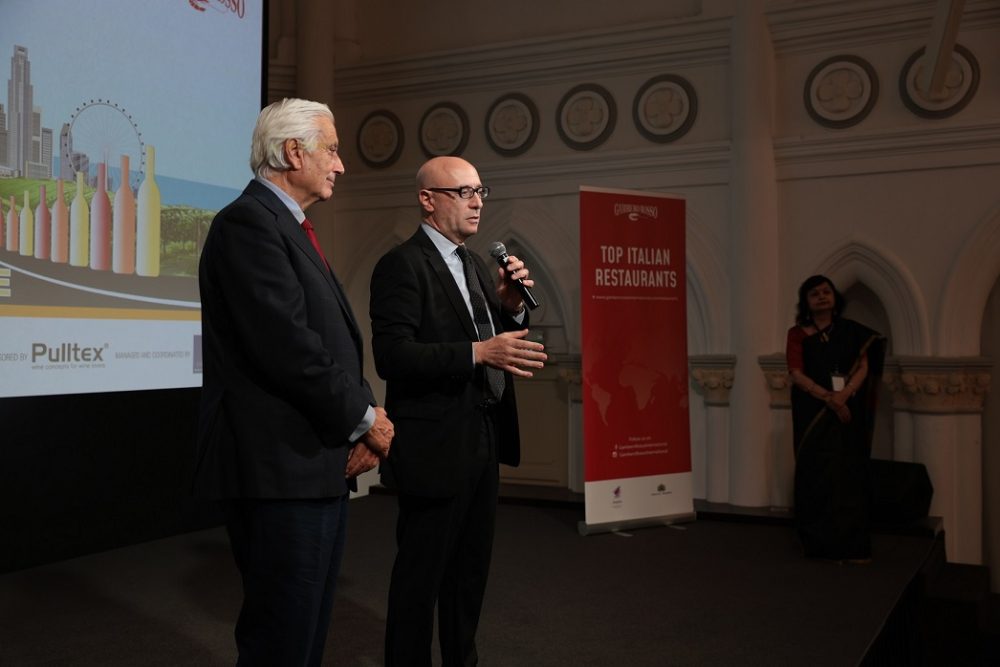 The annual show is an important international event on the calendar of the wine fraternity, trade and wine-lovers in Singapore as it showcases an exquisite collection of fine wines from Italy's renowned wineries and wine estates.
Several distinctively splendid wines being showcased bear the Tre Bicchieri ('three glasses') mark which is the worldwide-accepted benchmark award and indisputable symbol of excellence in quality. The Tre Bicchieri distinction is also highly regarded as the criteria for access into some of the most eminent wine monopolies on the globe.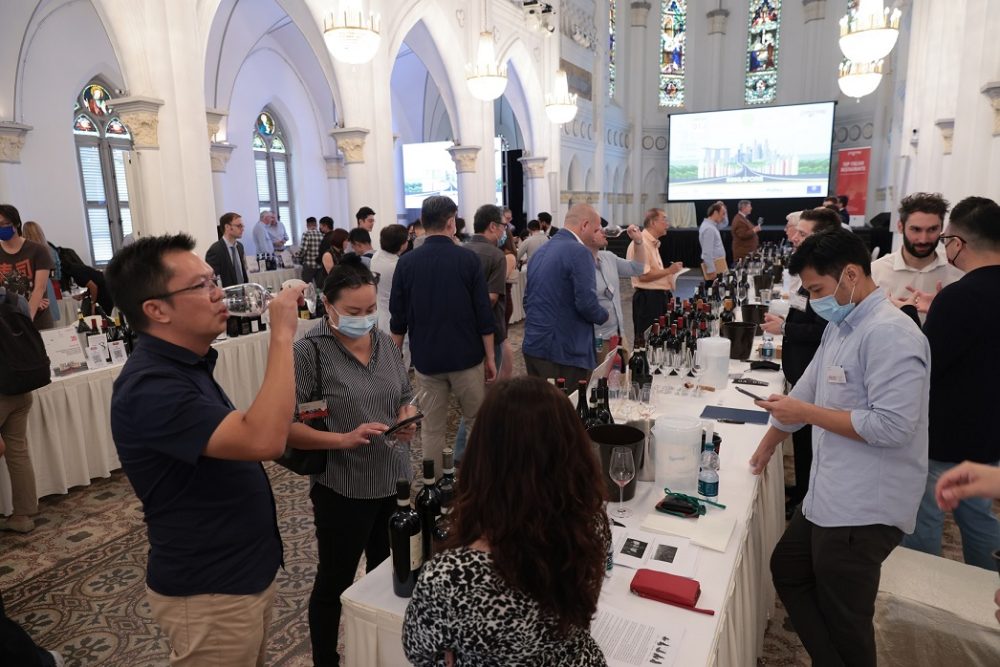 With a history of wine-making that traces back centuries, Italy has long been a master of wine-making and is internationally reputed for producing wines highly regarded by wine connoisseurs. At the Gambero Rosso Top Italian Wines Roadshow, wine lovers and connoisseurs were able to partake in wine tasting from 52 renowned wineries representing Italy's wine heritage at its pinnacle.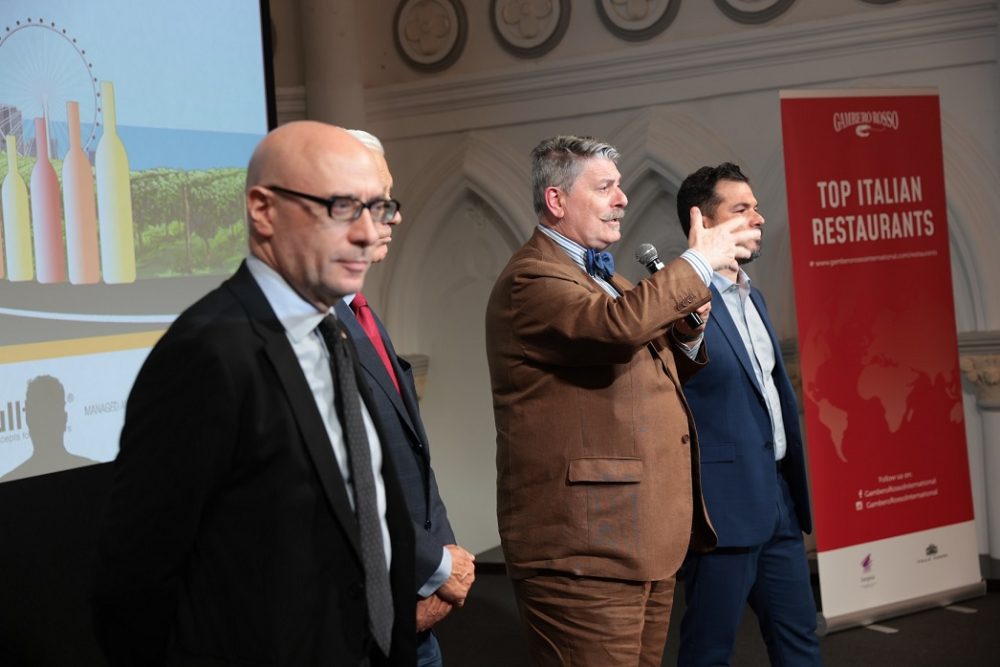 At the event, a total of three wine Masterclasses were hosted by Marco Sabellico, Gambero Rosso's wine expert and Senior Editor-in-Chief of the authoritative Vini d'Italia Wine Guide. Mr Giuseppe Carrus, Junior Editor, Vini d'Italia Wine Guide was also present alongside Sabellico to bring trade visitors and wine lovers on an intimate journey in discovering the characteristics of signature wines from 52 Italian wineries and wine estates.
According to a 2022 Wine Report on Singapore by market research agency Statista.com, the revenue from the wine segment amounts to USD$740.00m in 2022, and that the market is expected to grow annually by 8.34% (CAGR 2022-2025). With such a projected growth, Singapore presents itself as a burgeoning hub for the wine business in Asia, as well as a thriving conduit for Italian wines producers, distributors, and merchants to access the region.
Established in 2007, Gambero Rosso's Top Italian Wines Roadshow has firmly become a strategic platform for penetrating emerging markets and grasping new business opportunities. Italian wine offerings are so rich and have a wide selection. To address this, the selections at Gambero Rosso represent a guaranteed way for promoting knowledgeable, attentive and curious developments of Italian territories. The basic framework employed comprises an extremely rigid selective criteria of quality used for decades by the Vini d'Italia Wine Guide.
After the show in Singapore, the Gambero Rosso Top Italian Wines Roadshow will continue to travel around Asia and the rest of the world to present its annual celebration of Italy's finest wine craftsmanship.
About Gambero Rosso
In 1986, Gambero Rosso made its first appearance as a food-and-wine focused weekly supplement in the daily newspaper, Il Manifesto. The year after, the first Gambero Rosso wine guide was printed. In 1999, the first thematic television channel in Europe, Gambero Rosso Channel, was founded, soon followed by the Città del Gusto, the schools, a master program, and recently, the public stock offering in November 2015. Today Gambero Rosso is the publishing and training leader in Italy in the field of wine and food. In Italy, Gambero Rosso has established Città del Gusto sites in seven cities (Rome, Milan, Naples, Lecce, Catania, Palermo and Torino), and several schools abroad where courses at amateur, professional and managerial levels are held along with gala tastings and other wine-related events. The Vini d'Italia Wine Guide is translated into Chinese, Japanese, English and German. The Gambero symbol of wine excellence, Tre Bicchieri (three glasses), has become the benchmark award, and an unquestioned reference point, a guarantee of premium quality all over the world. It has even been chosen as the criteria for access into some of the most important wine monopolies in the world. Alongside the Italian monthly, Gambero Rosso Wine Travel Food is the international magazine in English, read by experts and wine enthusiasts all over the world.