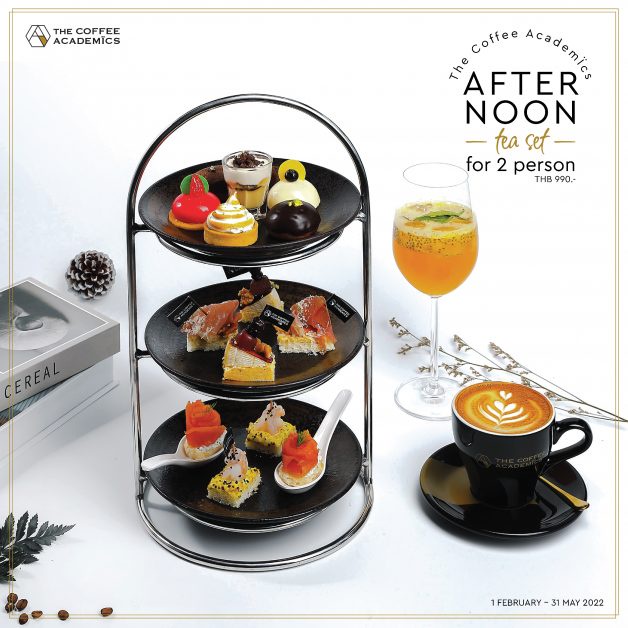 Friday 28 January 2022 –  "The Coffee Academics," a leading specialty coffee shop, launches an afternoon tea set for two at 990 baht that comes with French-style savory and sweet treats, plus choices of drinks. The afternoon tea service is available from February 1 to May 31, 2022.
The afternoon tea set consists of bite-sized savory canapes with four different toppings including "Cured Ham Walnut and Parmesan", "Shrimp Saffron Quinoa", "Smoked Salmon with Dill Sauce", and "Brie Cheese and Grape" (two pieces each) and six types of French style desserts like "Tiramisu with Cold Espresso", "Chocolate Choux au Craquelin", "Red Fruit Panna Cotta", "Le Violin" (lemon tart with Italian meringue), and "Chocolate Financier" (one piece each).
Customers can choose two drinks from the selection of classic coffee, hot tea, Matcha Latte, Sipping Chocolate, and mocktails like Citrus Rooibos and Stevia Jasmine with Passionfruit.
Afternoon tea service is available at three branches of "The Coffee Academics", including Velaa Sindhorn Village Langsuan, Gaysorn Village, and Megabangna.
For more information and food ordering, please contact The Coffee Academics via official LINE account: @TCA_thailand. For the latest updates and promotions, please visit Facebook: The Coffee Academics Thailand and Instagram: @TheCoffeeAcademicsTH.