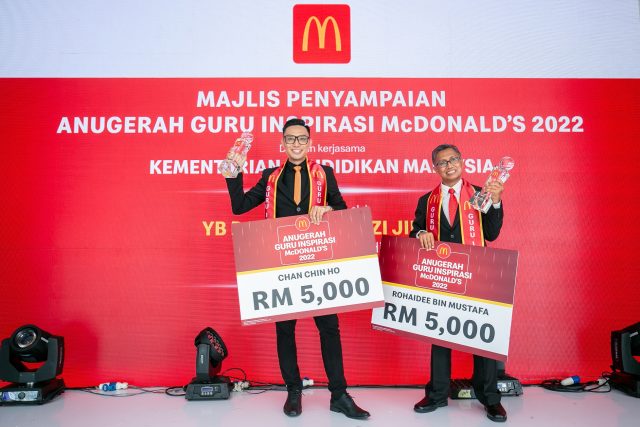 Winners of the annual award were announced in conjunction with the national celebration of Teachers' Day
KOTA BHARU, 14 May 2022 – McDonald's Malaysia today announced the 25 winners of Anugerah Guru Inspirasi McDonald's 2022. This annual award organised by McDonald's Malaysia is to honour and show appreciation to teachers under the Ministry of Education (MoE), who go beyond their call of duty to elevate the nation's academic excellence and provide access to education for pupils across Malaysia.
Now in its sixth edition, the award received over 5,600 public nominations between 10 March to 2 April 2022. Out of these nominations, 25 winners were selected for their sacrifice and hard work in going above and beyond to educate and nurture the future leaders of our country.
"McDonald's had initiated the annual award ceremony to show its commitment in giving back to the communities that they operate in by recognising that teachers play an essential role in the sustainable future of the nation through education. Every teacher is unique and inspirational. We saw an increase in nominations from last year by over 1,200 entries. These heart-warming stories are a testament to the unwavering commitment of teachers in going beyond the call of duty to nurture their pupils in a holistic manner," said Puan Hajah Melati Abdul Hai, Vice President and Chief Marketing Officer, McDonald's Malaysia.
 "Pupils are able to grow as individuals and realise their full potential thanks to teachers. These past two years have not been easy, with pandemic restrictions impacting pupils' learning experience. But the stories that we read through the nomination submissions since the start of the pandemic reflect the strength of the human spirit, with teachers at the forefront as the driving force of our nation's education system. As we enter the endemic phase, let us not forget the versatility, adaptability and more importantly, the resilience of teachers who showed up and delivered during times of uncertainties," added Puan Melati.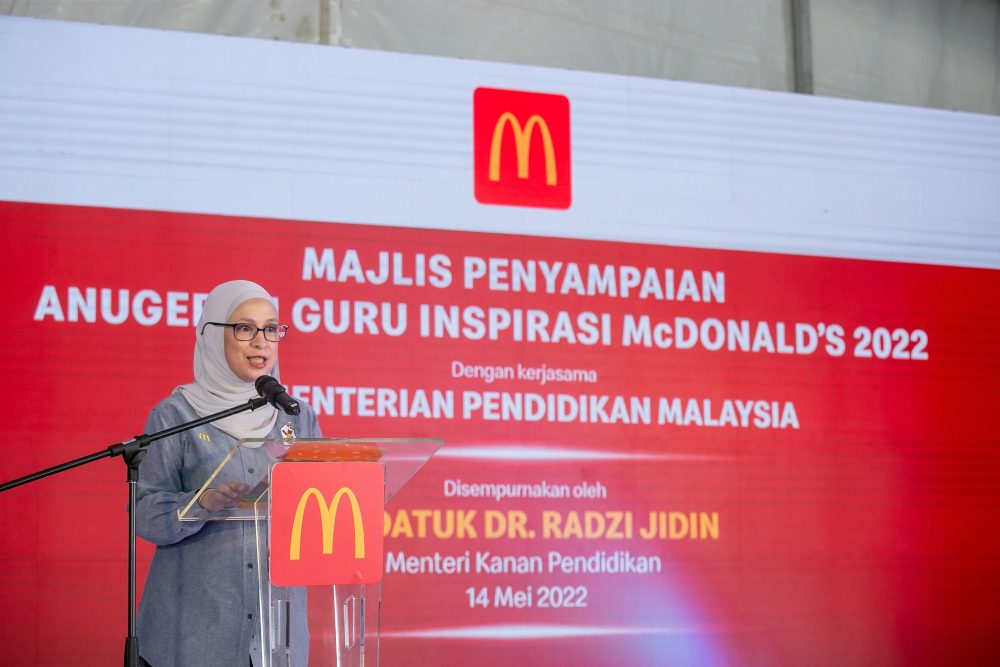 YB Datuk Dr Radzi Jidin, Senior Education Minister, who was the guest of honour at the event, presented the award to the 25 recipients of Anugerah Guru Inspirasi McDonald's 2022. Each of the 25 recipients received a cash award of RM5,000 and a trophy.
Since its inception in 2017, Anugerah Guru Inspirasi McDonald's have awarded 131 teachers who have gone beyond the call of duty to nurture, motivate, and inspire the nation's future generation.
The award recipients were chosen by a panel of judges consisting of representatives from McDonald's, the Ministry of Education, and the media.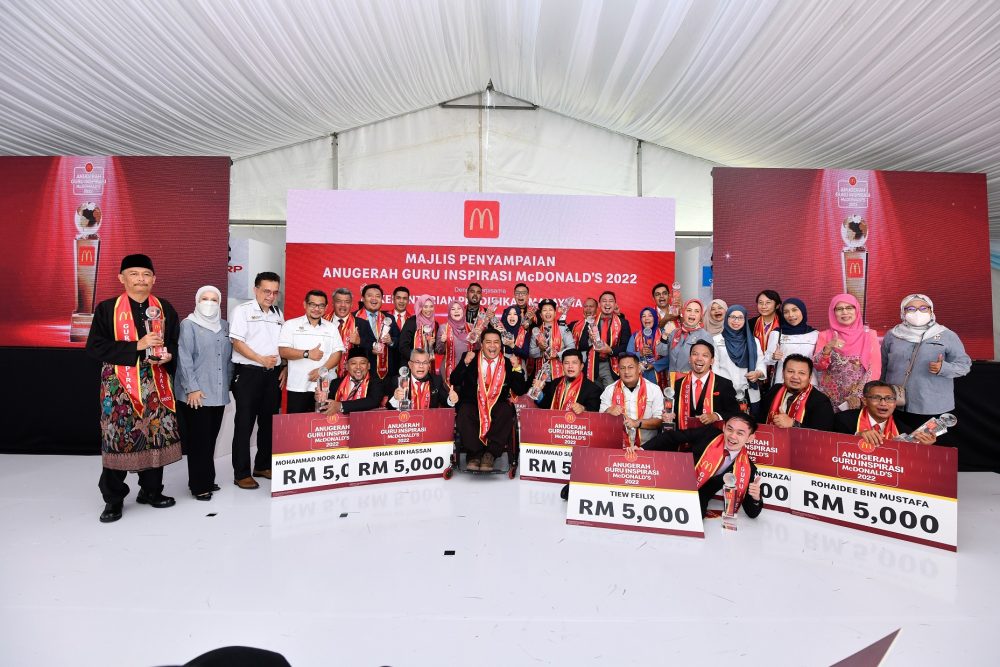 The nominator of the winning recipients will also receive RM200 worth of McDonald's gift vouchers as a token of appreciation.
The heartwarming stories submitted by Malaysians for this year's Anugerah Guru Inspirasi McDonald's can be found here: https://www.anugerahguruinspirasimcd.com/en/view_nominate.
Teacher's Day Celebrations by McDonald's Malaysia
In addition, all 318 McDonald's restaurants nationwide will host Teachers' Day parties in May and June. McDonald's restaurant crew will host and celebrate teachers through games, photo sessions, and other activities.