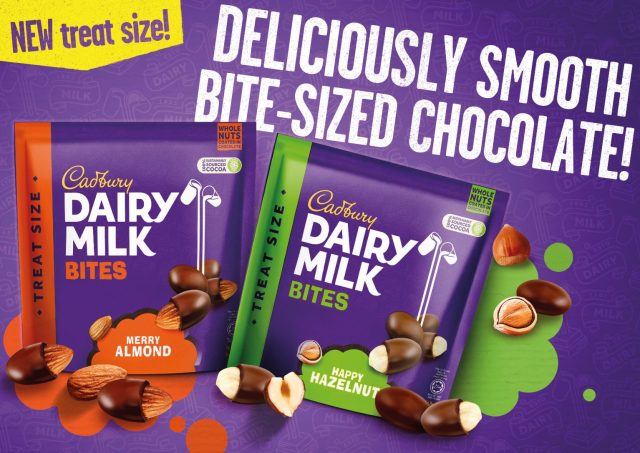 The All-NEW 120g size Cadbury Dairy Milk BITES is the perfect treat to share with anyone at any time, to help Malaysians to bring some much-needed pleasure into their hectic lifestyle
KUALA LUMPUR, 16 MAY 2022 – Cadbury, Malaysia's no.1 confectionery brand under Mondelēz International (Mondelez), is launching a NEW 120g treat size of Cadbury Dairy Milk BITES which comes in your all-time favorite flavours of Happy Hazelnut and Merry Almonds! With this new pack size, you can enjoy the yummy and irresistible chocolate bites with your family and friends, bringing some much-needed pleasure into their hectic lifestyle.
Cadbury Dairy Milk BITES was initially launched in a 50g size in September 2020, with three flavours: Almond, Hazelnut, and Raisins, which are still available for purchase. The bite-sized chocolate bites are extremely convenient to be consumed anytime and anywhere. In addition, the latest 120g treat size is perfect for sharing, making it easier for your family and friends to get their hands on these irresistible chocolate bites.
The deliciously smooth bite-sized chocolates are all coated with chocolate goodness to perfection, along with the crunchiness of hazelnut and almond. Furthermore, Cadbury Dairy Milk BITES was also designed to take mindful snacking into consideration for consumers. This is a positive behavioural approach that focuses on eating with intention and attention, including areas like allowing consumers to engage their senses and enjoy tastes and textures, and listening to bodily cues for wholesome and indulgent cravings – all of which is made possible thanks to the bite-sized treats and great taste of Cadbury Dairy Milk.
"As a brand dedicated to innovation in catering to new demands and tastes, we built on the success of the initial 50g treat size Cadbury Dairy Milk BITES to create a new size format that could easily be shared with friends and family. The new 120g Cadbury Dairy Milk BITES does just that, helping to lift the spirits of our consumers, allowing them to relax and indulge with the great taste of Cadbury Dairy Milk," said Ng Boon Siew, Senior Marketing Manager, Chocolate, Mondelez International (Malaysia & Singapore).

To further build on the hype as the perfect treat to be shared with anyone at any time, Cadbury Dairy Milk BITES calls all Malaysians to join the bite and relax journey. Simply head to Instagram and showcase your most usual and fun moments to enjoy chocolate. After all, there is no golden rule when it comes to enjoying the deliciously smooth bite-sized chocolate and the crunchiness of almonds and hazelnut. So post up your reels, photos or videos, and be sure to include #CadburyBiteNRelax #CadburyDairyMilk #CadburyDairyMilkBites and tag @cadbury_my. 
Keep your eyes peeled for Cadbury Dairy Milk BITES 120g in major retail channels like Lotus's, AEON, AEON BiG, Mydin. The deliciously smooth bite-sized chocolates are also available online in Lazada and Shopee, including a 15% discount on all Cadbury Dairy Milk BITES purchases for the latter*. For more information on Cadbury Dairy Milk Malaysia, check out the Facebook page at https://www.facebook.com/CadburyMalaysia, visit the YouTube channel at https://www.youtube.com/user/CadburyMsia and head to the Instagram page @cadbury_my. 
*Shopee 15% discount will be activated from 15th May – 6th June. Meanwhile, from 7th June onwards, the discount will be capped at 10%.