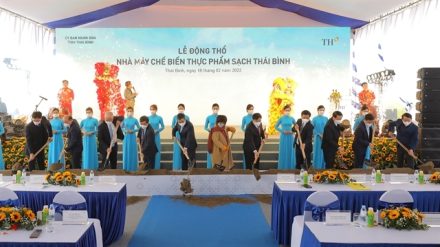 Vietnam's TH Group has started building a clean food processing factory in Thái Bình's Quỳnh Phụ District. The VND 620 billion factory will produce chili sauce, ketchup directly from fresh tomatoes, natural fresh chili, without preservatives, and production lines for nutritious porridge and instant rice.
The latest move by TH Group shows the company is continuing its efforts to provide "fresh, clean, and completely natural products" for Vietnamese consumers.
The company commenced the building of a hi-tech agricultural project to produce high-quality rice and organic vegetables five years ago.
Phase one of the project will involve the installation of a nutritious porridge, chili sauce and ketchup production line. The instant rice production line would be installed in the second phase.