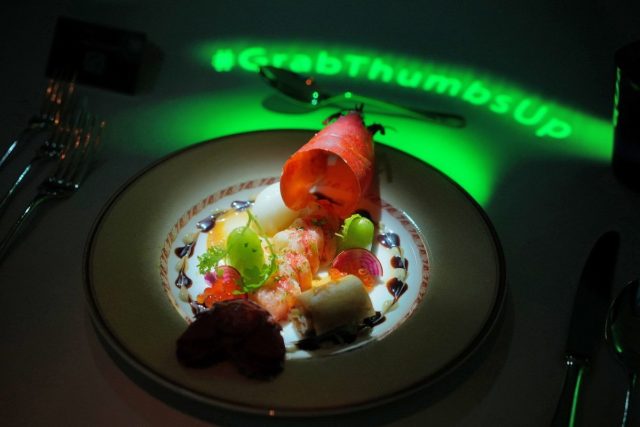 Monday, 28 March 2022 – GrabFood creates a new phenomenon for the food delivery industry in collaboration with Time Out Bangkok, a host of the biggest lighting installations festival that many have been waiting for, to invite both art and food lovers in a world of artistic cuisine under the concept of "Edible Art" at #GrabThumbsUp x Awakening Bangkok.
The event's three highlights include an exclusive Chef's Table experience brought to you by five renowned chefs, a Foodie Night Market of popular #GrabThumbsUp restaurants, and the first-of-a-kind Fooditude Art Installations that combines culinary arts with a spectacular light and sound performance. Enjoy an extraordinary night out experience surrounded by Charoen Krung's historic aesthetic, along with savory dishes from 25 March to 3 April 2022.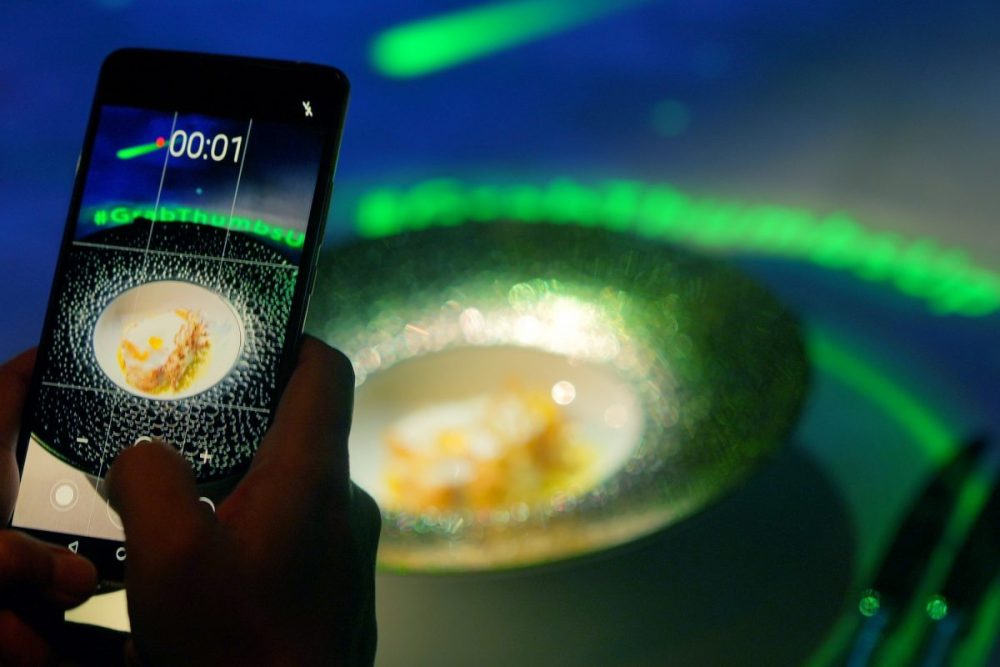 The '#GrabThumbsUp x Awakening Bangkok' event features three exclusive highlights as follow:
GrabFood hosts an Exclusive Chef's Table (Immersive Digital Mapping Chef's Table) for the first time with five renowned Thai chefs. 'Chef Ton' from Lahnyai Nusara, 'Chef Big' from Yaktummaiyakgin, 'Chef Prin' from Samrub Samrub Thai, 'Chef Tam' from Baan Tepa Culinary Space, and 'Chef Black' from Blackitch Artisan Kitchen are collaborating to craft special dishes that uniquely combine savor with art, available only at this event. This private dining experience is exclusive for only 28 seats per day from 25 March to 2 April 2022 at GIORGIO'S – Royal Orchid Sheraton Hotel.
The Foodie Night Market with the great selection of fantastic eateries from #GrabThumbsUp. For the first time, come enjoy the special combination of famous cuisines, Pepsi's recommended restaurants, and the best selections of 27 Michelin Guide 2022 restaurants with exclusive promotions for event participants at the Grand Postal Building area in Bang Rak. Have a wander around, enjoy the splendid atmosphere of the market, and grab your special meal from various famous eateries all-in-one-go such as House of Carte D'or, Texas Chicken, Bun Meat and Cheese, Chef Man, and The Rolling Pinn.
Be amazed by the Fooditude Art Installations that beautifully resonates with the art of cuisine among urbanites who love to explore and savor delicious meals through the dazzling night filled with lights and graphic designs inspired by the Latitude and Longitude of #GrabThumpsUp restaurants. Come join us on this night lights journey around the Charoen Krung area at Grand Postal Building, Krung Kasem Pump Station, Bangrak Riverview, Jumpmaster Skate Haus, Patina Bangkok, and Bunny Burrow Hostel.