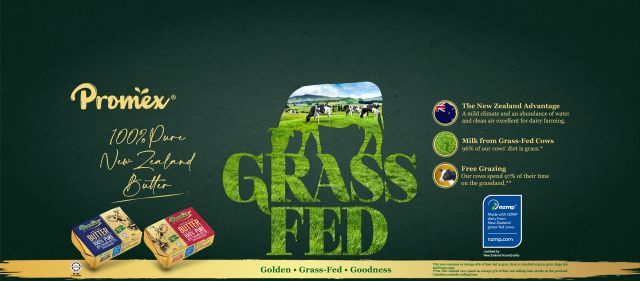 Promex grass-fed butter is now in Malaysia. Promex New Zealand Grass-Fed butter comes with natural golden colour without any food colouring. This natural golden colour is the result from a higher organic compound, beta-carotene found in New Zealand Grass-Fed milk. Beta-carotene occurs naturally in pasture-rich diets, such as the grass where the cows graze in New Zealand.
The grass-fed dairy ingredients adhere with the AsureQuality Grass-Fed Standard when the New Zealand cows are 96% grass-fed and spend 97% of their non-milking time on the grassland.
It takes around 25 litres of milk to produce 1 kg of butter. By separating fresh cream from grass-fed cow's milk, butter is churned without adding additive and colouring.
Promex Salted Butter 250g and Promex Unsalted Butter 250g is certified halal by JAKIM. Also available is Promex Cook and Bake 250g.
Promex's products are available at AEON, Village Grocer, Ben's Independent Grocer, Pasaraya OTK and The Food Merchant @ Pavilion Bukit Jalil.
Promex is a registered brand trademark owned by Promac Enterprises Sdn. Bhd. Promac Enterprises is Fonterra's official authorized ingredient sole distributor for Malaysia, Brunei and Singapore. Promex specializes in New Zealand dairies and is currently present in 61 countries. We aspire to bring safe, nutritious and quality food ingredients to you and your loved ones.