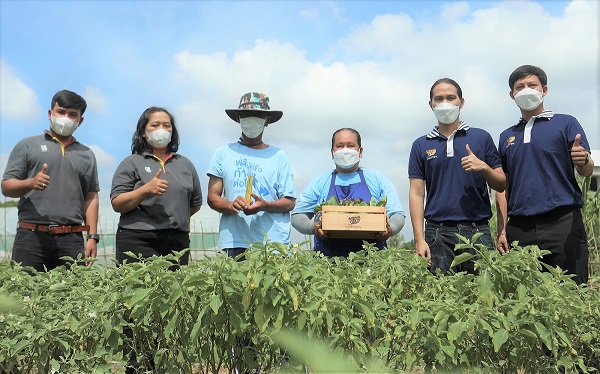 Osotspa Reinforces Its Sustainable Business by Developing Liquid Fertilizer from Beverage Waste And Joining Hands with K.C. General Farm Corporation to Test It on 1,000 Rai of Plantations to Help Thai Farmers Increase Their Productivity
Thursday 21 July 2022 – Stressing its sustainable business, Osotspa adds value to beverage waste by turning it into liquid fertilizer that improves crop yield and quality. The Company has recently joined hands with K.C. General Farm to test the liquid fertilizer on over 1,000 rai of commercial plantations before distributing it to Thai farmers to help increase their productivity. The project aims to reduce the impact on the environment and enhance the quality of life of Thai farmers.
Striving for strong and sustainable growth with a focus on long-term results, Osotspa Public Company Limited, a leading Thailand-based consumer products manufacturer and distributor, optimizes natural resource consumption and improves efficiency across our operations. The Company adopts a recycling policy to reduce waste in many ways. For example, waste glass bottles are recycled into raw material for producing new bottles while waste heat from the glass bottle production facility is recovered and used to produce steam supply for the beverage production facility. Recently, Osotspa has developed plant fertilizer from beverage waste.
Seeing that liquid leftover of the beverage product contains some nutrients necessary for plants, Siam Cullet Company Limited, a subsidiary of Osotspa, has joined hands with experts of Kasetsart University, with the support of The National Science and Technology Development Agency (NSTDA), to carry out the project of developing liquid fertilizer from beverage waste. The fertilizer was applied to the experimental plots of eight different types of vegetables, namely cassava, corn, sugarcane, rice berry, tomatoes, peppers, guava and cantaloupe. Furthermore, the liquid fertilizer has been used in the actual vegetable plots of the Organic Farm Learning Center by People with Disabilities, Kaeng Khoi Hospital, operated under Osotspa's Life must go on the project. The experiments showed that liquid fertilizer helps plants grow better, gain a sweeter taste, and have a higher yield. Therefore, the Company plans to use the liquid fertilizer at the Organic Farm Learning Center by People with Disabilities in Khon Kaen province and give it away to interested farmers in its network.
After the successful experiments, Osotspa will conduct a commercial test by cooperating with K.C. General Farm Corporation Co., Ltd., Thailand's leading sugarcane planter with systematic cultivation, starting from planting, growing to harvesting the produce and delivering to the sugar plant, to apply this liquid fertilizer in their plantations, covering over 1,000 rai in Ratchaburi and Kanchanaburi provinces. Osotspa and K.C. Farm will closely monitor the results and seek certification from government agencies in order to meet safety standards before distributing the fertilizer to Thai farmers to increase their productivity. This project is in consistent with Osotspa's sustainability policy of supporting capability development and improving the livelihoods of local farming communities, especially those who grow sugarcane and cassava which are the main raw materials of Osotspa.
Mr. Nukit Chonlacoop, Chief Manufacturing Officer, Osotspa Public Company Limited, said, "The development of the liquid fertilizer helps transform production waste into useful materials for Thai farmers. This is another project that Osotspa has developed in accordance with the resource-efficient operation policy with an aim to reduce the impact on the environment. Based on the circular economy principle, the project adds value to waste, enhances farmers' life, increases their income and contributes to Thailand's sustainability."
Mr. Wit Chithammit, General Manager, K.C. General Farm Corporation Co., Ltd., said, "The experiment with the liquid fertilizer from Osotspa's beverage waste will be an important step for Thai agriculture. The liquid fertilizer will be tested with the country's cash crops such as sugarcane, cassava, durian and others on plantations covering over 1,000 rai in Kanchanaburi and Ratchaburi provinces, through a collaboration with the Osotspa group and faculty members of Kasetsart University. K.C General Farm Corporation will use many types of machines to spray the fertilizer, especially small aircraft, such as drones and small helicopters. Boom sprayers mounted to large tractors will also be used. This experiment will bring new agricultural knowledge and sustainable development to Thai farmers."