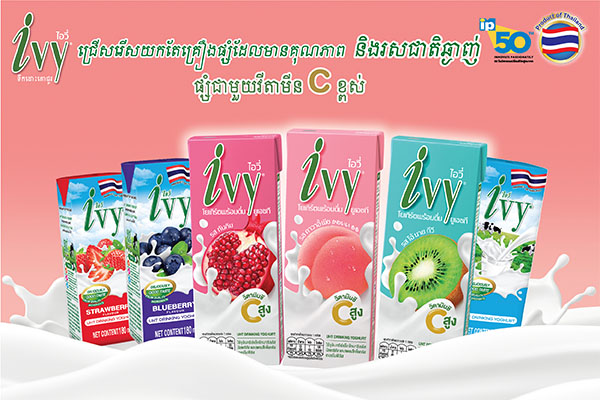 Cambodia, Phnom Penh, June 7, 2022 – DKSH Business Unit Consumer Goods, a leading partner for FMCG companies seeking to grow their business in Asia and beyond, has expanded the exclusive agreement with I.P. One Company Limited to include the distribution of their high-quality drinking yogurt under the brand IVY across Cambodia. IVY is a 100% natural UHT drinking yogurt made of delicately selected, good-quality ingredients from natural cow's milk and premium real fruit juices with vitamin C and multivitamins.
Last year, DKSH Cambodia partnered with I.P. One to bring their extensive high-quality household products categories of laundry detergents, fabric softeners, and floor cleaners under the brands HYGIENE, VIXOL, and WHIZ to Cambodia. With the new agreement, as their trusted and strategic partner, DKSH will now help I.P. One to grow its business of drinking yogurt under the brand IVY in Cambodia by providing full-agency services form marketing and sales to distribution and logistics.
Suvat Kovanitch, Head of International Business of I.P. One, commented: "After having partnered with DKSH Cambodia in 2021, it is a great opportunity to expand this trusted partnership for another product category. DKSH is the right partner for us to help establish, promote, and grow our products effectively in the Cambodian market. We are confident in DKSH's strong nationwide footprint, extensive distribution network, and experienced salesforce to further strengthen our brands' commercial presence and continued growth in this market."
Bishan Gautam, Vice President, FMCG Consumer Goods in Cambodia, said: "We are proud to be entrusted partner by I.P. One to expand our partnership to deliver growth for their drinking yogurt products in Cambodia. With our market insights, broad logistic network, more than 60 years of experience in Cambodia, and our excellent customer relationships in all retail channels across the country, we look forward to supporting I.P. One in expanding their brands. With this partnership, we will further capitalize on our regional leadership position in the distribution of fast-moving consumer goods in Asia."
I.P. One recorded revenue of THB 6.07 billion in 2021, up 17.8% yoy (2020 yoy growth rate: 8.5% and 2019 yoy growth rate: 10.5%). Net profit in 2021 rose 8.6% yoy to THB 196 million, according to data from the Department of Business Development of the Thai Ministry of Commerce.
Dutch Mill from Thailand has successfully exported its yogurt drinks to the Philippines and has captured a sizable market share through a go-local distribution strategy with its local partner Monde Nissin.