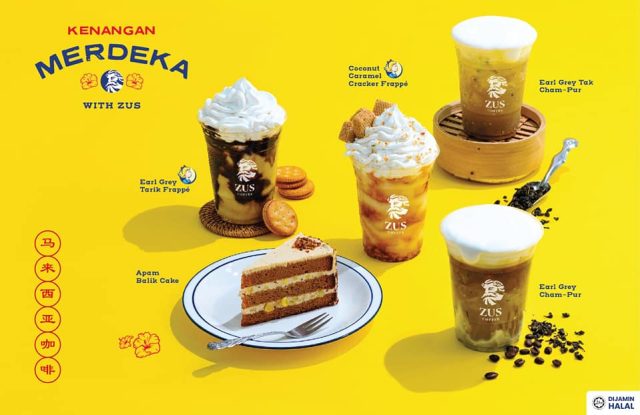 ZUS Coffee, which operates over 120 stores in Malaysia, has launched Kenangan Merdeka with ZUS in conjunction with the Merdeka month in August 2022. The homegrown coffee chain wants to bring consumers back to a time when things were simpler – when food, drink and games were the centre of their universe – with ZUS Coffee's Kenangan Merdeka campaign or the Merdeka Memories campaign.
ZUS Coffee has created a series with Julie's Biscuits. The range comprises Earl Grey Tarik Frappe, which features equal parts of Julie's sweet-savoury Peanut Butter Sandwich and the citrusy, florally blend of Earl Grey Tarik.
For something bolder, Coconut Caramel Cracker Frappe comes with Julie's Butter Crackers to crunch on and icy smooth coconut for that mouthfeel.
To enjoy the kopitiam days, the Earl Grey Cham-Pur is a special Cham blended with Earl Grey & topped with ZUS Coconut Cream, a secret recipe. The caffeine-free counterpart is the Earl Grey Tak Cham-Pur.
Finally, the Apam Balk Cake is partnered with the iconic Julie's Biscuits, a perfect partner for ZUS Coffee for this campaign as Julie's Biscuits is well known among Malaysians.