'Beyond the Moonlit Door 超月门窗' features art installation by artist Pamela Tan
Kuala Lumpur, Malaysia, 25 August 2022 – Kwai Chai Hong returns to introduce its latest art installation 'Beyond the Moonlit Door 超月门窗' in celebration of Mid-Autumn Festival, one of the most important moments in Chinese culture. From 26th August until 2nd October, members of the public are welcome to visit the picture-worthy laneway where they will be charmed by oriental doors and windows presented with a twist. Beyond the sublime installation is a message for all visitors – A note to self to learn from the past, embrace the present and seize opportunities in the future. The art installation embodies values befitting Kwai Chai Hong's history and heritage, a culmination of previous events and current perspectives.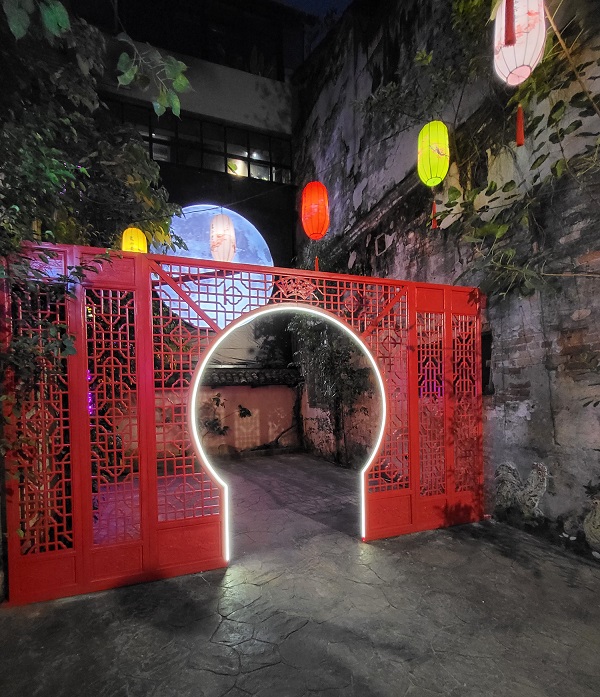 At the main entrance, visitors will be greeted by an astounding structure, an artwork in collaboration with award-winning architectural designer and artist, Pamela Tan of Poh Sin Studio. The installation named 'Endless Frames' stars hundreds of intricate laser-cut acrylic sheets hung at various lengths, creating an illusion of time travel as visitors walk through this cavern-like portal which references traditional Chinese wooden doors and windows. With Kwai Chai Hong lending itself as the historical background, it serves as a reminder to preserve the Chinese cultural heritage amidst a rapidly changing world. This passageway reflects the change in time while projecting bountiful hope and optimism for a brighter future at the other end of the bridge. 
To complement the theme, vibrant 'Moonlit Doors' take over the laneway, chartering a path to the full moon on display. These doors symbolise the many opportunities and hope life has to offer and those who take action will reap its benefits. The colours of the frames add a twist to the traditional look, paying homage to paper lanterns available during the Mid-Autumn Festival. Zeen Chang, Managing Partner of Bai Chuan Management shares, "Every detail is intentional and curated to ensure a profound experience for visitors. As we continue to share elements of Chinese culture with everyone, we have come to realise its weight and importance to the public community. With this in mind, we do our best to push boundaries each time, communicating through art and most of all, staying true to our cultural roots, presented in a fresh perspective."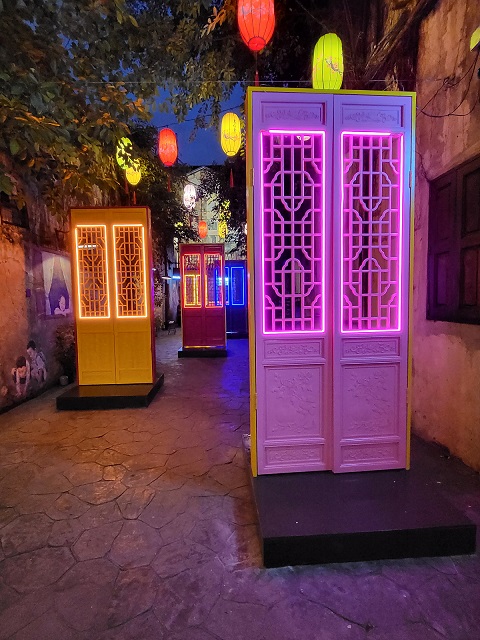 On the featured collaboration, artist Pamela Tan says, "In my journey as an architectural designer and artist, I value experiences that allow me to take part in the community which essentially is about sharing responsibility. I'm grateful to collaborate with the team behind Kwai Chai Hong who has made such an impact on the local community since its launch." She adds, "While technology advancements are great, the flip side is that life tends to move so fast, that memories are something we can only grasp. Kwai Chai Hong freezes time for us to appreciate the past and welcome the future. With that, I wanted my artwork to interact with the surroundings while engaging visitors for a captivating experience celebrating the Mid-Autumn Festival."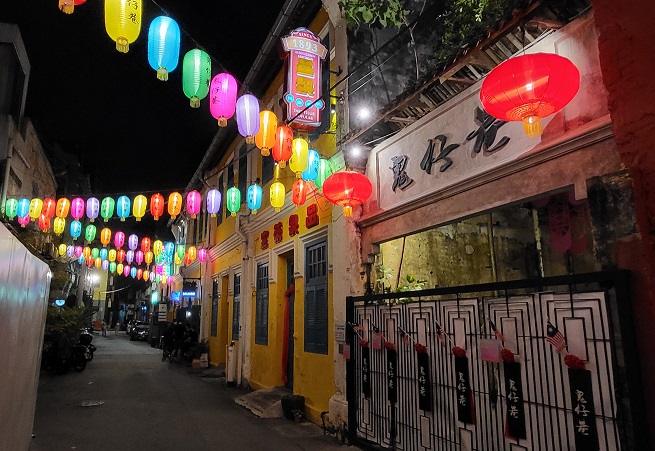 Kwai Chai Hong will be open to the public daily from 9AM to 12AM. The 'Beyond the Moonlit Door 超月门窗' art installation will be available from 26th August to 2nd October 2022. Come celebrate the Mid-Autumn Festival at Kwai Chai Hong with your loved ones and be sure to check out the 10 amazing eateries in the area! 
For regular updates, please visit Kwai Chai Hong's Facebook, Instagram or website at www.kwaichaihong.com