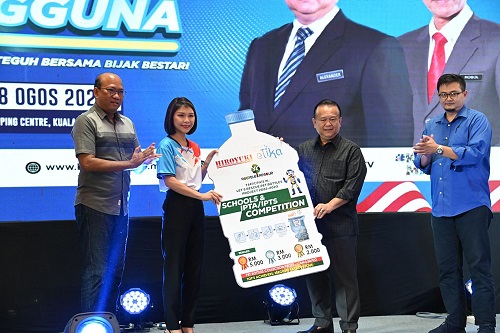 Etika partnered with Hiroyuki to address the country's increasing environmental pollution by enforcing a collaborative effort to build a more inclusive sustainable future.
KUALA LUMPUR, 29 AUGUST 2022 – It has become increasingly evident that pollution is now one of the major issues impacting the environment and many corporations have come forward to provide solutions in the hopes of making a significant difference, with one of them being recycling. Holding tight to that objective, Etika Group of Companies ("Etika"), one of Malaysia's leading halal beverage manufacturers, joined hands with Hiroyuki Industries (M) Sdn Bhd, a Japanese manufacturer of high quality Polypropylene (PP) & Polyester (PET) Bands to launch its "Lets Rescue PET Bottles" campaign during the 3-day "Program Kempen Kepenggunaan" organised by the Ministry of Domestic Trade and Consumer Affairs (KPDNHEP) at MyTown Kuala Lumpur.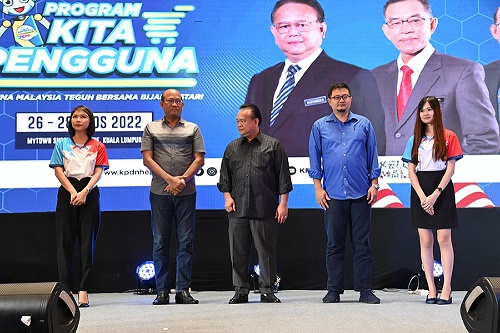 A highly collaborative initiative launched by Yang Berhormat Dato Sri Alexander Nanta Linggi, Minister of Domestic Trade and Consumer Affairs, this one-year recycling programme (from September 2022 – August 2023) was implemented to establish a better and healthier environment by collecting and recycling post-consumer PET bottles to give them a second life in becoming a reusable material.
Santharuban Thurai Sundaram, Chief Executive Officer of Etika Group of Companies (Malaysia, Singapore and Brunei) shared that the company prioritises sustainability and strives for a better living quality for the present and future generations which are in line with their mission to create new ways of enriching lives.
"Since Etika and Hiroyuki both share similar sustainable development goals, we are certain that this collaboration would lay a solid foundation in preserving the environment. Through our initiative, we hope to decrease the consumption of virgin crude oil, natural gas, carbon dioxide emissions, as well as divert plastic waste from the environment and create a sustainable circular economy," said Santharuban.
Yang Berhormat Dato Sri Alexander Nanta Linggi added that this programme emphasises the role of consumers in solid waste management and the importance of the recycling process in resource and environmental management, coinciding with the goals outlined under KPDNHEP's consumer empowerment and the Sustainable Development Goals (SDG).
"The collaboration between KPDNHEP and corporate entity Hiroyuki-Etika is in line with the spirit of 'collaborative government' in an effort to foster consumer awareness through consumer clubs in schools and the Student Consumer Movement in higher education institutions across the country, especially in the Klang Valley," said Yang Berhormat.
To further encourage recycling and make a positive impact on Mother Nature, Etika and Hiroyuki collaborated with 270 schools in Klang Valley to participate in an exciting competition; apart from collecting the most cleaned bottles, students of the participating schools are also required to submit a digital poster themed PET Bottle Recycle and an E-Book that explains the importance of caring for the environment. Participating schools will also receive RM0.50 per kilogramme each month for the PET bottles collected.
The top three schools with the greatest collection of PET bottles will be receiving the following exciting prizes:
First prize winner: RM5,000
Second prize winner: RM3,000
Third place winner: RM2,000
Additionally, the top five schools will also have the opportunity to visit Hiroyuki Industries' factory in Johor Bahru to understand deeper about the value of recycling and waste management while getting a firsthand experience of how the company manufactures its products. These winners will be announced in September 2023.
"Small acts of consideration can go a long way and help protect the environment, hence it's crucial to instill these green habits from an early age. Sustainability is a continuous journey and we hope this programme will not just benefit the environment but also educate our future generation to turn this into a daily practice in adapting sustainable living," Santharuban concluded.
Etika encourages all schools and higher education institutions in Klang Valley to participate in making a positive environmental change by registering via https://forms.gle/QPS4K2Lqv672SAU98.
For more information on Etika and its sustainability efforts, please visit www.etikaholdings.com.