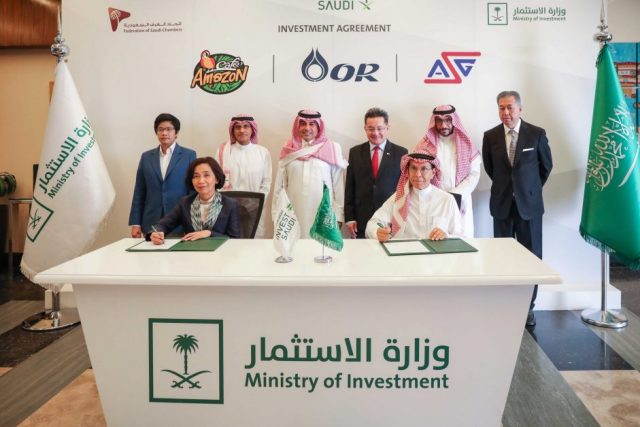 Monday 12 September 2022 – Mr. Badr Albadr, Deputy Minister of Investors Outreach , Mr. Fahad Alnaeem , Deputy Minister of Investment Development together with Mr. Sathana Kashemsanta Na Ayudhya, Acting Ambassador of Thailand to Kingdom of Saudi Arabia, Mr. Hussain Alabdulkader, Secretary General-Federation of Saudi Chambers of Commerce, Dr. Emad Abdulaziz Al Thukair, Chairman of Advanced System Group, and Ms. Jiraphon Kawswat, President & Chief Executive Officer, PTT Oil and Retail Business Public Company Limited (OR), participated in a signing ceremony to grant the master franchise rights of Cafe Amazon in the Saudi Arabia market and celebrated the official launch of Cafe Amazon in InterHealth Hospital, or IHH, in Riyadh, which is the first branch in Saudi Arabia.
Ms. Jiraphon discloses that OR, or PTT Oil and Retail Business Public Company Limited, the PTT Group's flagship business that operate oil trades and retails in Thailand with annual sales revenue over 500 billion baht, has noticed the potential of the retail market in Saudi Arabia, especially in the facet of premium coffee outlets, which are driven by increasing consumer demands in the country. This deal is recognized as the first step to concretely restore diplomatic and trade relations between Thailand and Saudi Arabia. The restoration thus results in the expansion of Cafe Amazon to achieve greater growth and success. The signing of the Master Franchise Agreement and the opening of Cafe Amazon in IHH, Riyadh, this time is another crucial step taken by Cafe Amazon towards becoming a global brand, in line with OR's mission that is to scale its portfolio for the global market. At present, Cafe Amazon is available in Thailand and 10 other countries around the world, including the People's Republic of China, Malaysia, Laos, Cambodia, Myanmar, the Philippines, Japan, Vietnam, Oman, and Saudi Arabia.
Similar to the others in Thailand, the concept of Cafe Amazon in Saudi Arabia will be the Taste of Nature. Once stepping in, customers will be experiencing the cafe's convivial atmosphere and indulging in specially tailored menus, including the signature drinks which are Iced Coconut Americano and Iced Coconut Caramel Latte, which use coconut as the base ingredient. In this regard, OR plans to roll out 150 Cafe Amazon outlets within 10 years. Ms. Jiraphon added.
Developed by OR in 2002, Cafe Amazon started by serving service to users of PTT Stations. With overwhelming positive feedback, it successfully expanded to over 4,000 branches, both in Thailand and overseas, and is touching the world's 6th largest franchise with annual sales revenue over 10 billion baht and 314 million cups sold per year.