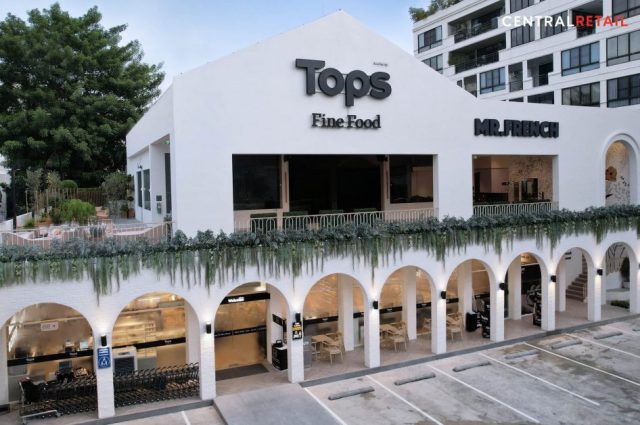 Wednesday 26 October 2022 – Central Retail announces a major reform for its food businesses, the biggest transformation in its 26-year history, using a One Brand strategy to unify its retail models to highlight its image as the #1 food retailer in Thailand.
Under the brand "Tops", which will be updated to be more modern, the new era will come with an updated brand image and a concept of "Every Day Discovery". It goes beyond being a supermarket to being a lifestyle hub that caters to changing lifestyle needs and brings inspiration to all, with a wide array of products. It also stands proud as the leader of imported products from the best sources in every season, from both local and international sources. This reform marks the start of the journey into a New Retail era, elevating shopping experience to offer more seamlessness.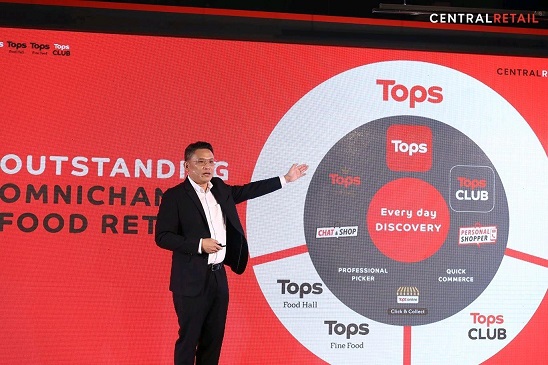 This reform goes beyond a rebranding exercise and physical changes, but is a significant brand transformation that will strengthen the brand's image and offer another level of experience beyond just a supermarket. It will create a strong brand image for the food business under the brand Tops, which will now cover and reach consumers in every segment, addressing different lifestyles in a limitless and complete manner. The food retail business will be reformed through four retail models: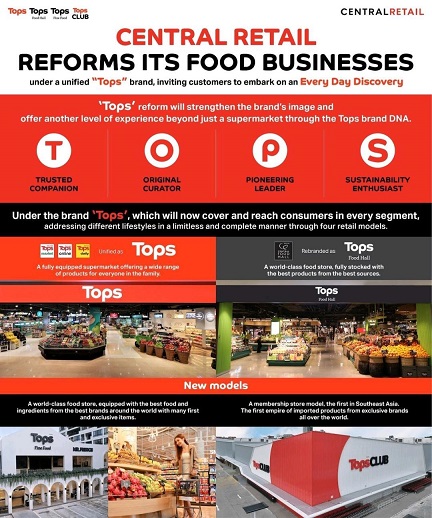 Tops – Tops Market, Tops Daily and Tops Online join forces to combine their strength, unified as 'Tops', which is a fully equipped supermarket offering a wide range
of products for everyone in the family.
Tops Food Hall – Central Food Hall is rebranded as 'Tops Food Hall' with another level of food store experience, fully stocked with the best products from the best sources, both local and international, to offer an even better experience to all customers.
Tops Fine Food and Tops CLUB – A new model, 'Tops Fine Food', was first introduced in Thailand, bringing a world-class food store closer to our customers' homes to offer convenience. The best food and ingredients from the best brands around the world are brought together here, with many first and exclusive items. Catering to those
who are passionate about cooking good food, Tops Fine Food is a place where they can find endless inspirations every day. 'Tops CLUB' is a new membership store model, the first in Southeast Asia. The store is extremely successful and has become the talk of the town overnight, transforming the retail industry in Thailand by being the first empire of imported products from exclusive brands all over the world, with new and trendy products on offer to fulfil every lifestyle needs. Customers can feel like shopping in a famous store overseas. The store is designed to cater to all lifestyles, all generations, and everyone in the family.