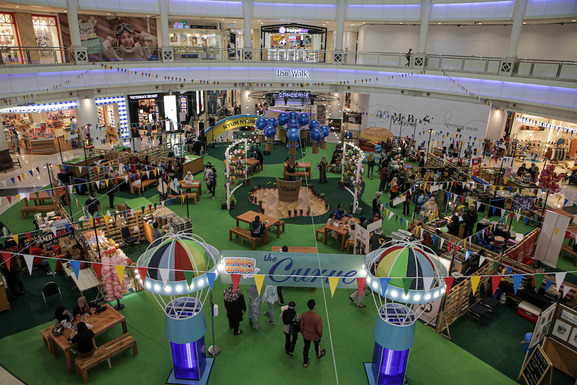 PETALING JAYA, NOVEMBER 23 2022 – Foodies from near and far gathered at the Curve's Nyum Nyum Food Fest recently.
Drawn by the lure of tantalising local, Asian, and Western food, Malaysians from all over turned up throughout the four days at the Centre Court which was transformed into a picnic-style setting, complete with multi-coloured mini hot air balloons and flag lines. To add to the festive atmosphere, there was free daily popcorn and cotton candy, while buskers performed live for the entertainment of visitors.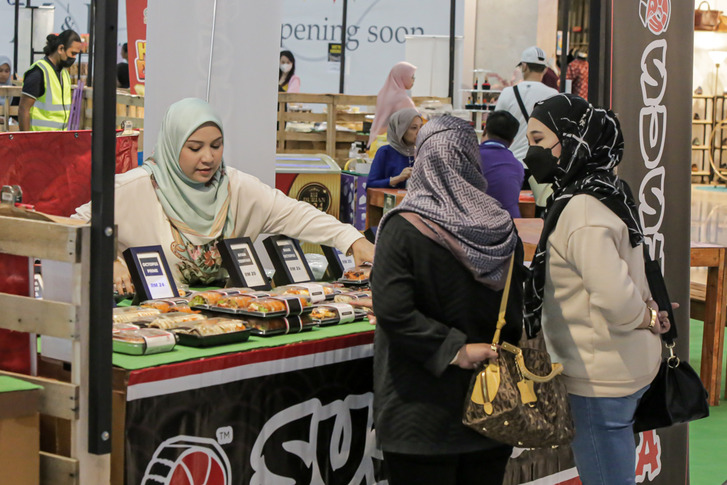 Returning for the seventh consecutive year, the Curve's food festival this time around featured vendors like Dapur Tako with its tasty Japanese street food Takoyaki or octopus filled balls, Pedot Lamb Grill's succulent lamb bites, AT Cupcakes & Bakery who served up sweet, decadent baked goodies, and Crazy Cheezy's cheesy fried chicken, to name a few.
The highlight of the weekend was cooking demonstrations by Me'nate Steak Hub's Chef Akbar who prepared a selection of easy-to-make dishes like Nasi Goreng Harimau Melalak, Pasta with Marinated Lamb, Carbonara Lamb Shabu, and the ever-popular Caesar Salad much to the delight of those present at the Centre Court.
Senior General Manager Property Management & Investment, Boustead Properties Berhad, Jazmi Kamarudin, said, "There is nothing quite like how food brings people together! In addition to the delicious, reasonably-priced bites from the vendors who participated, the Nyum Nyum Fest provided families, loved ones and friends with a wonderful opportunity to reconnect, as they enjoyed the good food and even better company."
The event also had a daily Lucky Spin where visitors just had to eat, scan and win instant prizes. Eligible visitors with a minimum of one purchase from the vendors were rewarded with cash vouchers from the Curve and F&B discount vouchers from the Royale Chulan hotel group. The main Lucky Draw on the last day of the festival saw eligible visitors get the chance to win a 2-days 1-night hotel stay at a Royale Chulan hotel in Kuala Lumpur and Damansara as well as a 3-days 2-nights hotel stay at a Royale Chulan hotel in Cherating and Penang. In addition, the lucky draw also gave away beauty treatments from Bluunis.