McDonald's Malaysia currently has 27 restaurants operating in Penang
BATU KAWAN,14 DECEMBER 2022 – McDonald's Malaysia celebrated the official grand opening of its new restaurant in Batu Kawan, Penang. In line with the state's initiative to further develop its local economy, McDonald's aims to contribute to the socio-economic development and offer employment opportunities to the local community by opening this new restaurant.
This restaurant – strategically located adjacent to IKEA Batu Kawan – spans 35,000 square feet, providing convenience to the local community by offering them quick access to their favourite McDonald's meal, anytime.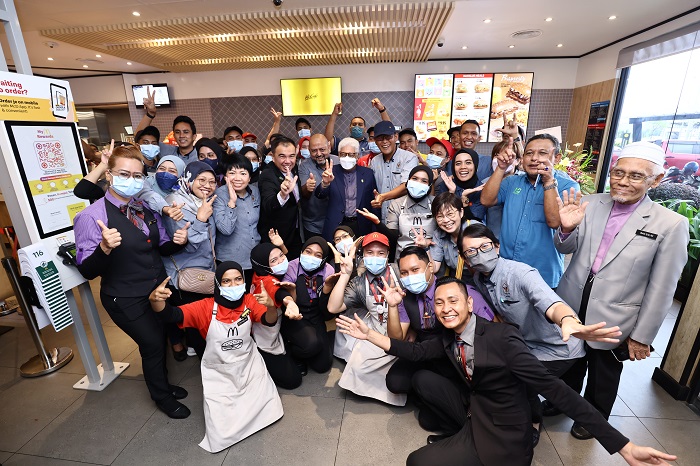 The grand opening was officiated by Tuan Yang Terutama, Tun Dato' Seri Utama Ahmad Fuzi bin Haji Abdul Razak, Yang di-Pertua Negeri Pulau Pinang; together with Dato' Azmir Jaafar, Managing Director and Local Operating Partner of McDonald's Malaysia.
"We are excited to be here to celebrate the grand opening of the latest McDonald's outlet in Batu Kawan. We see Batu Kawan as a prime location in Penang, which allows us to extend our hospitality and provide more delicious feel-good moments to Penangites. Since its opening in October last year, we have received positive response from customers in this area, reaching an average of RM1 million sale every month," said Dato' Azmir Jaafar, Managing Director and Local Operating Partner of McDonald's Malaysia.
"Giving back to the communities we operate in has always been part of McDonald's DNA. With the recent opening of McDonald's Batu Kawan Drive-Thru restaurant and three more outlets in the pipeline for Nibong Tebal, Relau and Air Itam, we hope to contribute to the local economy by providing up 300 job opportunities to the people of Penang," Dato' Azmir added.
"Back-to-School" Pack Distribution
In conjunction with the grand opening event, McDonald's Malaysia and its charity of choice, Ronald McDonald House Charities (RMHC) Malaysia, donated RM72,000 worth of "Back-to-School" Packs to 1,200 underprivileged primary school students in Penang. The initiative aims to ease the financial burdens of low-income and urban poor families as well as to motivate students for the upcoming school year.
This year, a total of RM1.5 million was successfully collected to provide 25,000 "Back to School" Packs to students nationwide, which will be distributed in stages until March 2023, before school starts.
Corporate Business Tithe (Zakat) to Penang
McDonald's Malaysia also handed over its corporate zakat of RM250,000 to Zakat Pulau Pinang at the McDonald's Batu Kawan Drive-Thru restaurant. This marks the highest amount paid to the state of Penang since McDonald's Malaysia started paying zakat six years ago.
To date, McDonald's Malaysia will pay corporate zakat amounting to RM9.85 million in all states across the country since the company began paying zakat in 2017.
McDonald's Vocational Apprentice Programme
As part of McDonald's Vocational Apprentice Programme, 30 students from Asnaf families in Penang will officially receive an appointment letter to take part in the 18-month industry-oriented training programme, which combines 70 percent of practical training in McDonald's restaurants and 30 percent of theoretical lessons in the classroom. This programme is a collaboration between McDonald's Malaysia and the Ministry of Human Resources Malaysia (MoHR) under the National Dual Training System (NDTS) introduced by the Ministry.
The quick service restaurant consistently strives to be a caring neighbour for all Malaysians, and the programme serves to provide the local community with education and employment opportunities, not only in McDonald's but also in the hospitality industry.
The opening of McDonald's Batu Kawan Drive-Thru restaurant is part of the company's expansion plan across the country. With over 330 restaurants operating nationwide, McDonald's Malaysia targets to open up to 500 restaurants nationwide by 2026.
For more information, visit www.mcdonalds.com.my.